I don?t find it surprising that I?ve watched this film as we hit the year mark of when the world shut down. Suddenly, we all were thrust into immediate isolation within our homes ? away from our jobs, families, social circles, etc. ? in a time of crisis, fear, and unpredictability. Suddenly, people around us were dying in droves.
Suddenly, our best laid plans were wiped away.
So the relevance of The World to Come is not lost on me. This film about isolation, grief, and the absolutely necessity of human connection is a poignant insight into how we are wired. In a lot of ways, it reminded me of 2012?s post-apocalyptic film The Wall from director Julian P?lsler. From the first-person narrative structured in short bursts to the graininess of the landscape and the sheer sense of desperation from a harsh and unforgiving land, both of these films highlight the lengths we will go through to find meaningful connection. But, in this case, The World to Come takes place in 19th century America when land was plentiful, neighbors were few, and grief was an ever present companion.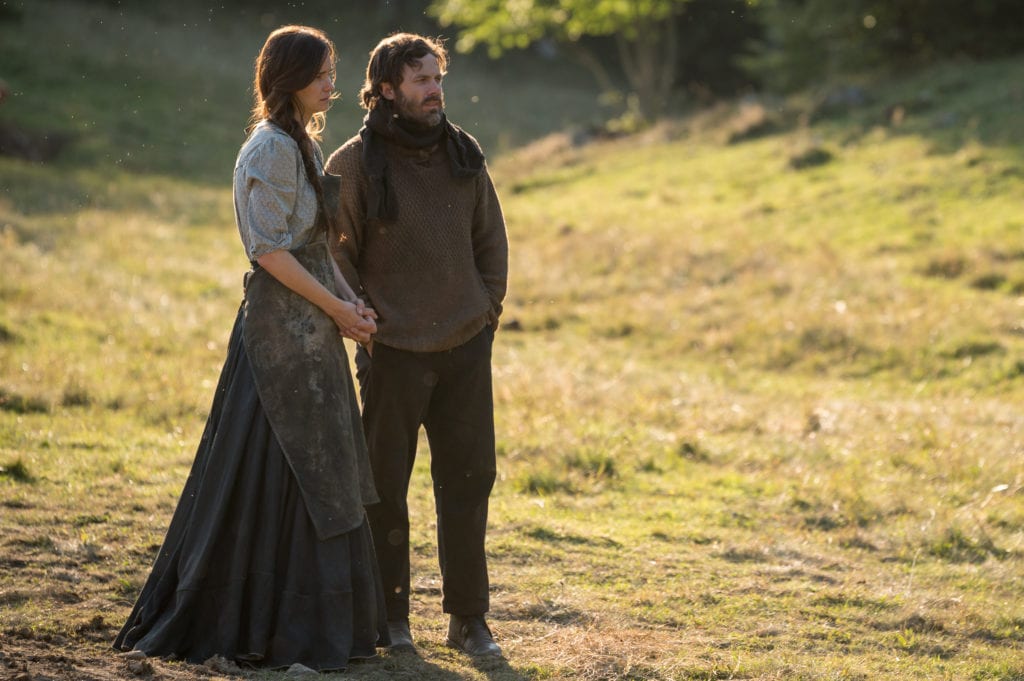 I?ve read mixed reviews that tend to focus on the slow pace, the heaviness of Abigail?s (Katherine Waterston) melancholy and hopelessness, the trope of forbidden frontier love, and even ?leftist? ideology in the form of this woman and woman romance. And I disagree with all of them.
Isolation is debilitating. Grief is haunting. While Abigail?s and Dyer?s (Casey Affleck) marriage has brief flickers of sun, they are irrevocably changed by the death of their young daughter. And that impact, while it may morph, never goes away. Even when spirited Tallie (Vanessa Kirby) turns Abigail?s mournful world upside down, the longing for the world she lost never disappears. Instead, Tallie?s empathy and affection provides the opportunity to escape across stolen moments, and in each other they fill pieces of the voids buried deep in their souls.
How this film from Mona Fastvold could be anything other than it was is not even a question for me. Every moment felt intentional and thoughtful. Despite the outward brightness and outgoing demeanor of Kirby?s Tallie, I could never take my eyes off Waterston?s Abigail. Her humble posture, internal longing for a shred of hope, and her manner of speaking touched me. It was all heartbreakingly beautiful from start to finish.
Perhaps it is because I am more aware (than ever before) on the importance of connection. Perhaps it is because Abigail?s and Dyer?s young daughter reminded me so much of my own (who is very much healthy and well). Perhaps it is because long ago I experienced a grief that I thought would never fade. Whatever it is, I feel connected to this story. I do not fault Abigail. I do not fault Dyer. I do not fault Tallie. All of them were searching for something elusive and transcendent ? something that as whole, they couldn?t quite piece together. But it didn?t stop them from trying. And it shouldn?t stop us, either.
The World to Come is available on VOD on March 2nd, 2021