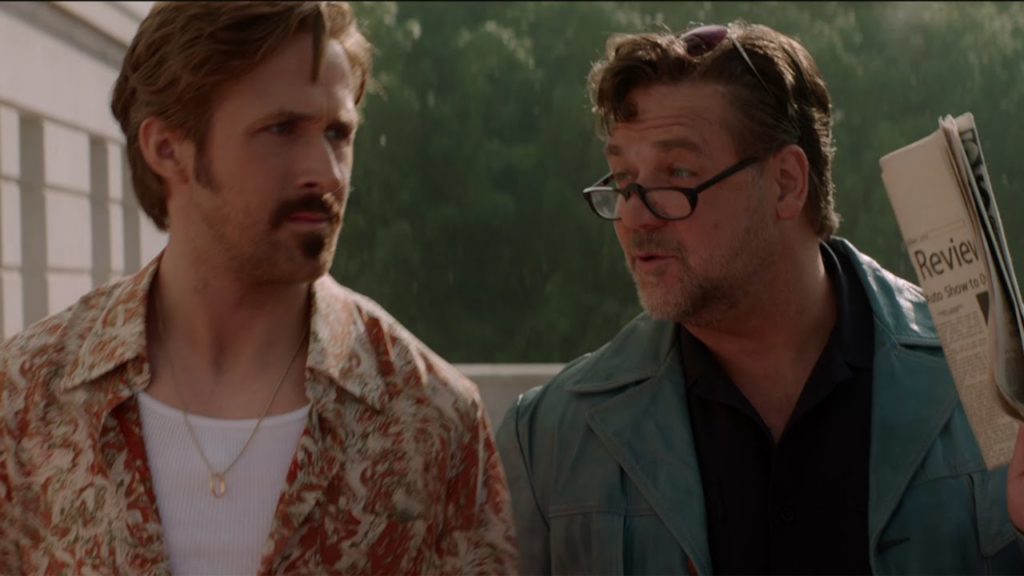 Holland March (Ryan Gosling) is the kind of guy who is so down on his luck that bad luck seems good. Privately investigating the mysterious disappearance of a teenager, he runs sideways of the neighborhood enforcer, Jackson Healy (Russell Crowe), and ends up with a broken arm for his trouble. But after a series of seemingly unrelated incidents, March and Healy end up teaming up to find the teenager, digging deeper into a pile of stench that involves the auto business of 1970, the porn industry, and the corruption integrally part of Los Angeles circa 1977.
The Nice Guys?is anything but nice, but it?is?funny, charming, and heartfelt. thanks to the amusing/clever/twisted sense of humor sported by Shane Black (Lethal Weapon, Kiss Kiss, Bang Bang, Iron Man 3). Pushing the buttons of Gosling and Crowe as the odd couple investigators, Black gets the best of these two – proving both of these intensely serious dudes can be amusing, too – as well as the other talented headliners,?Matt Bomer (a sadistic assassin), Keith David (as an older assassin), and Kim Basinger (as a political agent). It's a '70s porn-mets-mystery flick, with elements of?Chinatown?and current politics rolled into one.
But the film's brightest light is Angourie Rice's Holly March, the young daughter of Holland who proves to be the film's conscience – and canvas. While there is real evil depicted in the film, March and Healy prove to be more a shade of … gray. With a worldview dancing from black to white and back again, it's Holly who is the one who reminds her dad (and us) what it means to be a kind, compassionate human being. Sure, she's disobedient, and no, she's no real image of absolute purity, but she allows us to see what it means to be seeking innocence in a story where the layers of filth have layers of grime on them!
In one poignant scene, Holly delays the inevitable – but she stops Healy from killing a man. She can differentiate the difference between necessary violence and abundant or glorified violence. (It's actually a similar parallel made by Black's portrayal of sex throughout the movie: porn isn't pretty or sexy but messy and about power. But I digress.) While the adult world has blurred the lines between what is necessary and what is easy, Holly's focus on treating people the right way, even when they're evil, reminds us that there's a right way and a wrong way to treat each other.