Amidst the celebrations, the holiday season can be a cold place for many.
Set in the cold New England winter, The Holdovers follows Paul Hunnam (Paul Giamatti), a grumpy professor who is forced to remain on campus during the Christmas break to supervise the students who remain over the holidays. Locked away in a school with few support staff, Hunnam is as frustrated about his situation as the students themselves, leading to tension between them. During their enforced time together, Hunnam forms an unlikely bond with troublemaker (but highly intelligent) Angus (Dominic Sessa) and Mary Lamb, (Da'Vine Joy Randolph) the school's head cook who is grieving the loss of her son in Vietnam.
Written and directed by Alexander Payne, The Holdovers is a beautiful and poignant piece that cries out for grace for humanity while acknowledging our brokenness. There is a humanity to Payne's characters that seems to let them both bleed and heal in the most obscure of instants. In The Holdovers, this trend continues as seemingly insignificant moments such as visiting a Christmas tree or listening to Christmas music all reveal deeper issues of the heart.
Admittedly, the film is held together by the Herculean strength of its lead performances. As Hunnam, Giamatti delivers some of his best work in years. Although he hides behind of an aura of prestige, Hunnam is a man who is afraid to get close to others. Giamatti plays him with such delightful for brokenness and joy that one cannot help but see past his façade and connect with his broken heart. Further, Sessa offers an absolutely incredible performance as Angus. With his cynical smile, the whip-smart, Angus is instantly endearing. Sessa plays him with a charm that lights up the screen, especially in moments where he holds Hunnam accountable for his cold demeanor. Finally, Da'Vine absolutely sparkles as the grieving Mary Lamb. In each performance, we bear witness to characters who have been shattered by life circumstances, and each are looking for answers the midst of their frozen surroundings.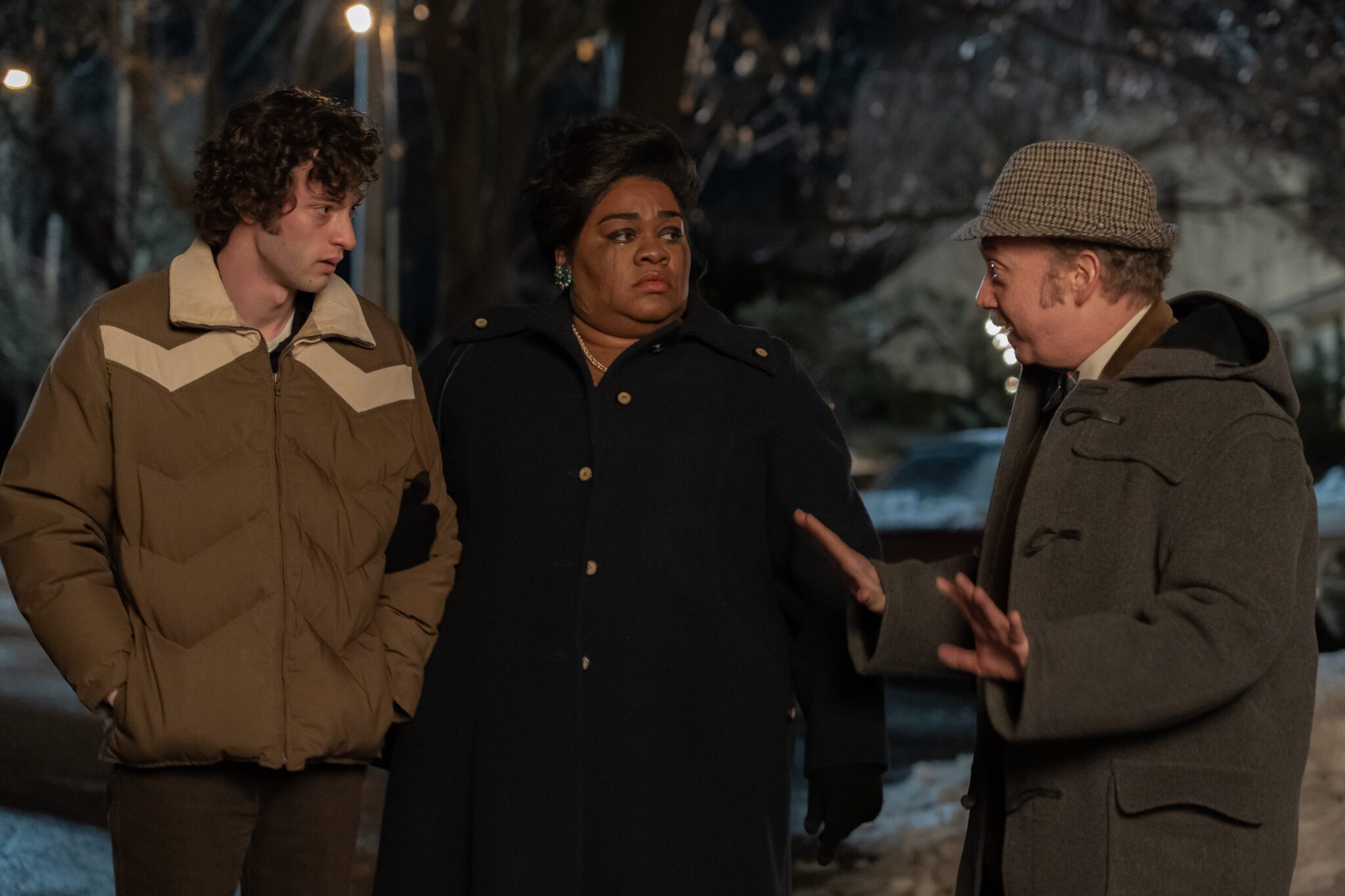 Set during the Christmas season, Holdovers taps into the nostalgia of the holidays while leaning into the cynicism of the modern era. (After all, we're told that "History is not just a study of the past. It is an explanation of the present.") Although set on the cusp of 1971, there's a modern sensibility to their characters as they struggle with their loneliness in a holiday that's all about connectedness. Each character believes they are missing out on something special at the hands of people who do not deem them to be special. As such, there's a humanistic quest at the heart of these Holdovers that taps into the nature of who we are, revealing a desire to be appreciated and loved by our families.
However, at the same time, Payne also reminds us that our families are made up of imperfect people in an imperfect world. We are shown the flaws within the hearts of others, especially amongst those who let us down or cause us heartache. In this way, Payne's world feels honest to the hardship experienced by many within the holiday season and the ways that we can come together in order to heal.
What's more, Holdovers also reminds us of the power of our stories and the way that they shape us. Through his character's journeys, Payne examines the ways that the contents of our story drive us and affect the way that we view the world. Even so, when we share those stories with others, something beautiful can happen. Instead of remaining within ourselves, the sharing of our stories can help bring us to life and, potentially, lead us into a new future.
For Payne, the sharing of our stories may be the place where healing begins.
Tapping itself into the conflicted feelings of many about the holiday season, The Holdovers sets itself apart from the average 'holiday film', creating an instant classic. But Holdovers isn't merely a great 'holiday film'. Instead, it is easily one of the best films of the year. Featuring phenomenal performances and a sharply penned script, The Holdovers re-examines the nature of family and finds hope for those who may feel left behind.
The Holdovers is available in select theatres on Friday, November 3rd, 2023, with an increased roll-out on November 10th, 2023.