For Gilly (short for Galadriel) Hopkins (Sophie N?lisse) family has always been a daydream. She has been through a load of foster homes. She has developed an attitude that serves as her armor. No one is going to get close to her. Yet she dreams of her mother coming to rescue her?even though her mother has never wanted anything to do with her. The Great Gilly Hopkins is a story about the meaning of family. Based on the long-popular YA book by Katherine Paterson (which won a National Book Award and a Newbery Honor), the film is adapted by Paterson?s son David, who also adapted her book Bridge to Terabithia for the screen.
The film opens with Gilly being brought to what is a last chance for her, the very lower middle class home of Maime Trotter (Kathy Bates), a foster mother who has never found a child she cannot love. And through all Gilly?s tries to fight against that love, Trotter keeps right on loving. Her first day at school she gets in a fight (beating six boys). She writes a card with a racial slur to her teacher (Octavia Spencer). When a girl in the school seeks to befriend her, Gilly treats her miserably. She mildly bullies W.E., the younger foster child in the house, but won?t let anyone at school bother him. She steals from Mr. Randolph (Bill Cobbs) the blind neighbor across the street that Trotter has brought into the family was well. Let?s face it; most people would have given up on Gilly long ago. And she pushes everyone to the limit. Then, finding where her mother is living, she sends a letter full of exaggerations then tries to run away to her.
Trotter still refuses to admit defeat, and soon Gilly is beginning to find her place in the oddly put together family. But then, as a result of the letter to her mother, her grandmother (Glenn Close) (who never knew about her) shows up. Her grandmother is very well off and wants to take Gilly to live with her. Just as she has finally found happiness, is she to be uprooted yet again?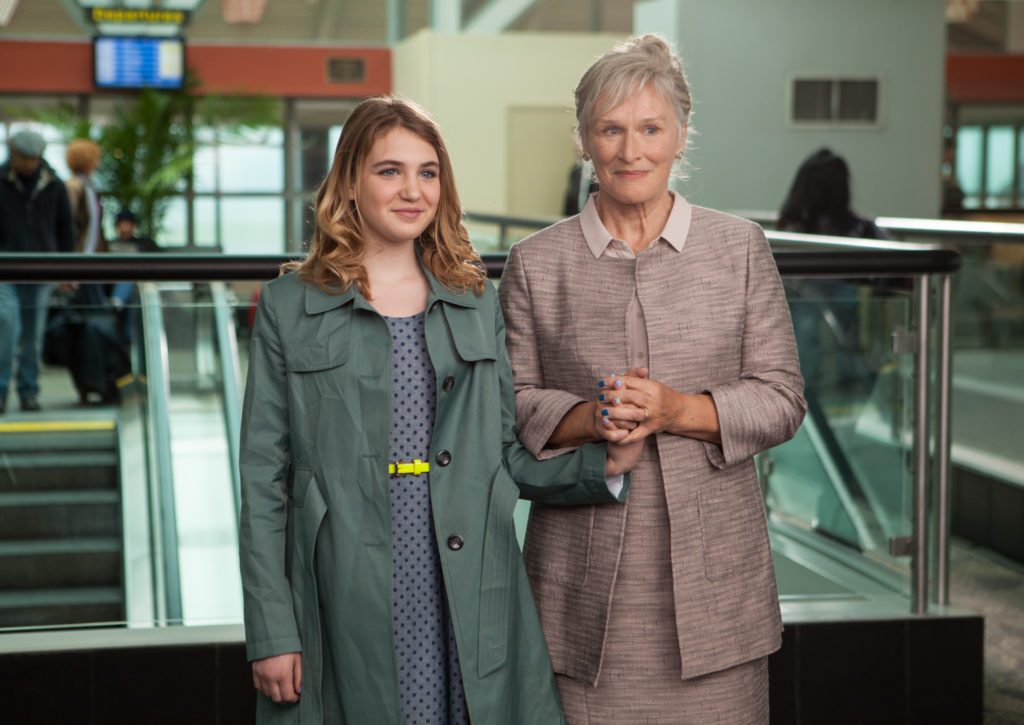 While stories of children in foster care often show settings of abuse, this home is a place of love and acceptance. Gilly?s dream of being united with her mother has stood in the way of her seeing the people around her willing to love her and make her a part of their family. Dreams, of course, can help us find happiness as we follow those dreams, but for Gilly they have been a barrier to happiness. Just as her attitude has served to protect her from harm, it has also been a hindrance that has blocked any chance at love and happiness.
Perhaps one of the reasons for the popularity of the book is that it focuses on the struggle of people of that age to feel as if there is a place for them?even those in loving families. It is certainly age appropriate for tweens to feel as if they don?t fit in anywhere. Gilly has given tween readers someone who gives voice to their feelings. That comes out well in the film. I think the kinds of feelings that Gilly exhibits at various stages of the film reflect the fears and hopes of many children of that age. The film also shows that even when there is great disappointment in life, if there are those around who love you and you love in return, happiness can still be found.
Photos courtesy of Lionsgate Premiere