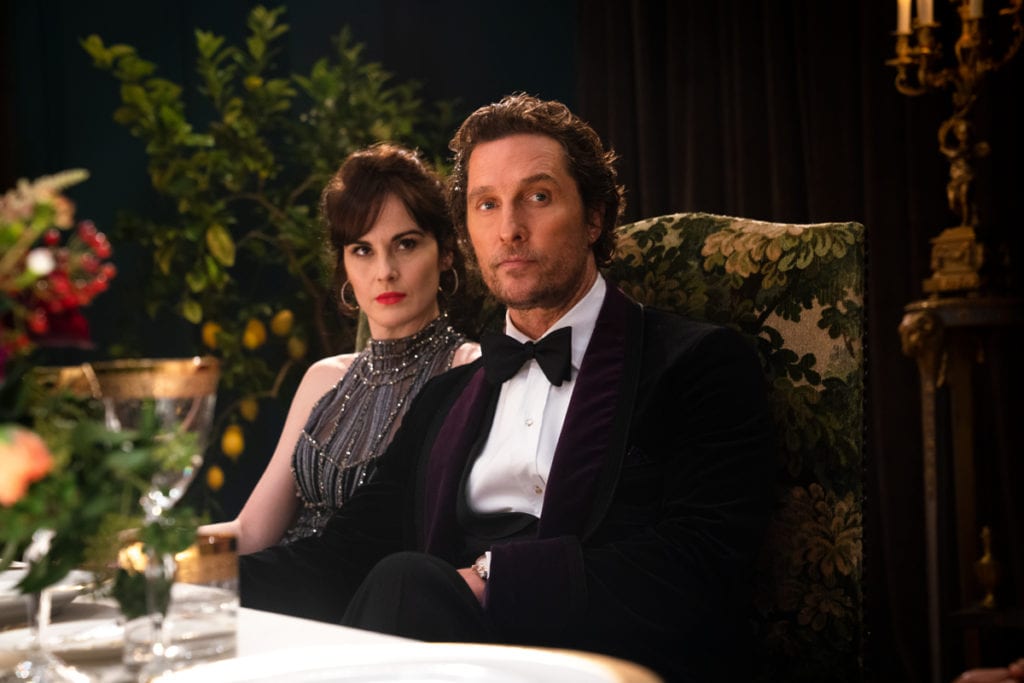 Written and directed by Guy Ritchie, The Gentlemen introduces the world to Mickey Pearson (Matthew McConaughey), an American expatriate in London who built his empire by selling marijuana. When word gets out that wants out of the game, his enemies begin to salivate at the chance to take a bite out of his organization.
Having just finished his work with Disney on the live-action version of Aladdin, The Gentlemen is Ritchie at his free-wheeling best as he creates carnage and chaos in the mob realm once again. (In fact, it may be fair to say that that freedom may be exactly the point of this film, after working in the franchise pressure cooker that is the House of Mouse.) While the script may be a little too self-aware at times, the sheer joy expressed in the film-making and cast make the film a fun viewing experience. Having established himself with modern classics such as Lock, Stock and Two Smoking Barrels and Snatch, his return to independent film allows him to spin narratives and bullet chambers in his own voice. Quick cuts, fractured storytelling and stop-time action sequences help the film to fit well into Richie?s uniquely stylized canon. What?s more, enthusiastic performances by Hugh Grant, Colin Farrell, Matthew McConaughey and, yes, Downton Abbey?s Michelle Dockery keep the film wildly entertaining as well.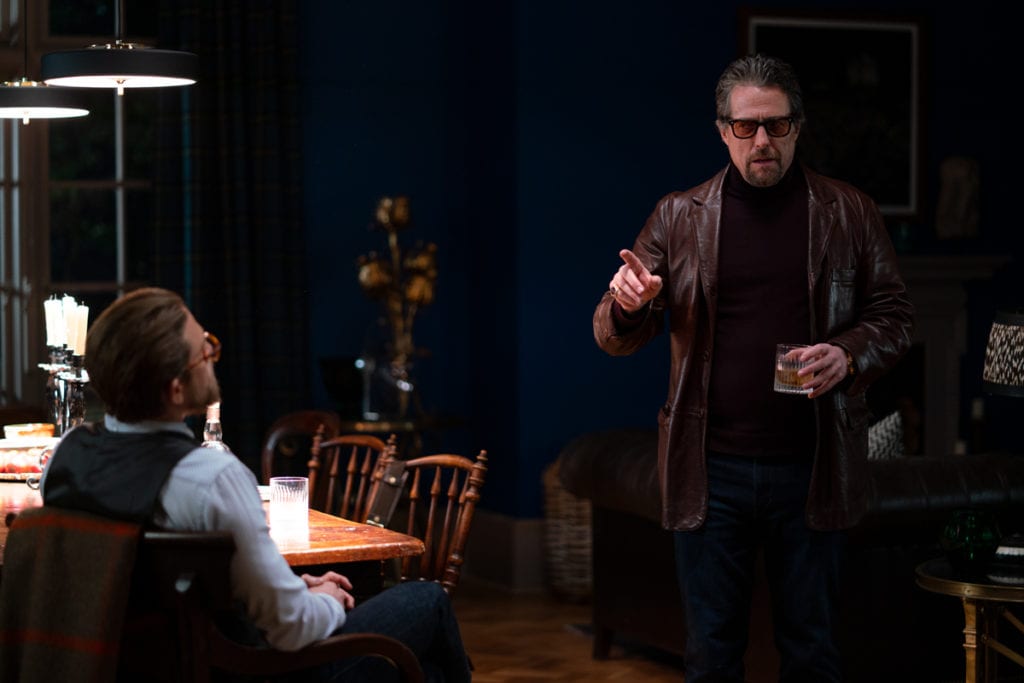 The Gentlemen is a film that seeks to preserve the way things as they ?used to be?. In Pearson?s drug-fueled world of money and mayhem, there are very clear rules about the way that things are handled between those in power. Despite the masculine bravado between players, this is actually a surprisingly ordered society that takes care of their business under guidelines of recognising boundaries, and old-school respect. (The film is called The Gentlemen, after all.) For example, as Mickey attempts to walk away from his drug empire, he offers the business for a ?fair price? that seems mutually beneficial. When a client seeks Mickey?s help after his daughter goes missing, he and his men take on the responsibility of bringing her home, even though it has little to do with them. Even the manner of storytelling within the film seems civil as two men unravel the narrative together over drinks and dinner, despite the fact that one of them has broken into the other?s home. Although their actions may be illegal, these men understand that their actions need not necessarily lead to violence (at least, initially). In other words, in this jungle, the animals know who the lion is and they offer him the proper respect.
With this in mind, what?s striking about The Gentlemen is its disregard for cultural conversations surrounding toxic masculinity. In a culture that continues to re-examine the nature of manliness in the light of changes in perspective and hoping to elevate the other, The Gentlemen appears to hit the reset button by throwing men back into the forefront of power.
For instance, the greatest threat to the legacy of the men in power seems to be youthful ambition. Time after time, as young men attempt to solve problems by taking matters into their own hands, they are met with angry words (or worse) from those responsible for them. Caring little for the rules of their elders, these up-and-coming but undisciplined thugs believe that their time has come to challenge for power, leading to chaos within their ordered society.
Meanwhile, as the youth create anarchy due to their lack of respect, the women are resigned primarily to the sidelines. While Dockery?s performance as Rosalind Pearson is absolutely confident and powerful in her own right, she still requires the strength of her man to come to her rescue. In fact, while there are female characters with a voice in this world, few have the strength to survive. (In other words, this is a film has little interest in passing the ?Bechdel Test?.)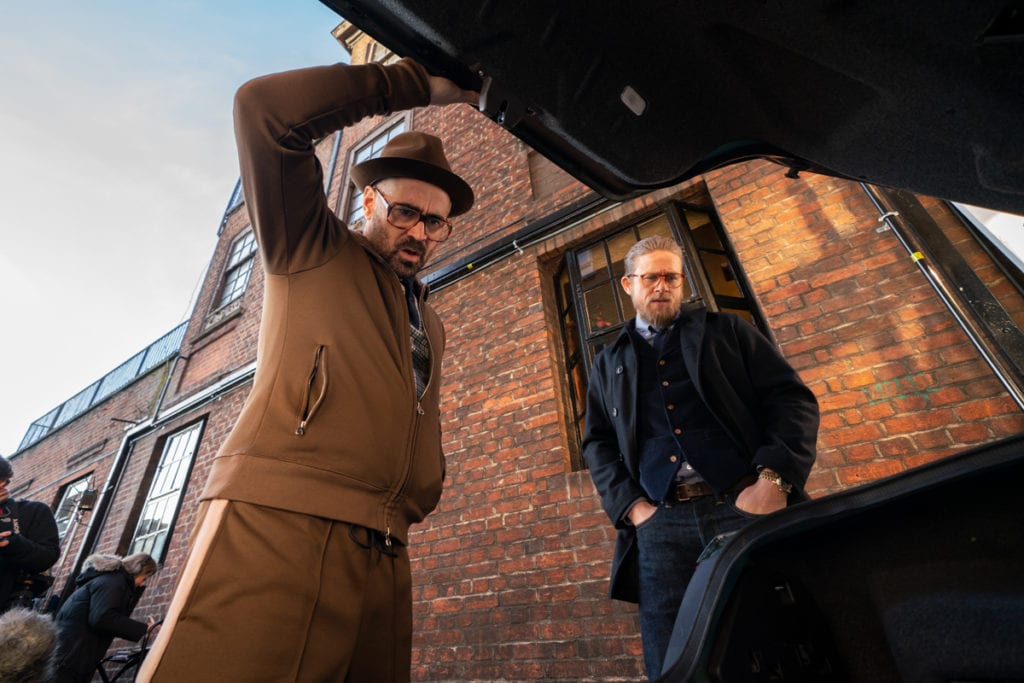 In The Gentlemen, it is very clear that established men rule.
Even so, despite its over-reliance on strength through masculinity, The Gentlemen really is an entertaining return to form for Ritchie. Just as every great basketball player enjoys a game of pick-up ball with their friends when they?re not playing for the big leagues, so too does Ritchie enjoy begin back in the genre that made him famous.
The Gentlemen spins its tale in theatres on Friday, January 24th, 2020.