And you thought driving your Mammaw to the Piggly Wiggly was a pain.
Be glad you?re not Mallorie.? She?d kill for a lazy jaunt to the corner market.? That?s because her crazed Gram Gram Birdie seems obsessed with the dead?and bringing them back to the land of the living.
Sweet Mallorie (Meegan Warner) is the hero of Level 33 Entertainment?s The Caretaker, a new thriller that could make anybody think twice about volunteering for adult-sitter duty.? When her demented grandmother, Birdie (Sondra Kerr Blake), begins a downward spiral, Mallorie steps up to take care of her.? Against the wishes of her boyfriend, August (Sean Martini), Mallorie eschews placing Birdie into a nursing home or hiring a professional aid to sit with her.? Instead, she convinces August that they must move in with Birdie in order to preserve the old gal?s dignity.
The only problem (well, the biggest problem) is that Birdie?s nest holds some nasty memories for Mallorie.? After her mother abandoned her there as a little girl, Mallorie developed a severe sleepwalking condition and was plagued by visions of a spooky, stalking clown.? Meanwhile, Birdie kept slipping a little further from reality, trying to win Mallorie?s love with neurotic displays of affection.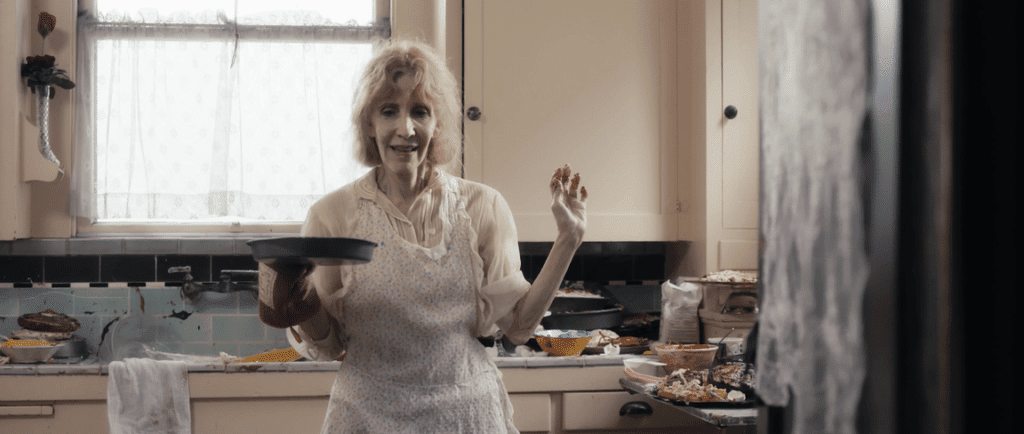 Once Mallorie returns as an adult, things get even weirder.? Her sleepwalking worsens and it isn?t long before the only thing she can remember about the chronic episodes is a strange set of encounters with a little girl who doesn?t live there?and a disturbing reunion with the creepy clown.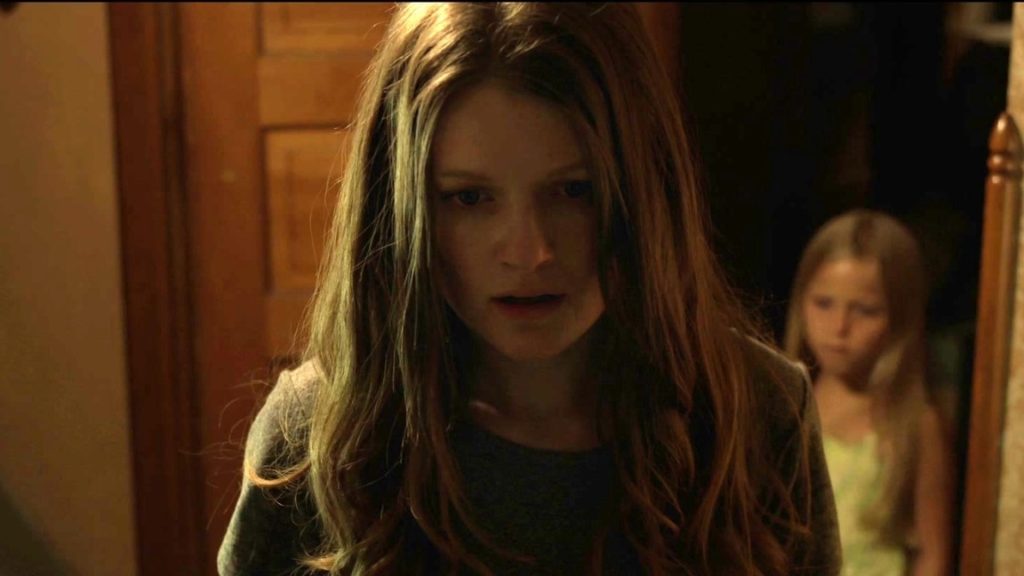 Meanwhile, the secrets of Birdie?s mysterious past are revealed and we soon learn that she sees a lot more than she lets on.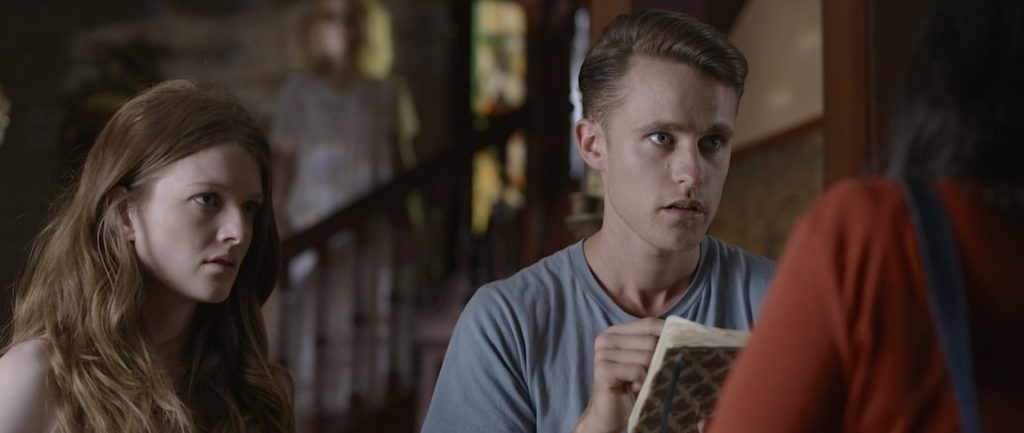 And she really like clowns?especially dead ones.
Shot in a mere twelve days, The Caretaker opts for lore over gore.? It relies on story and tone to craft an unsettling, if not overly terrifying, narrative.? Slasher hounds will be left wanting, but suspense fans will enjoy the slow build to burn formula with an intriguing, unexpected end.
Everything is a little offbeat from the get-go and Birdie?s mania waivers from unsettling to irritating.? Though light on effects, some fun fuzzy camera tricks add some nice ?did-I-really-see-that-in-the-background?? visuals.? It?s equally short on jump scares, and the few included unfortunately fall into the all-too-familiar mistakenly perceived threat devoid of dangerous payoff.? And the current trope du jour?the clown?makes for a convenient narrative vehicle, but lacks the bite of some of his big screen counterparts.
Still, The Caretaker provides some worthwhile cerebral horror, and it does a better job of haunting after the credits roll than many of the aforementioned an-unstoppable-constantly-returning slashers.? Chances are, you won?t have to worry about an axe-wielding zombie chasing you through the woods anytime soon (hopefully), but any of us may one day be faced with the task of caring for a loved one who just isn?t all there anymore?and whether they see dead clowns or not, that?s still a frightening plot in and of itself.
The Caretaker reminds us of the misery of regret, whether we?re futilely trying to hold on to the memories of the days when it was beautiful, or whether we?re trying to recapture the lost relationships that broke our hearts.? It teaches us that whichever side of the coin we are on, we must make the best of our present situation and hope for a better future.
The Apostle Paul dealt with a unique form of regret.? Before his conversion (when he went by the name Saul), he spent years persecuting Christians during his affiliation with the Pharisees.? Afterward, he became one of the strongest defenders of the faith.? He preached to the same people he?d punished, but constantly reminded them that he was not worthy to do so.? Throughout his writings, he laments his prior misdeeds, but spends the remainder of his days trying to do the right thing.? In Philippians 3:13-14, he says:
?Brothers and sisters, I do not consider myself yet to have taken hold of [the goal]. But one thing I do: Forgetting what is behind and straining toward what is ahead, I press on toward the goal to win the prize for which God has called me heavenward in Christ Jesus.?
Paul knew there was no going back to change his past.? It was a part of him, but it didn?t determine his future.? He kept his eyes on Christ, kept working to advance His kingdom and kept striving to make each day better than the one that had come before.
All of us have done things we?d rather not have.? Or maybe we?ve not done things we wish we had.? But dwelling on those regrets will only weigh us down and prevent us from achieving our full potential, not only in the here and now, but in days to come.? Paul showed us that no matter where we?ve come from or what we?ve done or didn?t do, we can improve.? And with each new day, we can become a better example of Christ for a world that so desperately needs Him.
Paul?s story is our story.
It?s one we should take care not to forget.