?Life is delicioso; you just have to bite it.?
Team Marco, from director Julio Vincent Gambuto, is a story about generations learning from each other. It asks us to look up from our screens to see the world, and more importantly, the people around us. It also reminds us to cherish the love that fills our lives.
Middle-schooler Marco?s (Owen Vaccaro) plan for the summer is to reach Level 100 in a particular video game. His absent father has promised that if he makes Level 100, he will take him to a big video game expo. But that plan hits a road bump when his grandfather Nonno (Anthony Patellis) nearly burns down his home and moves in with Marco and his mother Anna (Anastasia Ganias). When camp for Marco falls through, Anna talks a reluctant Marco into babysitting his grandfather and talks a reluctant Nonno into babysitting his grandson.
It?s a difficult start. Nonno doesn?t understand the fascination Marco has with his game. Marco is resentful that Nonno has taken over his room. Nonno forces Marco away from his screen and takes him to the bocce ball court where Nonno and his cohort of older men play every day. In time, Marco begins to become attracted to bocce. In a bet to get control of his life, Marco recruits some others his age to form a bocce team.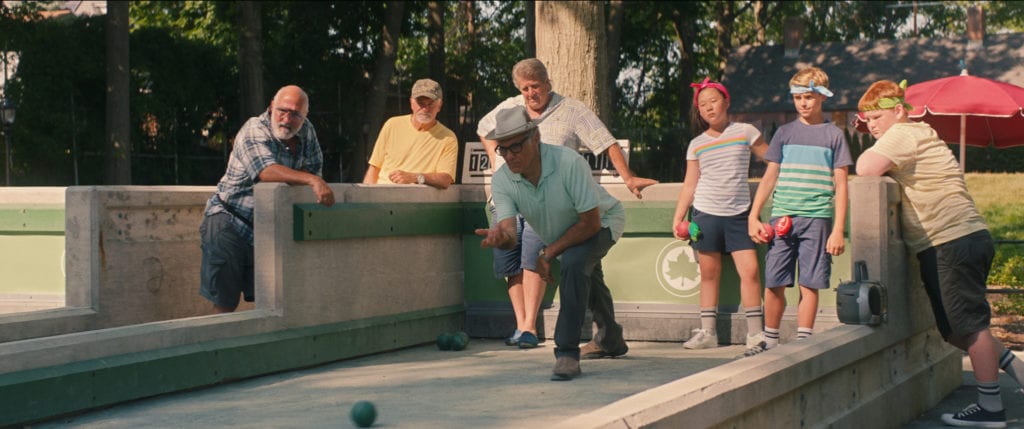 The film is not so much about knocking screens and virtual entertainment as it is about the value of real connections. Marco, through his video game, has virtual connections with people in many countries. But those relationships do not carry the kind of love that Nonno has with his friends?and Marco begins to find with his new friends.
There is a bit of crossover, though. Much of the time playing his video game, Marco plays wearing a VR headset. There he sees the game in a new way. When Nonno tries to teach Marco bocce, at one point he blindfolds him. He is told to see the game in his head before he tries to do it with his body.
My favorite scene is when Marco?s team meets the older team. Nonno?s friends are all older Italian men. Marco?s team is boys and girls, and different ethnicities. The younger team tells the older bunch that their advantage is their diversity and the ability to build networks that expand their horizons. It serves as a reminder that those kinds of connections that Marco had with his online game are not without value. But we know that the connection Marco has with his new friends, and with Nonno and his friends, is special.
The film teaches that we make choices that may expand our worlds. We may find our insular lives satisfactory, but there are other things that can bring new knowledge and joys.
Team Marco is available on VOD.
Photos courtesy of Samuel Goldwyn Films.