Written and directed by Anna Kerrigan, Cowboys tells the story of Troy (Steve Zahn), a mid-Western father who lives in an environment defined by masculinity. When his young daughter, Joe (Sasha Knight) reveals that she believes herself to be a boy, Troy's initial apprehension quickly turns to acceptance of his son. However, his mother Sally (Jillian Bell) is not so understanding. Unable to accept this new reality, Sally attempts to reinforce traditional gender stereotypes in an effect to 'help' Joe. Frustrated by his wife's response, Troy takes Joe into the Montana wilderness in an attempt to cross the border to freedom.
Known best for their comedic work, Zahn and Bell deliver incredible performances here as Joe's conflicted and frustrated parents. Rather than focus primarily on Joe's journey, this is a film about the fears and insecurities of the adults that surround him and, frankly, both stars are simply astonishing to watch onscreen. (Zahn, in particular offers some of the best work of his career here, imbuing Troy with a mixture of frustrated anger and genuine humility.)
Due to the strength of their performances, there's a surprising level of nuance to Cowboys. Though Troy is hardly the ideal father, in some ways… he is? While his temper can get him into trouble, his motives behind his blow-ups primarily stem out of a heart of protection for his young son. His masculine external demeanour is undercut by his heart of compassion and empathy, despite the fact that Joe's revelation seems foreign to him at first. ("You will be confused at this age," he initially warns.) However, it's not long before he has embraced his son for who he is, regardless of his initial unease. Even his attempt to abduct Joe falls into question as the story unravels. Is it really kidnapping or is he helping set Joe free?
At the same time, Sally's antagonistic mother is not without redemption either. Whereas many films of this type will portray their 'villain' as the inveterate monster, Sally's anger stems more from her denial than a heart of bigotry. Afraid of what she does not understand, Sally yearns for her child to be 'normal' and attempts to fit him in to more traditional stereotypes. To Sally, Joe is merely confused. As a result, she looks for people to blame for her unrealized expectations of her child, which she ultimately directs at Troy. Despite her over-powering fear, however, Sally is also viewed as someone who loves her son (or, daughter as she claims). She mourns the fact that her child is missing and wants desperately for him (or 'her') to be brought home safely. Regardless of her actions, there remains a humanity to her character that never fully demonizes her.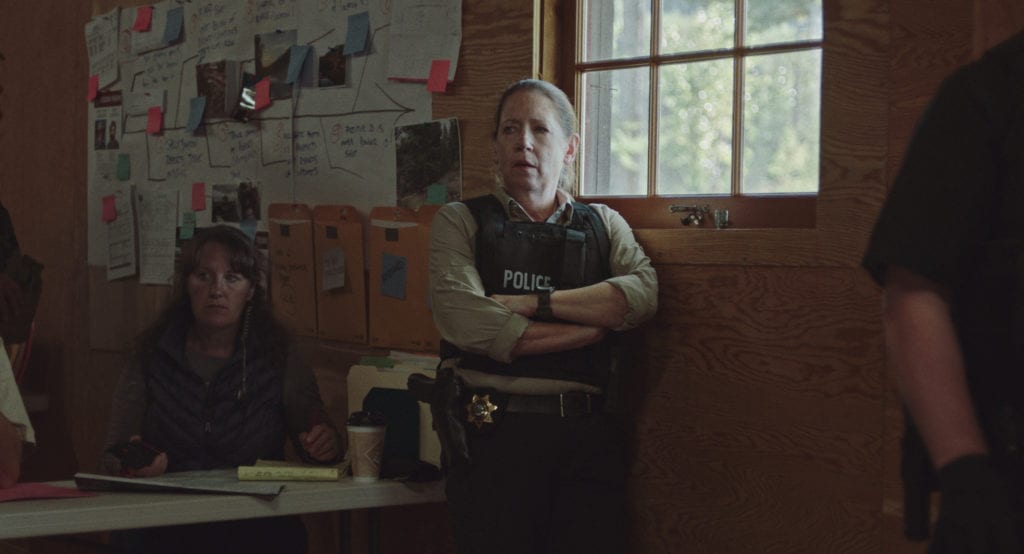 Interestingly, the most important character in the film may not actually be any particular member of the family but rather Officer Faith (Anna Todd). Caught between duty and compassion, Officer Faith becomes the weight to which Troy and Sally's parentage is weighed against. Although her job may be to find and return Joe to his mother, Faith also recognizes the real struggle beneath his abduction and the complexities of his situation. For Faith, grace and justice live in gentle balance with one another. To this end, her commitment to Joe becomes more about restoring his family than it is about capturing his father.
While Bell and Zahn may be the focus of the film, Cowboys is about far more than their family. Pulling back the lens, Kerrigan's work is also a call for grace and understanding from a culture that is still coming to grips with the modern sexual revolution and its nuances. Though Cowboys may be the story of one youth's journey, it is also a reminder of the humility required to help all people discover who they were created to be.
Cowboys is available on VOD.