Written and directed by Gary Dauberman,?Annabelle Comes Home?sees the return of the demonic doll as paranormal investigators Ed and Lorraine Warren lock her in their home?s mysterious artifacts room. However, after Annabelle awakens the room's evil spirits, their home quickly turns into a house of unholy horrors for their young daughter, her babysitter and their friends.?Serving as writer and director for the film, Dauberman recalls that his journey with?Annabelle began with an opportunity to screen an early edit of?The Conjuring.
?I was working at New Line on some other stuff and they told me about this movie [called?The Conjuring] that they were making with James Wan, who I was a fan of,? he begins. ?They asked if I wanted to see very early cut of the movie… and I immediately jumped at the chance because I was a fan of James' other movies. It's not often you watch a movie and [know that] my kids were going to watch it 20 years from now. It worked on every level for me… James was so brilliant with how he approached the material and as filmmaking, they didn't really change that much from the early cuts to what is now out there. So, when that movie came out, it was a great success and people really were talking about this doll that was [mentioned] in the first 10 minutes of the movie. That's when New Line called me [and asked] if I wanted to write the?Annabellemovie. I jumped at that chance, wrote that movie and then from there, we just kind of rolled into the next and the next.??

Having been involved in the creation of multiple entries into the?Conjuring universe in recent years, Dauberman is hardly a stranger to the genre. Even so, he claims that his passion for horror stems from his interest in exploring the nature of fear itself.
?I grew up outside of Philadelphia. When you're surrounded by history, it makes you feel like there's a ghost in every other house,? says Dauberman. ?I had a really nice childhood, so maybe I was given a safe space to sort of explore the darker stuff. It wasn't like I was coming from a dark place and looking for darker things. I've just always been fascinated by things that are sort of unexplained phenomenon, you know?… I think fear is a healthy thing. I think it helps us understand who we are. I think it teaches us who we are, [and] what we're afraid of. I think it helps with our survival instincts. I think it's a healthy thing. I don't think a person's weird or abnormal because they like being scared. I think we all like being scared in some degree, but I also think it just helps us grow as people too.??
Furthermore, Dauberman also argues that horror remains popular because it is one of the key genres that benefits most from being experienced?together in a theatre, as opposed to watching it alone on our personal devices.
?One of the reasons that I think horror works in the movies in the theater is that we have so few communal experiences nowadays,? he believes. ?I think going to the theater with a bunch of people crammed together in an audience, all experiencing the same types of fears or emotions is something that's lacking nowadays. One of the few places we get at is in the theater because we're watching TV on our phones or on our iPads or whatever. It's a singular experience [and]we're not sharing that experience with anybody… You don't even get the shared experience of, 'Oh my God, did you see that show last week? I can't wait to see what happens next week.' Everybody's on different or the different part of the conversation. But I think horror is one of those things that people go to the theater for and they get to share in this communal experience [together]. I think that's one of the reasons why it works so well.?
Having written each of the three?Annabelle films, Dauberman finally climbs into the director?s chair for?Annabelle Comes Home. For him, the decision to make the move behind the camera was made because he believed that he was finally ready to do so.
?It just felt like a natural progression of where I've been,? Dauberman believes. ?I've worked with such generous and great filmmakers that have all allowed me to be a part of the process from start to finish so I got to learn a lot. I got to see what works and what doesn't, pretty up close and personal. So, it's all been such a great education that just felt like that natural progression of me. I couldn't ask for a better opportunity either because, really, I'm making movies with a bunch of my friends. [These are] people that I have developed relationships with over the years. So, we were all on the same page and we all had the same goal in mind. They all knew me and my personality and I knew theirs. So, it was a really kind of safe environment for for me to take that step. It felt like an opportunity I couldn't pass up.?
In terms of the latest entry into the?Annabelle franchise, Dauberman believes that it differs from the previous films by allowing the audience to view the world of lead characters Ed and Lorraine Warren through the eyes of their daughter, Judy Warren. In doing so, the film also explores what it must be like to live in a house filled with haunted artifacts.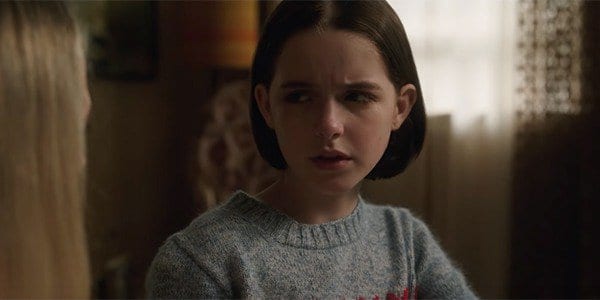 ?First and foremost, we get to explore Judy Warren a bit who we've met in the Conjuring movies, but haven't yet really gotten too deep behind her character,? he explains. ?I often think about what it was like to grow up in a house with Ed and Lorraine Warren with what they did for a living and they're room was that was filled with all these haunted artifacts. That was one of those things that I really want to explore in this movie. Structurally, we've never had a movie that took place over the course of one night in this universe and I wanted to explore that. I want to explore the artifact room and see what kind of unique scares certain artifacts could provide for us in this movie. It was kind of fun to just play around with that stuff and I think that stuff makes it feel a part of the universe but also helps set it apart and make it its own little movie too… I don't think you need to understand too much backstory to enjoy this one.
Of course, with this weekend?s release of?Child?s Play and yes,?Toy Story 4 (which contains some classic horror elements),?Annabelle becomes the latest film focusing its terror on children?s playthings. With this in mind, Dauberman believes that toys provide an excellent opportunity for terror because of the security that they represent.
?I think what it is about toys is that those things aren't supposed to bring fear and are bring you joy, love and a sense of security,? he points out. ?So, I think when you subvert that, it makes it even scarier because this thing is not inherently supposed to bring you fear. I think that's part of the reason why it works so well in the horror genre. You're completely turning something on its head. It's like a haunted house has worked so well because it's supposed to be a safe space and give you security. When evil is coming with inside the home, it's terrifying because the thing that's supposed to provide you all that security is suddenly now a thing of evil.??

In addition to his experience working in?The Conjuring universe, Dauberman is also credited with writing the most recent adaptation of Stephen King?s?IT and it?s forth-coming sequel. Asked if he finds it a challenge to work with the iconic horror legend, he muses that the real challenge is giving King?s masterworks the treatment they deserve.
According to Dauberman, ?The challenge is not to screw it up. [Laughs] There's a reason these things are around as long as they are and that's a biggest source of anxiety. How can I not screw this up??Salem's Lothad the same life that?ITdid where it was existed only as a television mini-series for so long and it hadn't had the cinematic treatment. So that's what we're doing with?Salem's Lot as we try to give it the cinematic treatment that it deserves. Fortunately, you're working off such a great source material. That makes it a little bit of a little bit easier when you're writing it.??

Another project that Dauberman was involved in was the WB?s recent adaptation of?Swamp Thing for its streaming service. Written by Dauberman and received with critical acclaim, the series was recently unceremoniously cancelled with little explanation. While he is disappointed with the decision to end the series, Dauberman remains proud of their achievement.
?It was a really great experience working on that show,? he contends. ?We're so, so happy that the critics and the fans are loving it the way that we love it because one of the things [we] wanted to do was [to be] really true to the spirit of the book. I think to show managed to achieve that. I think the people who worked… did an amazing job because that is not an easy feat. [As for the show's cancellation,] I wish I had some insight to provide on that, because it would help make me sleep better at night. [Laughs] They call it show business, right? I think we really got the 'show' part right. The business side of it, I think maybe is where it feels a little like that might have a large reason to do with why what happened happened. It's frustrating for us creatively because we thought we were really firing on all gears but I hope, at some point, we get to explore more stories in the swamp. It was great fun spending time there.?
Annabelle Comes Home comes to life in theatres on June 26th, 2019.
For full audio of our interview with Gary Dauberman, click here.