The American Film Institute, which oversees the AFIFest Presented by Audi, was created by Presidential mandate under President Lyndon Johnson, ?to preserve the heritage of the motion picture, to honor the artists and their work and to educate the next generation of storytellers?. The festival is truly a celebration of film, its history, and its future.
I began my Sunday at AFIFest with Hotel by the River from South Korean director Hong Sang-soo. It is the story of an aging poet who, feeling the weight of mortality, asks his two sons to join him at the hotel he is staying at. Also at the hotel is a young woman who has just gone through a breakup and a friend who is caring for her emotionally. The men have a hard time dealing with their emotions, and frequently miss connecting with each other?both physically and emotionally. The women, on the other hand, are constantly in contact with one another.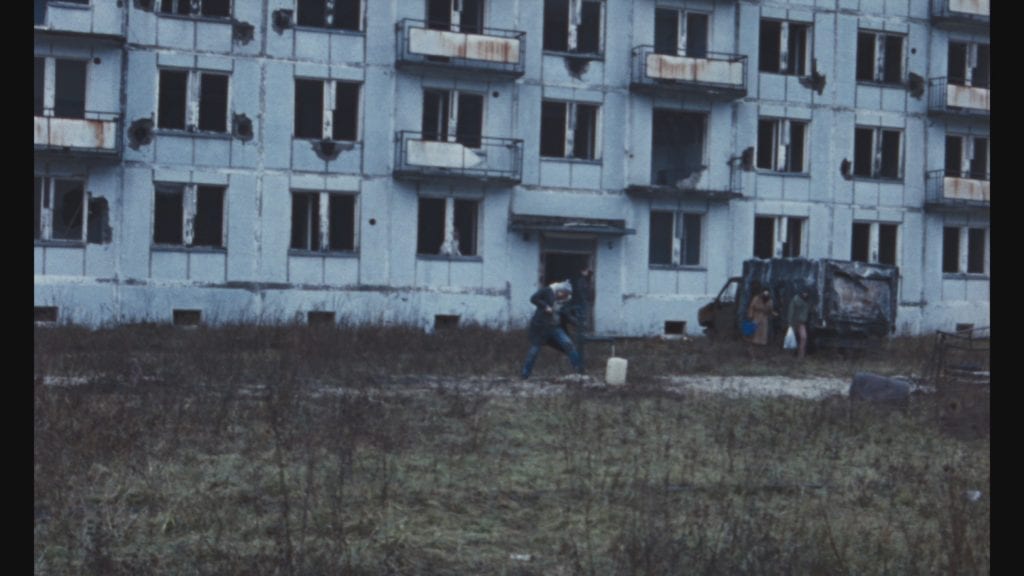 I also took in one of the shorts programs. I am fond of catching shorts at festivals because this is often where future filmmakers are getting their start. AFIFest is a qualifying festival for Oscar consideration, so the winners of the short film competition here are eligible to be nominated in the shorts categories. The eight shorts I saw in this group were:
Hair Wolf (12 minutes, directed by Mariama Diallo). In a black hair salon, the staff encounters a woman who magically steals their black culture.
Concussion Protocol (6 minutes, directed by Josh Begley). This film is made up of clips of all of the more than 250 concussions sustained during the 2017-18 NFL season. Many of the clips are run in slo-mo and/or in reverse so we can see the contacts and often the severity of the damage.
Magic Alps (15 minutes, directed by Andrea Bursa and Marco Scotuzzi). When an Afghan refugee arrives in Italy with a goat, he causes a great bureaucratic conundrum. It is the refugee?s desire to take the goat to the mountains to see snow once more, but there are issues.
A Siege (Ostrom) (22 minutes, directed by Istv?n Kov?cs). In 1994 Sarajevo, a woman who just wants to have a sense of normality in her life must find a bit of water. There is desperation and hope. This was by far the best of the group in my estimation.
III (Impossible Figures and Other Stories) (12 minutes, directed by Marta Pajek). This animated film features a strange meeting of a man and a woman with some violent and erotic overtones.
Irish Prince (3 minutes, directed by Joey Garfield). An older Irish gentleman tells his friends about his first meeting with woman he would marry.
Cyclists (Biciklisist) (7 minutes, directed by Veljko Popovic). During a big bicycle race, two competitors imagine the real reward of winning?the woman waiting for the winner.
All Inclusive (10 minutes, directed by Cortina Schwingruber Illic). A series of clips of the activities on a cruise ship.
One of the films I was most looking forward to at the festival was Jinn (from director Nijla Mu?min. It is the coming-of -age story of a young black woman in her senior year in high school. It has an added dimension of also what it means to deal with religious conversion. When Summer?s (Zoe Renee) mother converts to Islam, Summer must work out what that means for her and her future. Add to it the boy she keeps seeing in class and in the Masjid. It shows some of the issues that come with converting to Islam?including the prejudice of friends. And while it focuses on Islam, there are clearly parallels to other faiths and what it means to bring religion into one?s life?and what it means to try to live by its tenets. Jinn is scheduled to open later this week.
Playing along with Jinn was a short film, X (13 minutes, directed by Yara Shahidi). A young black kid on a journey through various parts of L.A. and the realities of being black and young in America.