What if you know something bad is happening, but no one will believe you? Perhaps they think you?re crazy. Perhaps you even begin to think you?re crazy. The Swedish film Knocking is part of the Midnight section of the Sundance Film Festival (happening virtually this year). It is a psychological thriller which saves its revelation to the very, very end.
Molly has had a devastating loss that his sent her into a nervous breakdown. After being released from the hospital (she and her doctor both agree she?s ready), she moves into a new apartment. Soon she begins to hear a knocking from her ceiling. When she visits her upstairs neighbor, he?s at a loss of what she might have heard. The next time she hears it the knocking sounds like a Morse Code SOS. More checking with other neighbors, but no one else hears anything. She calls the police, but they hear and find nothing. Further calls gets her a warning that if she persists they will disconnect her phone. She has been making strange diagrams of connections on her wall. And there is a blood-like spot on her ceiling.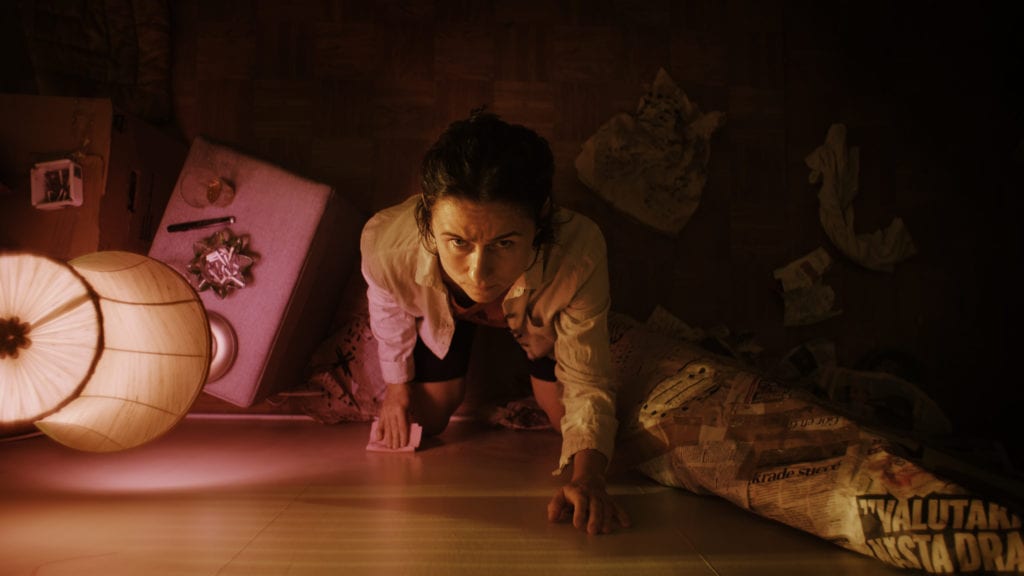 By the midpoint of the film we are certainly wondering if she was in fact ready for release from the hospital. She seems erratic, there is at least one hallucination or dream?seeing a woman jump from the next apartment building, but no body to be found. It seems very likely that she really is imagining it all. And in time, she manages to lose control and end up back in the hospital again.
In press notes, director Frida Kempff ties this story to the Me-Too movement. Here is a woman, trying to tell the world that something is wrong. She is met with disbelief. It is assumed that it is because of some mental issue. She faces threats if she continues to sound her alarm. She is easily dismissed. But what if what she hears is really there? What if she is the only person willing to act to try to save someone?
The film asks us to believe someone who is unbelievable. It asks us to not dismiss those who tell us what we don?t want to acknowledge. It asks us to pay attention to the cries for help that go unheard.