When Marty Baron (Liev Schreiber) becomes the new editor of?The Boston Globe, he pushes investigative journalist Robby Robinson (Michael Keaton) to explore the accusations of lawyer Mitch Garabedian (Stanley Tucci). Garabedian has gone public, saying that the Catholic church and local authorities have covered up accusations of child abuse by a local priest. Robinson is initially reluctant to explore it. There's a sense of duty as journalists and conflict over crossing the Catholic church (and expected levels of human decency) but as Robinson's team investigates, the truth comes out.
Tom McCarthy takes a dialogue-driven story, located primarily in the offices of the Globe, lawyers, and coffee shops, and dials up the tension in a way that impressively shows the conflict within the souls of the reporters (including those played by Rachel McAdams and Mark Ruffalo), the suffering of the victims, and the indignant reprisals of the guilty. The truth is that?many?people are guilty for their crimes against the children?and?their inaction in not stopping those who committed those crimes.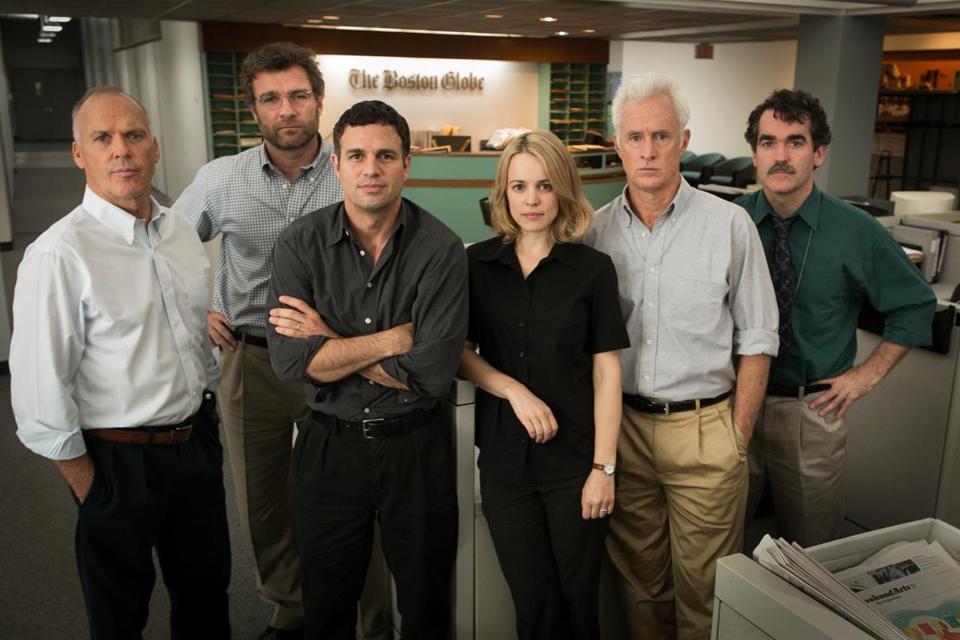 While some films might have been bogged down in the details or the ensemble cast,?Spotlight?shines as a Best Picture nominee both for the story it tells and for McCarthy's focus on what bits and pieces matter. We hear from a victim but we're not completely dragged down in lurid details; we don't see every conversation but we hear the necessary ones. And when push comes to shove, we are reminded that the story impacts us all.
One of the most troubling elements of the story is that various people had opportunities to stop the trajectory of the crimes. Whether it's a parent of a victim, a local police officer, a lawyer, or a reporter, different people knew about the crimes but found various excuses not to get involved. This is like the rape and murder of Kitty Genovese in 1964 – or the words of Martin Niemoller about the importance of speaking up for the Jews and others in Nazi Germany. It's the global connection that?Spotlight?is connecting to – we can all see moments where we failed to stand up for what we knew was true.
And yet?Spotlight?reminds us that we have a second chance. We can make it right. We can fight for the widow, the orphan, the immigrant, the marginalized. We can make social justice a reality, but we must?not miss our chance…
What truth do you know that you should be shouting, even when you're the minority? That's the question?Spotlight?asks, and it's up to you to answer.