After she moves to a small town in the American Mid-West, Lucky Prescott (Isabela Merced) is looking for a fresh start. Though she lives with her aunt (Julianne Moore) and her estranged father (Jake Gyllenhaal), Lucky doesn?t know anyone else in the town and is anxious to make friends. Though she befriends locals Pru (Marsai Martin) and Abigail (Mckenna Grace), Lucky is most taken by a wild mustang named Spirit, who shares her adventurous heart.?However, when a wrangler (Walton Goggins) attempts to round up all the local horses for profit, Lucky and her friends must team up to help free Spirit and his herd.
Directed by Elaine Bogan, Spirit: Untamed has a lot of charm that should provide some quality entertainment for the whole family. Based on Netflix?s Spirit: Riding Free, it?s worth noting though that the film is somewhat of a refresh from the beloved series. Though the characters may be the same, the film provides some new backstories for them that provides as a soft reboot. While admittedly the story doesn?t necessarily break any new ground, it does have the right spirit (pun intended) of adventure to keep children entertained. Leads Merced, Martin and Grace a good job providing the necessary pluck and determination that their characters need to bring them to life. Though the target audience for the film is clearly young girls, the film translates well for the whole family.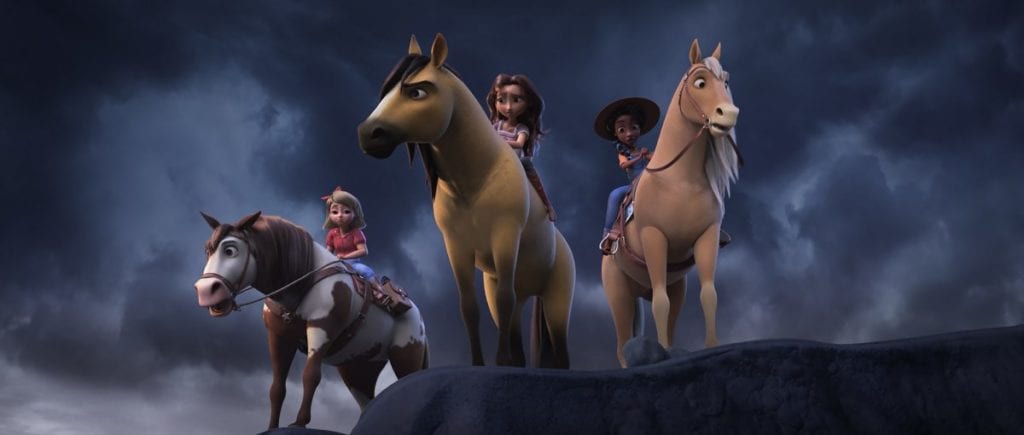 What is most noteworthy about Untamed is its style. What?s clear from the outset is Bogan?s deep love of horses and she gives these creatures a majestic feel. While Spirit remains the film?s focus, every effort was put in to give the animals their own individual identities. What?s more, with bright colours and unique design, Bogan?s team has crafted something that looks great, especially in its landscapes. Rather than make any attempt at realism, this is a film that wants to give the mid-west an almost mythological look to its animation. This approach serves the film well as even the most treacherous areas feel approachable and inviting, as opposed to terrifying or daunting.
At its heart, Untamed is really about what it means to be fearless. Though she has been relocated to a new town, there?s a precociousness to Lucky that keeps her looking for new challenges. Despite the fact that there are people in her life (mostly men) who attempt to tell her who she should be, Lucky wants to be free. This, of course, leads to her immediate connection with Spirit as the two have strong, courageous personalities.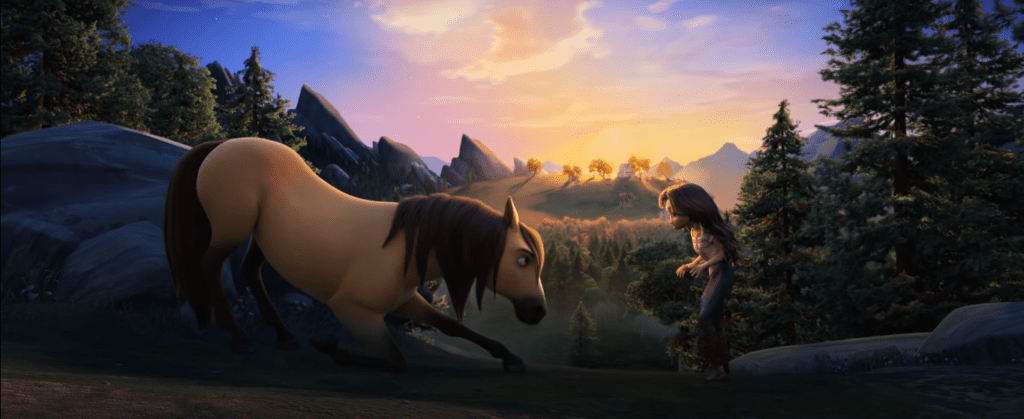 While there are some who would refer to her as ?rebellious?, that term sounds far more negative than reality. Her desire is not to ?break the rules? but rather one of self-discovery and curiosity. In other words, Lucky simply wants to discern who she is on her own, whether its learning the story of her mother or doing what she thinks is right. In light of this, those who attempt to keep her in a box generally do so out of fear. Rightly or wrongly, these other voices are afraid that Lucky will take after her mother and potentially put herself in danger.
Even so, like the horse she loves so dearly, Lucky cannot be corralled.
Within Lucky lies a fearlessness that drives her. With her friends by her side, she believes that she can do anything. Filled with strength of will and determination, Lucky is willing to take risks if it means doing what?s right. As she discovers who she has been created to be, Lucky?s strong character sends a strong and empowering message to young girls who are looking for heroes.
Light-hearted and fun,?Spirit: Untamed?has some kick to it. Led by some endearing work by its lead trio and some beautiful animation, the film is a welcome return to the big screen for the franchise. More importantly though,?Untamed?helps young girls understand that they don?t need to be afraid when they lean into who they?ve been made to be.
To see our interview with director Elaine Bogan, click here.

To see our interview with stars Isabela Merced, Marsai Martin and Mckenna Grace, click here.
Spirit: Untamed?is available in theatres on Friday, June 4th, 2021.