One minute you are comfortable. You have all you need and then some. You have freedom to go anywhere, anytime, with anyone. Secure and confident in your situation, you spend your days enjoying unlimited opportunities. And then one day, government agents are at your door, confiscating furniture, jewelry, and you?re frantically trying to pack your wig collection and designer clothes before you lose them forever.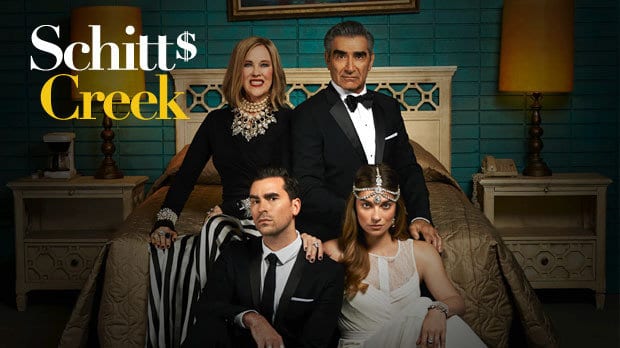 Ok, so maybe that hasn?t happened to you, but that?s the hilarious premise of Schitt?s Creek; the Canadian sitcom gem that is currently topping multiple ?feel-good? viewing lists as the world finds itself in the midst of crisis that has forced entire countries into lockdowns. So actually in a way, many of us can understand the day-to-day ?rug? being suddenly pulled out from under our feet. Just maybe not while wearing $850.00 pants.
Legendary comedic duo Eugene Levy and Catherine O?Hara star as Johnny and Moira Rose, whom, along with their children David and Alexis (Levy?s son Dan and newcomer Annie Murphy), lose everything built upon their video rental-store success due to a thieving business manager. As such, they are exiled to the tiny town of Schitt?s Creek ? a ?joke? of a birthday gift from Johnny to David that becomes their only means of survival?that and determined perseverance to ignore the reality of their situation.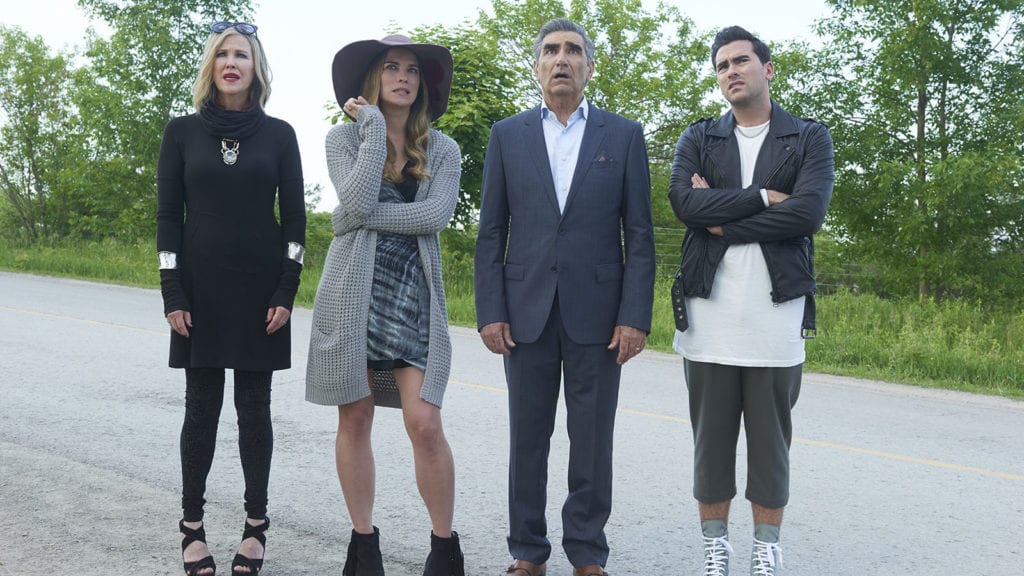 As of today, Schitt?s Creek is two episodes away of closing out its 6 season run, having only recently garnered the attention and notoriety it so richly deserves. What started as a seemingly superficial struggle from riches to rags has morphed into a deeply personal story of a family rediscovering who they are, and who they are meant to be. Dan Levy?s inaugural foray into writing and headlining is the stuff Hollywood dreams are made of; he brings decency and relatability that is often elusive in mainstream television, especially without the added perks of exuberant budgets. However, Schitt?s Creek has the good fortune of being filmed and directed on a network that doesn?t live and die by instant hits and quick buy-in. It has had time to take root and grow into something special and pretty universal ? how to live life from moment to moment.
It?s pretty impossible to sum up the first 5 seasons and I probably can?t really offer anything ?new.? We see the Rose family slowly open up to their unexpected reality, with hilarious ?relapses? into old expectations, like David trying to sell his clothes in season 1, or Moira?s extravagance for dehumidifiers and premier gowns in season 5. They never really stop being the Rose?s, but they uncover just how resilient and fortunate they are. David forms legitimate relationships for the first time in his life with best friend and motel-worker Stevie Budd (played by Emily Hampshire), and opens himself up to a real-life understanding of love with business-partner Patrick (played by Noah Reid). Alexis may always be a little superficial with random catch-phrases (?love that journey for me?), but she too learns to look beyond herself and her wants. And through it all, Johnny and Moira cling to one another as the one constant of their ever-changing life together.
The show addresses topics such as sexuality, prejudice, small-town life, disappointment, anxiety, love, betrayal, and then some, with gentleness and humor and bravery. Dan Levy?s writing matures with each episode and character arc, to where even the ?smaller? roles like that of caf?-owner Twyla (Dan?s sister Sarah) are just as integral to the story as the main characters. I don?t think there has yet to be a character or a scene that felt gratuitous or random. For me, everything and everyone comes together to build this story. I feel like it was written for a time such as this, when we all feel lost and unsure of our next steps, to show us how there is always a glimmer of laughter and light if we let go of what was, and open ourselves to the possibilities of what can be. ?