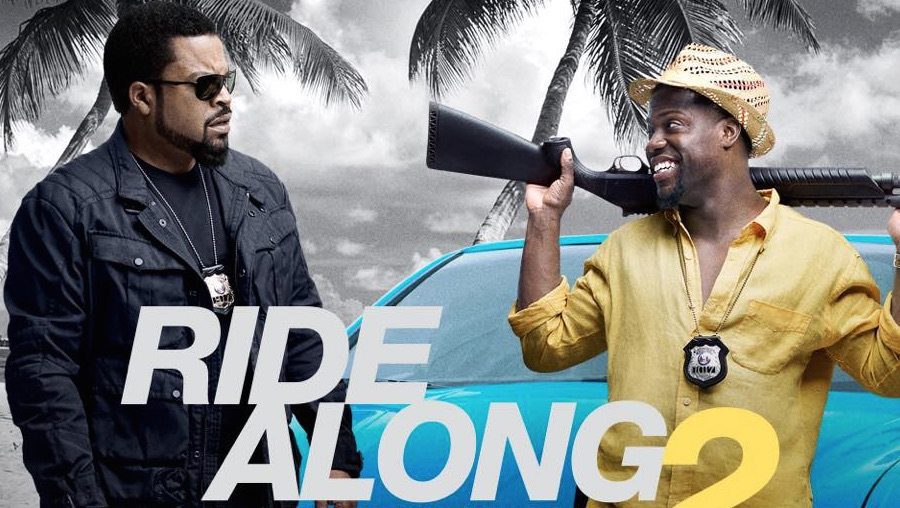 Ice Cube and Kevin Hart are back in the sequel to Tim Story's 2014 cop comedy,?Ride Along. James (Cube) is on the hunt for bigger and bigger criminal fish to fry, when his soon-to-be brother-in-law, Ben (Hart), steps in to save the day – and, in the process, gets James' partner (Tyrese Gibson) shot. Soon, they're headed out on the tail of Benjamin Bratt's Miami crime lord, Antonio Pope, just days before Ben will wed James' sister, Angela (Tika Sumpter). Of course, it may all?end?well, but it's bound to be awfully hilarious in the process.
Mix in a little Kim Jeong as Pope's hacker, and we have the makings of?Lethal Weapon 2?with Joe Pesci's Leo Getz. Not only do Cube and Hart's characters not exactly get along very well, but now they have an unreliable witness who is full of hijinks himself. It's funny watching these three dance around – more awkwardly than beautifully – but it's definitely funnier than?Get Hard.
Fans of Cube (now, not necessarily during his NWA days) and Hart will eat this one up. There are a number of things to laugh about in the trailer ("I can't feel my face") but there's something that plays well between Cube's stoic robot like brother intent on disliking his sister's beau and Hart's manic Napoleonic complex. [If we consider it long enough, we might find ourselves believing that the two are only playing themselves… but that's the beauty of being in character.]
This is ultimately a buddy film about a mismatched pair. No, they might not love each other, but they will only survive if they work together. Yes, Cube's James is trying to hold Hart's Ben back, thinking he's not good enough, too inexperienced, and not mature enough. He's the old school keeping the new school down (ironically). On the other side, Ben is so sure that he's being held down that he sees enemies even where he should see friends. He wants James to accept him, but he's not necessarily willing to put in the work.
Ride Along 2?won't win any Oscars, but it will push us to consider how we hold others back – or how we try to scale the ladder without really growing. There's a time and a place for everything, says Leviticus, and for James and Ben, the time for growing is now.