Here is another round of narrative features that are part of this year?s Slamdance Film Festival. This set of films is from around the world.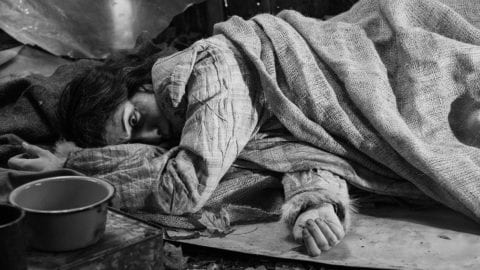 The world premiere of No Trace (Nulle Trace) from Canadian director Simon Lavoie served as the Opening Night film. Set in a dystopian future, the film begins with watching railroad ties go by before we discover ?N?, a woman whose face shows years of struggle, driving a handcar along the tracts. When she stops, she picks up Awa, a young Muslim woman and her baby, and secrets them away in a crate to smuggle across the border. After a successful drop off, uniting the young mother with her husband, N returns to her travels. But misfortune will reunite the two women in a struggle to survive in the wilderness.
The film is shot in stark black and white in such a way to portray a cold, empty world. The world the two women inhabit seems to have lost all morality beyond the rule of the strongest. N is a survivor and is not opposed to using force if necessary. Yet when she finds Awa a second time, she cares for her, even at a cost to herself. The two women are very different, not just in age and looks, but in perspective. A part of that difference is faith. At one point, Awa asks N if she is a believer. N responds that she has never been that desperate. She tells Awa that belief ?won?t help you survive.? But Awa continues in her prayer and trusts in God to deliver her?either in this world or the next.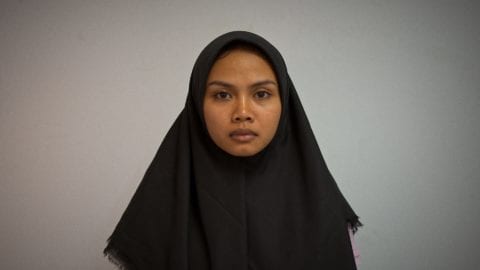 The world of foreign domestic workers is the focal point of Alberto Gerosa?s Dea, making its world premiere at Slamdance. This is the story of a 20 year old Indonesian woman who contract to go to Hong Kong as a domestic worker. The understanding is that she will make enough money that she can send most of it back to help her family. What seems like an opportunity for a good life, ends up with many slights and disrespect, some small, but others serious, including sexual assault. When she loses her job, she has no real status in the society.
The film has 40 co-writers listed, each only with a first name. It is the result of an acting lab made up of immigrants in Hong Kong and Macau. Everything that happens to Dea in the film is based on things that happened to these young women. The socio-economic realities that the film brings forth are not limited to Hong Kong, of course. Exploitation of the poor is a near universal occurrence.
Isaac (Izaokas), from director Jurgis Matulevi?ius, is a Lithuanian film noir, set in Soviet Lithuania in 1964. In an introduction that takes place during World War II, with Jews being tormented and killed by Nazi sympathizers. This event becomes the focus of a film that Gedas Gutauskas wants to make. Gedas has just returned to Lithuania from 20 years in the US where he?s gained fame as a writer and film director. He reconnects to two old friends, Andrius and Elena. The three were very close until Gedas escaped to the West. Andrius and Elena are married, but the marriage has gone sour. The authorities are following and bugging Gedas. An investigator wants to re-open the case of a murder during that World War II event because Gedas?s script is so accurate, he thinks Gedas must have been involved. In reality it is Andrius who is tied to the story.
As with any noir film, there are twists as we slowly come to understand the truth, not only of that terrible event that opens the film, but also the relationships between Gedas, Andrius, and Elena. It also reflects a bit of the Soviet era angst with police surveillance and a hint at official corruption that only wants certain truths to be exposed. The film is mostly black and white, with the middle section in color. That middle section is the least noirish part of the film.