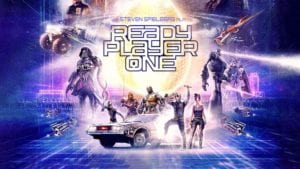 Are you ready?
In the year 2045, much of Earth's population centers have become slum-like cities due to overpopulation, pollution, corruption, and climate change. To escape their desolation, people engage in the virtual reality world of the OASIS (Ontologically Anthropocentric Sensory Immersive Simulation), where they can engage in numerous activities for work, education, and entertainment.
Wade Watts (Sheridan) is a teenage Gunter (short for "egg hunter") from Columbus, Ohio who frequents the OASIS and attempts to win "Anorak's Quest", a game created by the deceased creator of the OASIS, James Halliday (Rylance), by finding the Easter Eggs. The winner is to be granted full ownership of the OASIS, among other things.
To enter, simply like or share our post on Facebook and answer the following question in the comment section: Tell us your favourite Steven Spielberg film and why!
The winner will receive a copy of the original book for?Ready, Player One, written by Ernest Cline.
For a bonus entry, like or retweet this post on Twitter.
All entries must be completed by 11:59pm on Thursday, March 29th, 2018.
Ready, Player One?will be unleashed in theatres on March 29th, 2018