Pan's Labyrinth?or?El Laberinto del Fauno is the best Spanish film that I have ever seen. Okay, let's be honest: it's the only Spanish film – and one of a handful of foreign language films – that I have ever seen. But thanks to the name recognition of director Guillermo del Toro, I remember sitting in the darkened theater in 2006, afraid to take my eyes off of the action onscreen to read the subtitles. And the beautifully rendered, strangely depicted, artistic world of creative collision between the Spanish War of 1944 and the dream world of one girl's mind took my breath away.
While it had been a decade since I saw the film, the beauty and spectacle of the film still justifies a watch sans subtitles – even if you don't speak a word of Spanish. Here, the winner of three Academy Awards for?Best Art Direction,?Best Cinematography, and?Best Makeup, paints a picture that is worth more than all of the words spoken thanks to Guillermo Navarro's stirring cinematography and the beautifully nuanced performance of the precocious twelve-year-old Ivana Baquero, who was handpicked by del Toro to be the center of the film's attention.
While?Pan's Labyrinth?could well be considered a fairy tale, fable, or even parable, it is located within the history of post-Civil War Spain when the little Ofelia (Baquero) is forced to meet the new husband of her sickly mother, Carmen (Ariadna Gil). This new stepfather, Captain Vidal (Sergi Lopez), is a Fascist, assigned to track down (and kill) rebels against the new regime in Spain. He obsessed with two things – his unborn child inside of Carmen and annihilating anyone who gets in his way on any level. This is the?real?danger?to Ophelia – her stepfather's violence – but there's a greater context involved, too.
In a parallel world that intersects with Ofelia's, the princess of the underworld suffers amnesia when traveling to the human world, becomes mortal, and dies. But her father establishes a series of mazes – a labyrinth – to allow her spirit to return to the underworld when the time comes. The intersection of these two worlds occurs when a large stick insect leads Ofelia to the faun (one of the roles played by CGI expert Doug Jones), who sends her on a series of tests.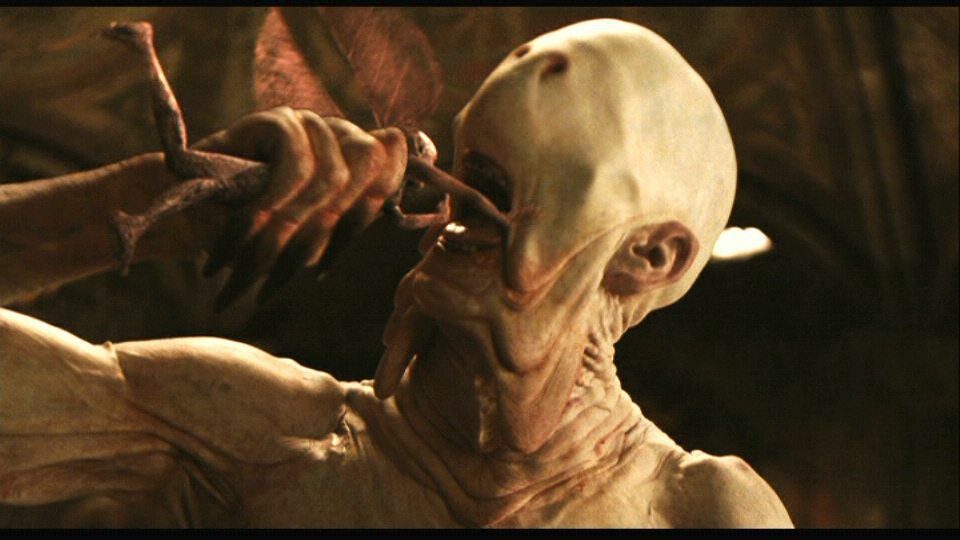 While the visuals here are amazing and powerful, the beauty of the story can't be ignored either. We see the beauty, frailty, and innocence of childhood up against the vulgarity, violence, and ugliness of adulthood; we see the frustration of shattered dreams and abandoned hopes against the boundless energy of what could be; we see the imagination and power of children as a coping mechanism for dealing with the dangers of surviving in the world of adults. We see Ofelia as hero, as scared little girl, as victim, as Christ figure – questing for herself, and for her sibling – in a battle between good and evil for the fate of souls. All of this plays as the portrait against the backdrop of the del Toro/Jones experience – where sometimes a creature's eyes are in its hands, and sometimes, what happens in the 'real world' has a mirrored echo in the world of the spirit.
In 2006, I was still beginning to see, understand, and explore how film related to my own spiritual understanding of faith and the universe. Sure, I'd seen some spiritual images, and experienced a few films that moved me. But in 2006,?Pan's Labyrinth?declared quite loudly that the spirit and physical worlds?are?interrelated, are the same and not separate. In fact, the film seemed to suggest that while we might not understand how they both work, or understand their correlation to each other, that they are in fact?the same?as viewed from different points of view or experience. Which begs the question: would we behave or live differently if we knew that the way we saw the world was merely dim, or that there was more?absolutely guaranteed?to the spirit world around us?
In I Corinthians 13:11-12, often used (and misused) at weddings, the apostle Paul writes, " When I was a child, I talked like a child, I thought like a child, I reasoned like a child. When I became a man, I put the ways of childhood behind me. For now we see only a reflection as in a mirror; then we shall see face to face. Now I know in part; then I shall know fully, even as I am fully known." In?Pan's Labyrinth, del Toro invites us to look into the mirror – or the labyrinth – and ask ourselves, what do we really know? What do we really believe? What drives us, motivates us, moves us to be who we are supposed to be?
In the end, it's often like a test we must pass, only to find ourselves facing a deeper question, a heavier set of examinations, as we descend further into the labyrinth, seeking that place where the physical and spiritual worlds collide.
The Criterion Collection?brings Del Toro's film on a new 2K digital master, with an additional interview of the director by writer Cornelia Funke about fantasy and the film itself. Fans of Jones' will also find a new interview included, as well as the 2007 version of four making-of featurettes about themes, characters, music, and special effects. Backer's audition footage makes the cut here, as well as some animated prequel stories. And, as usual for a Criterion collection, there's a written essay by critic Michael Atkinson.?