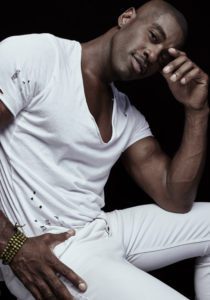 In FOX?s epic series Empire, power is everything. Now in its fourth season, Empire continues to tell distinct stories and creating unique characters that break stereotypes in the genre. Following the lives of the Lyon family, the show continues to tackle a wide variety of social issues while also offering some of the finest music on television in the process. As series newcomer Terrell Carter indicates, the chance to join a show with such rare sensibilities was simply too good to pass up.
?I was able to play a role that wasn?t a traditional gay character. It also was the music. Music is my first love and, although he?s a civil rights attorney, he?s a singer also. He wants to be a singer. So, being able to play a character who?s a singer that?s also not traditional and also the nephew of Phylicia Rashad: all of those things add up to the role of a lifetime for me. Everybody on this show is amazing but Phylicia was one of my favourites.?
In addition to the appeal of working on such an incredible show, it was the opportunity to work with Phylicia Rashad that proved to be the clinching factor in his decision.
?The excitement about working with Phylicia Rashad isn?t just that she was The Cosby Show?s mother,? he reflects. ?For me, growing up the way that I did? what Phylicia Rashad represented to me was something that I had never seen before. I?d never seen people live like that. It wasn?t just black or white, because, at that time, I was never thought about [that type of] separation and division, which is why it blows my mind right now. I just never thought things about it like that. I told her on the first day, that [she was] a hero to me because [she] gave me an idea that there was something else?another life?and [she] put the idea in my head that I could do something like this. [She?s] more than just an amazing actress for me in the black world. To work with her, to see that she?s gracious, beautiful, hilarious and wraps you up in all of this love but yet, at the same time, is like a queen [who is] graceful and amazing. To me, being able to work on a show like this with her, that?s a treat in itself. I couldn?t ask for anything better. [There are] all the other amazing actors on this show, but for her, it was someone who was a representation of something for all of us.?
In this season of Empire, Carter plays Warren, a relative to Rashad?s maniacal Diana Dubois who is hell-bent on destroying the Lyon family. Playing a key role in her plot, Warren is tasked with seducing young Jamal Lyon (Jussie Smollett), in an effort to put a wedge in the family unit. Nevertheless, as their relationship develops, Carter says that Warren has become conflicted.
?Warren is a pawn for Phylicia Rashad?s character, [Diana Dubois],? he says. ?Warren is a little bit different than the rest of members of the Dubois family, actually. Warren has a little bit of a conscience. From the very beginning, he was kind of excommunicated and his father has kind of done things to be pushed away from the family. He kind of says yes to do this whole mission because of that situation. Kind of like a Kennedy who wants to be back in the family because your father is the one who got thrown out. So, he says yes to her before he realizes what it actually all entails. If you watch the first episode, and Diana Dubois is lying on the table, she looks at him and says she wants to pick the meat off of their bones? He kind of looks at her and says ?Wow?. I don?t think it was that deep for him. I think he was just more interested in becoming a part of the family so he has a heart.?
?In his relationship with Jamal, Jamal is one of the few Lyon family members that always seems to have a heart and it just really the nicest one. So, Warren is just a guy who?s sort of guided himself into a position where he has bitten off more than he can chew, even with his own family. He?s trying to figure out whether or not blood is thicker than love or water. He?s always wanted to be a singer and, even those he?s in a position where this is a guy he?s supposed to take down, this is a guy who?s showing him things he?s always wanted to see. I think Warren is a bit torn or shaken to say ?Wait a minute now. What am I doing???
Of course, one might assume that it would be intimidating to step onto the set with a cast that?s been so well established. However, Carter?s previous relationship with series regular Jessie Smullet helped make his entry onto the team much easier.
?The good thing was that I already knew Jussie Smollett prior to coming. So, it was good to know someone who was part of the original cast who can sort of show you the ropes. I think that, although this was a breakout role for me, it was a role I was ready for. It was challenging, like the first day of school, for the first day or so but this was something that I?ve been preparing for so long that I was at the point where I was just excited and happy to be a part of it.?
It?s important to note, however, that Empire?s legacy extends far beyond its all-star cast and outstanding music. According to Carter, the true importance of Empire lies in its multi-dimensional portrayal of African Americans in a variety of roles.
?I think Empire is not only showing African Americans in a different light,? he argues. ?It shows them in a light of power and especially with what?s going on politically and in society, it?s not just [about] African American characters. It?s talking about a lot of other social issues. The gay characters are not the traditional gay characters. There are different situations and scenarios, but, yet, at the same time, they?re still showing things that happen in the ?hood?. They?re taking that to a different level. In Empire, they?re dealing with different issues that haven?t been dealt with in a long time in different ways. You have an all pretty much black cast (like in The Cosby Show, The Jeffersons) but that was a long time ago. This is a powerful show along with all this original music and [wraps] all of this stuff up into one.?
Given that a key theme of the show is the nature of power, Carter also asserts that power manifest itself in different ways. When asked what he thinks his character would say about power, Carter believes that Warren would argue that it relates to control.
?[Warren] would look at it from a number of different ways,? he begins. ?He would say Diana Dubois. He?s torn with the same thing. Power for him would be looking at the matriarch of his family. She speaks and we all listen. But yet, at the same time, he looks at Jamal and I think he?d say the power of love and the heart. Power moves people. I think that Warren would say that, when people use the word ?power?, it usually comes in the form of something mean or evil but not necessarily. Power is just getting people to get people to do what you want them to do by just being and saying who you are. It?s having the power over people. Jamal isn?t saying anything except adoring and loving him but, at the same time, it?s moving him to do something different than what he wants to do. He can?t help it? and that?s what power is. I think he?d say that power is just getting people to do what you want them to do when they?re powerless to just say no.?
While he thoroughly enjoys acting, it is music that is Carter?s first love, a talent that serves him well on a show like Empire. Having recorded several independent albums, he believes that music unlocks the key to his soul in a way that he could never do otherwise.
?Everything that I do, when it comes to acting, writing, comes back to music,? he muses. ?Music is such a passion because it was a way for me, even as a kid to express myself. All of the things that I couldn?t say to someone in a conversation, I could sing it. Then, I learned to do it in a way that people loved how it sounds but I could write the things that are in my heart. So, music is a passion for me because it?s a way for me to express myself comfortably when I wasn?t comfortable in any other aspects in my life.?
Throughout his journey to success, Carter and his family have fought against numerous challenges that have caused them to struggle emotionally. As a result, he has also started to write a memoir that tells his story in a way he hopes will inspire others.
According to Carter, ?I?m writing a book about my life story but it?s more about from a motivational standpoint. It?s for everyone who are dealing with the things. It?s about my mom. My story is that, my mom was 10 years old and she was raped by my dad who was 23-year-old who was from the same family. She was mentally retarded. All of her organs were supposed to fail. So, I was kind of this baby who just didn?t have this connection growing up and just dealing with all of that. And becoming this guy who ends up on this number one show. It?s not about ?this is what I did?, it?s more about the journey. The book takes you on the at roller coaster ride.?
With Empire returning from its brief hiatus, Carter suggests that Warren is soon heading towards a crossroads in his relationships within the show, potentially having to choose between his love for Jamal and his loyalty to Diana Dubois.
?In the last episode, you could see on his face that there is some type of unsettled about the entire thing,? he hints. ?When that comes in, the direct orders of Diana Dubois aren?t so easily delivered. Now, she is not the type of woman that you toy with. She is like the Godfather in so many ways. She doesn?t have to raise her voice and she has no loyalty to anyone. So, if you do that and don?t do what she wants, what is she going to do??
Empire returns this Wednesday night at 9pm on FOX.
To stream our full interview with Terrell, click below.
Terrell Carter image credited to Eric Hobbs