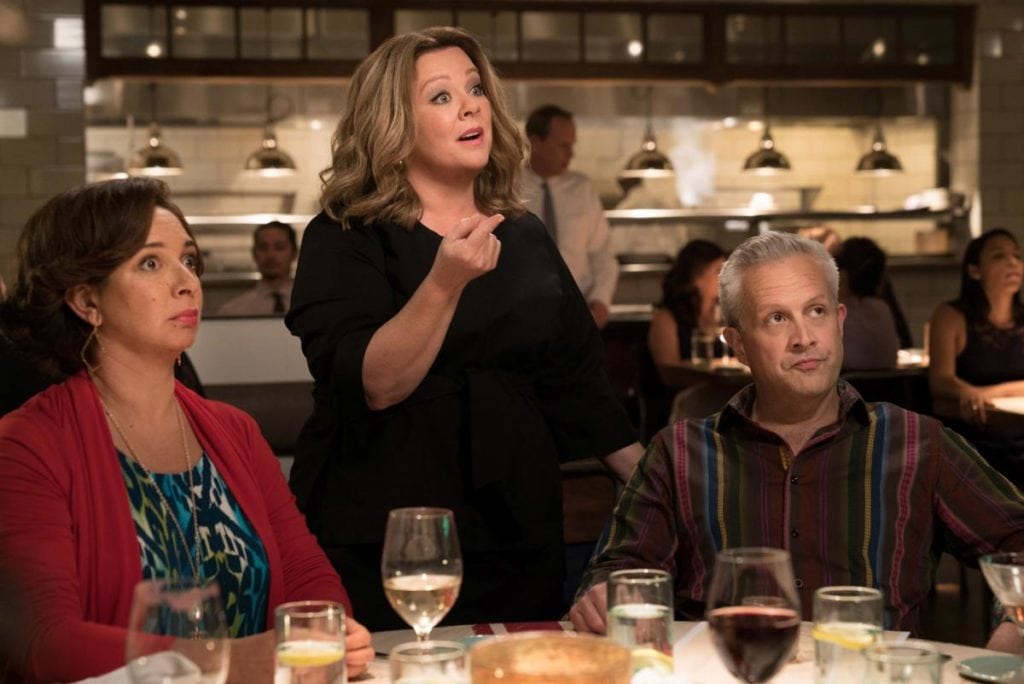 Deanna Miles (Melissa McCarthy) put her ambition and dreams aside when she found herself pregnant as a rising college senior. Her chauvinistic and appearance-driven husband Dan (Matt Walsh) pushed her to quit college, but when he quits on their marriage during their daughter Maddie's (Molly Gordon) senior year, Deanna returns to college herself and transforms herself into the sorority sister known as Dee Rock. But will her back to school attitude provide her the life she wants?
McCarthy's personality is on full display in several scenes, like when she attends a sorority's 1980s party and rules the dance off, or when she butchers the toast at the first party she ever goes to, over and over again. Her best work may have been left on the cutting room floor – or at least the gag reel. But there's something telling about a woman pursuing her dream and going back to school when the man in her life fails her terribly. [My own mother found herself going back to school late in life, rocking the undergraduate and graduate degree programs, twenty years after she was financially forced to leave school. No tragedy took her back, but I remember our family's pride in her followthrough.]
Unfortunately, Life of the Party?seemed terribly unfunny, considering how overstocked with?comedians (Chris Parnell, Maya Rudolph, Stephen Root, Julia Bowen, etc.) the cast was. And here's the thing: while the film is intent on reminding us that women can be awesome moms and follow their dreams,?Life of the Party?accents how lately, McCarthy seems to be doing too much. As terrific as she was on?Mike & Molly,?it's sad to notice the trend on these lesser lights on her resume: on?Tammy, The Boss,?and?Life of the Party, she and husband Ben Falcone wrote, directed, produced, and starred. On the other hand, when she "just" starred in?Spy, St. Vincent, The Heat, The Identity Thief, and?Bridesmaids, she was funnier than most of her peers. So, while this is?not?the point?Life of the Party?was trying to make, maybe McCarthy should stick to being a dynamite actress who can both kill it and light up a scene.
One last thing about the film made me uncomfortable: McCarthy's Dee Rock ends up performing some?Graduate-like older woman-on-a-younger-man action that ends up… creepy. If an older man had gone back to school and engaged in the sexual escapades she did, it would be an outcry-worthy moment. I found this to be no different, and even more frustrating, regretted the script's need to show that a good portion of Dee Rock's value was that she could 'net' a younger man. Her value as a woman, a mother, a student, and a leader was diminished – her greater influence was in the ways she inspired her daughter's sorority to be themselves, to believe in themselves, and to not define themselves by the men in their lives.
There's beauty in?Life of the Party, but you'll have to see past some of the college pitfalls, too.