?Thank you for this day, Daddy. I hope I lived right and if I see you one day that I make you proud.?
I first saw Katie Says Goodbye at the 2017 Newport Beach Film Festival, where I ranked it among my favorites. The film won jury awards for Best Actress (Olivia Cooke) and Best Screenplay (Wayne Roberts, who also directed). Now it has found its way to select theaters and to VOD.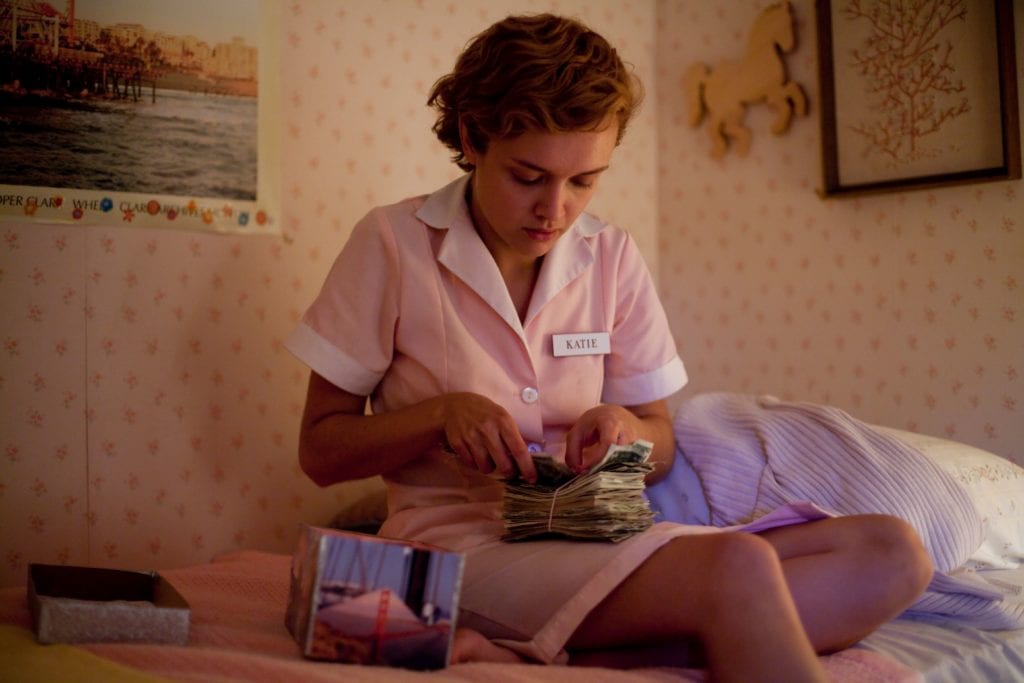 Katie (Cooke) is a waitress in a small Arizona town that is little more than a trailer park and diner. She is constantly happy even though her circumstances are less than ideal. Her mother Tracey (Mireille Enos) is unemployed, and does nothing but watch TV all day. Her mother squanders the rent money, constantly leaving Katie to deal with it. Katie?s dream is to go to San Francisco and become a beautician. She is saving money that she makes by prostituting herself with some regulars, including Bear (Jim Belushi), a truck driver who stops on his way through. Bear is kind and fairly paternal towards Katie. Katie is also mentored in life by the owner of the diner, Maybelle (Mary Steenburgen), who is far more of a mother to Katie than Tracey is.
When Bruno (Christopher Abbott), a new mechanic with a shady past comes to town, Katie is smitten. Bruno never smiles, but Katie is willing to smile enough for both of them. As they spend time together, Katie blossoms. But when Bruno discovers her prostitution, he is upset and demands she stop, which she does. However, there are others who demand more from her.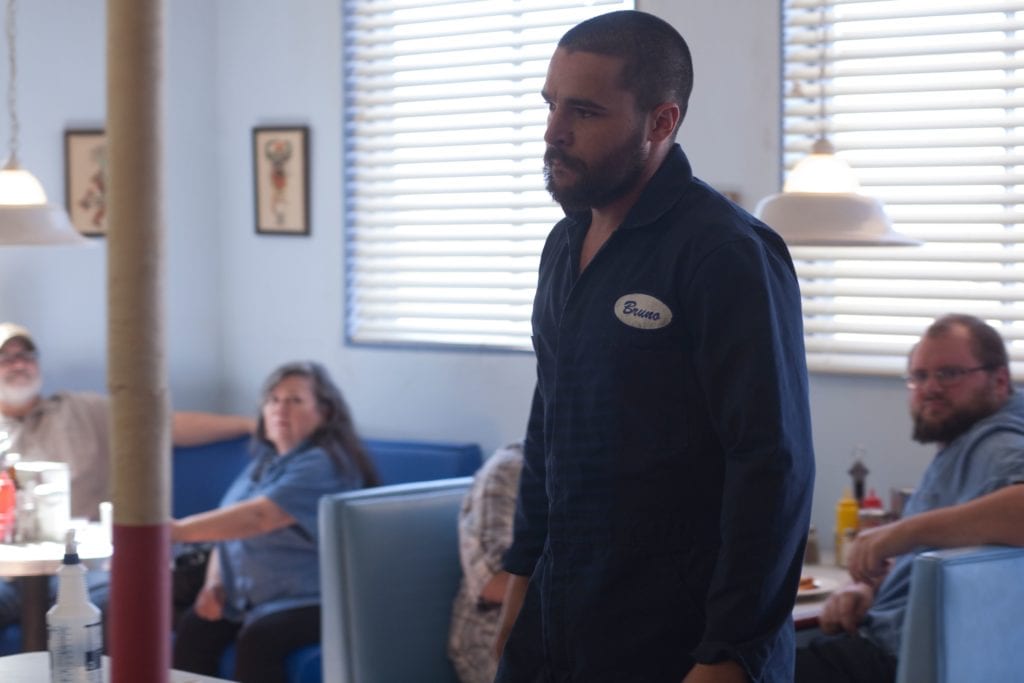 For all Katie?s rose-colored view of the world, things soon become darker as Tracey continues to take advantage of her, Bruno?s coworkers treat her badly, and another waitress at the diner frames Katie for theft. As her world begins to crash around her, Katie faces losing everything. Her smile disappears.
One criticism that some (but not me) might raise is that Katie is too much a victim. Her innocent (some might say na?ve) approach to the world sets her up to be used and abused by those around her. And she never fights for herself. And when others do wrong, she is willing to silently assume the guilt. In a ?Me Too? world, Katie could seem to be the poster-child for women accepting exploitation.
The reason I do not bring such a charge is that I see in Katie a similarity to the Servant of Isaiah 42-53. I think the film invites us to open ourselves to see more than just Katie?s victimhood. Each night as Katie goes to bed, she speaks to the father she has never met, with the quote I opened this review with. It is only a small leap to think of this as a prayer. How then does this filter our understanding of Katie?
Consider some of these descriptions of the Servant (all scriptures quoted from NRSV): ?A bruised reed he will not break, and a dimly burning wick he will not quench (Isaiah 42:3); ?I gave my back to those who struck me, and my cheeks to those who pulled out my beard. I did not hide my face from insult and spitting.? (50:6), and ?He was despised and rejected by others; a man of suffering and acquainted with infirmity; and as one from whom others hide their faces he was despised, and we held him of no account?. But he was wounded for our transgression, crushed for our iniquities; upon him was the punishment that made us whole, and by his bruises we are healed?. He was oppressed, and he was afflicted, yet he did not open his mouth; like a lamb that is led to slaughter and like a sheep that before the shearer is dumb, so he did not open his mouth.? (53:3-7 passim).
Of course, this picture is familiar to Christians because the early church quickly came to see Jesus? sacrifice in its light. But there is more to the Servant than just the suffering he underwent. It is important to note that the Servant Song found in Isaiah 50, even as the Servant recounts the suffering he has undergone, is not a song of lament, but rather a psalm of confidence. He says, ?The Lord God helps me; therefore I have not been disgraced; therefore I have set my face like flint, and I know that I shall not be put to shame; he who vindicates me is near? (50:7). Such is the realization that Katie finally comes to at her darkest moments. That allows her to move on to a new life with hope that others might find Pollyannaish, but that certainly resonates with the Servant of Isaiah, and by extension, with Christ.
Photos courtesy of Vertical Entertainment