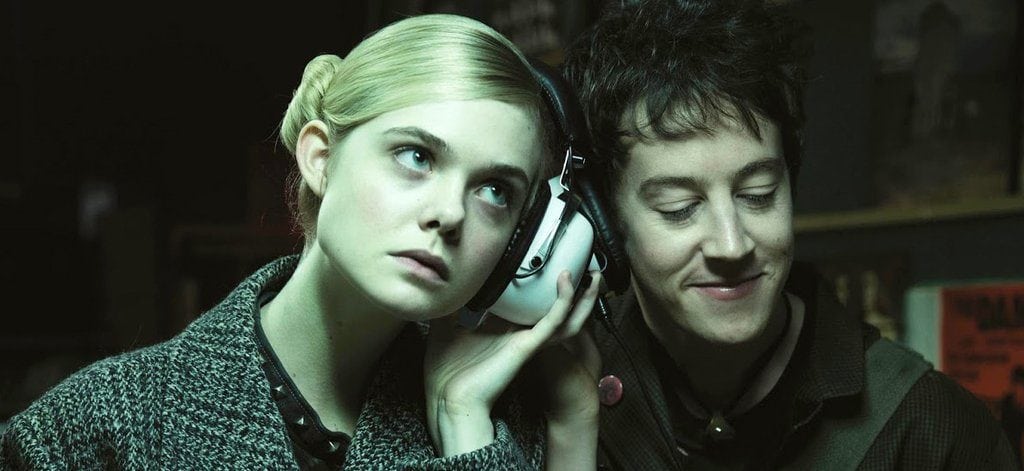 "They must be from California."– John (Ethan Lawrence)
Three young punk enthusiasts stumble into a strange (oh, so strange) collection of alien prepubescents in 1970s London, where Earth boy Enn (Alex Sharp) falls hard for the alien Zan (Elle Fanning). Based on a short story by Neil Gaiman (Stardust, American Gods, Coraline), the obliviousness of the main characters lends itself to some funny bits, and the evaluation of Earth culture by outsiders then lets us see some elements of our own peculiarity now.
When Enn goes looking for a solid punk rock outlet where he and his mates might find a place to belong, and maybe get their music recorded, they wind up at Queen Boadicea's (Nicole Kidman) local punk hangout. She references the afterparty, and the boys head over. But the location is instead full of aliens who provide a variety of emotions and interactions for the three boys – mind-tripping, physically invasive, and what might pass for love.
While Enn and Zan go against the expectations of their peers, alien and human, they experience punk rock and hormones in a whole new way. Older films have tried the cross-cultural exploration thing (even?Guardians of the Galaxy?attempts to go there sometimes), but this is an outside look in on the way we do things (even if it's fifty years ago).
There are some chuckles to be had – like when Zan thinks her body is dying and throws up in Enn's mouth, or when Enn's mother (Joanna Scanlan) immediately accepts Zan's presence in her house when Enn tells his mother that Zan is from America, making everything okay. It has corny action violence, too, with choreographed dance movies (I guess?) that allow for Edward Petherbridge's supreme leader, PT First, to bring his minions into battle with others. Honestly, if none of this makes sense, start with?Time Bandits, and work your way forward.
"Corner the one who looks the loneliest and speak in short, admiring sentences."
While there's plenty of amusing stupidity in the film, there's also a rather sweet storyline about the romance between Zan and Enn. There's something to be said for recognizing that everything you thought you knew about another gender was wrong, that you needed to reframe your perspective so that you could see (and feel) more clearly. Sure, our power couple is a bit like Romeo and Juliet, but that's true of Tristran and Yvaine, too… a Gaiman thing.
"All we ever seem to do is observe and consume."–Zan
While this takes place in 1970s London, it's the best form of science fiction in its way to comment on how we treat other people, how we handle the unknown, what we need to be really happy, and what our expectations are for the life we'll live. Yes, Enn is human and Zann is … not, but the way that the story allows us to look at ourselves is quite beautiful. There's something parable-like about it, in its crazy, spandex-wearing, punk rock crashing, love-had-and-lost-it kind of way.
"You have to forget everything you think you know."
Special features on the Blu-ray combo pack include audio commentary with director John Cameron Mitchell, Fanning, and Sharp, as well as the featurette "Making an Otherworldly Production."