George R.R. Martin isn't terribly sentimental when it comes to his characters. We all (unless you live under a rock without HBO… or friends) know that Lord Stark was whacked at the end of the first novel – and the first season – of?Game of Thrones, stripping?the biggest name (Sean Bean) from the show. We all know that "Winter is Coming!" because we're constantly told this. But in case any true believers?still?don't get points A and B, Martin and the television heads (David Benioff and D.B. Weiss) remind us in grand fashion here in the fifth season.
Which makes me hate the show. And love it even more.
How many times have you seen a film (or television show) and lamented how boringly expected everything played out? Ever wondered what they would do if James Bond died or Captain America (not Tony Stark AKA Iron Man) developed a drinking problem??Game of Thrones'?unconventional story lines and disregard for fan favorites makes it must-see television (in addition to the excellent casting, wonderful musical tracks, beautiful backdrops, and stunning action.)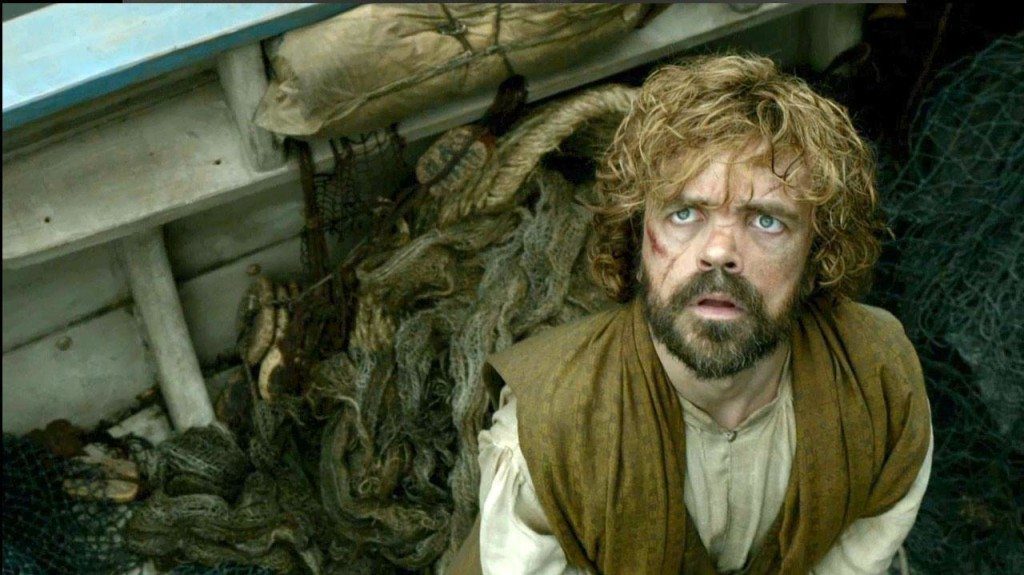 For those who aren't familiar with the show, or have caught on late, the two most compelling characters are Peter Dinklage's Tyrion Lannister, a dwarf outcast son of the powerful Lannister family line, and Kit Harrington's Jon Snow, the outcast bastard son of the previously aforementioned Stark. But ask two fans of the show and you'll probably get two completely different answers. Both of them will still tell you that you must start at the beginning because none of this will make sense otherwise…
Currently (in season five), Snow is under fire for his leadership of the Watch, a group of disenfranchised men left to defend the Wall which keeps the Others (is this about immigration?) out, while another ruler, Stannis Baratheon (Stephen Dillane), shows up with his sorceress, Melisandre (Carice von Houten), to make life even more complicated. Outside of the "mainland," because of course you need to watch all of this with a map of Martin's kingdoms next to you, Tyrion is on the run, and the dragon princess?Daenerys Targaryen (Emilia Clarke, of the misinformed?Terminator: Genisys) is raising up an army to come back and take her rightful throne.
There are others on the run – which could've been the name for this season – "Fugitives" – that will drift in and out of the main focus for this season and the next. Martin still isn't done with the next book but we imagine the show runners have seen some of it… It doesn't matter. To stay up with what is going on, one would nearly need to go back and begin at the beginning to refresh one's memory!
But here in the fifth season's Blu-ray and Digital HD package, one can unwrap some of the backstories and puzzles that make this show great. Here in "Dance of Dragons" about how the Targaryen war led to the ostracization of the dragons (yet another disenfranchised group) or learn about the way that the mythology of the show is different from place to place in "Histories & Lore."
Background (from a filmmaking perspective) fans will appreciate the way that we see the transformation from the minds of the writers to the episode "Mother's Mercy" as it plays out on screen in "Anatomy of an Episode"; "A Day in the Life" takes us to three countries to see the way that all of the moving parts and 'provinces' come together to provide the magnificent look. Martin himself ends up on screen with historians, tackling Britain's "War of the Roses" in "The Real History Behind?Game of Thrones," while background "In Episode Guide" moments give us backstories… and reminders(!) about who is who and how they relate to the current action.
Overall,?Game of Thrones?remains one of my favorite shows. [If not for Netflix's?Daredevil, it wouldn't have any competition.] Full of action, intrigue, and dynamics that are constantly in flux, it challenges us to consider the way that we relate to others and the manipulations we all empower (or allow) to get what we want. While various characters have "religion," it ultimately boils down to who will fight for what(ever) they believe in. Sometimes, it's preservation; sometimes, it's revenge. No matter what, there will be blood.