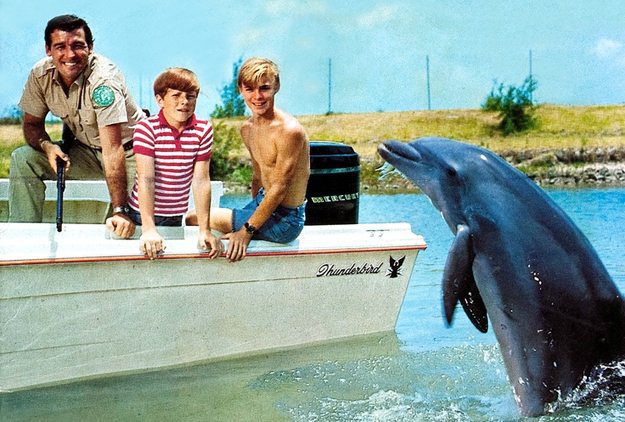 Running from 1964 to 1967, NBC's Flipper?followed the exploits of the?bottlenose dolphin. A pet to is Chief Warden Porter Ricks (Brian Kelly) of the Coral Key Park and Marine Preserve in Florida, the smartest dolphin ever often aided Ricks and his two sons, Sandy and Bud (Luke Halpin and Tommy Norden). Like?Lassie, but with water,?Flipper?shows off a gentle form of entertainment with enough fun and lessons for families seeking something less gritty than today's fare.
The first and second seasons are now available from Olive Films on Blu-ray. I received the first season, covering 1964 to 1965, with three discs containing the episodes that ran from September to April. Gamblers, poachers, troubled teens, people intent on capturing Flipper … each episode contains its bit of drama or danger that keeps the Ricks family on alert, but it usually ends without too much fuss.
With beautiful backdrops and family adventure,?Flipper?is the kind of show you run across on TV Land or late night television and find yourself considering as a kid again. There's something nostalgic, even comforting, about coming across a family that explored life, appreciated each other, and tackled dangerous situation with wisdom and compassion. Sure, it's like a world that's black and white, when ours seems multifaceted and more dangerous, but we could learn something from the Rickses and their flippered friend.