?What if I forget you? Will you ever forget me??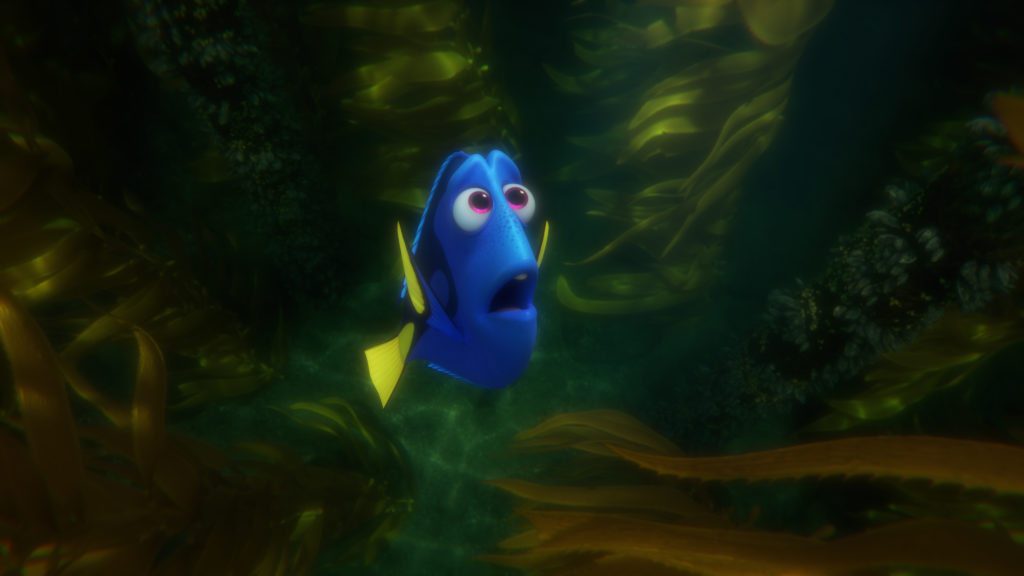 Finding Dory, as you might guess from the title, is centered on the blue tang from Finding Nemo. In this sequel (co-directed by Andrew Stanton, who directed Finding Nemo, and Angus MacLane), we get to see Dory (again voiced by Ellen DeGeneres) in her childhood as her parents try to teach her how to manage in the world in spite of her short-term memory problems. When the inevitable happens and she can?t find her way home, she begins the journey of her lifetime, trying to remember what she?s lost until she literally runs into Marlin in the Nemo storyline.
The story then moves up one year to a point where Marlin (Albert Brooks), Nemo (Hayden Rolence), and Dory have settled into a calm, steady life. Until one day Dory realizes that she must have had parents and that they are probably worried about her. She has an occasional flashback that gives her little clues. She is determined to set off across the ocean to Morro Bay, California and the Marine Life Institute. Of course, with her forgetfulness, this is not a journey she can undertake on her own. Marlin and Nemo set off with her.But like Odysseus, she must find ways to navigate the many obstacles along the way.
Like Odysseus, she does so with her own ingenuity, plus the help of others who care about her. Among those who help her find her way home are Hank (Ed O?Neill), a curmudgeonly octopus; Destiny (Kaitlin Olson), a very nearsighted whale shark; and Bailey (Ty Burrell), a beluga whale who has bumped his head and messed up his echolocation skills. Each of those she meets brings their particular skill to the journey, but more than anything else, Dory?s own skill for adaptation and innovation are the most important.
The title, besides tying this film to the previous one, also points to the real journey, not just to home, but to self-discovery. Dory, with her memory issues, at times feels very inadequate. However, because she doesn?t know failure (she can?t remember failing) she is always optimistic about what she can accomplish, often with wonderful results. Her motto is ?there?s always another way.? When all others think nothing more can be done, Dory keeps going. It is not only Dory who discovers that this is an amazing gift, others along the way, especially Marlin, discover that asking themselves ?what would Dory do?? can be a very helpful approach to any problem.
Dory?s longing and search for home is something of an archetype of literature. I alluded to Homer?s Odyssey above, but this story can also be found in the Bible?the Exodus and later the Exile and return. It was during the Exile that a Psalmist wrote:
If I forget you, O Jerusalem,
let my right hand wither!
Let my tongue cling to the roof of my mouth
If I do not remember you. (Ps. 137:5-6, NRSV)
That is the very fear Dory expresses to her parents at the beginning of the movie?and the reality that she has had to live with through her life. Her journey to ?home? is an act of hope. She has no idea if her parents are still there or if they even want to see her again after all this time. Perhaps they are angry that she got lost. Perhaps they have forgotten about her. Yet, she sets out with the hope not only that she can find them, but that it will be a wonderful reunion. This is a story that is rich in hope. In spite of the obstacles, Dory believes there is a place for her at the end of her journey. Little does she know that her hope (and her faith and love, if you want to bring the three cardinal virtues together) will touch and transform many along the way?including herself.
I would be remiss if I didn?t also mention Piper. Pixar films always come with a short that opens the screening. Piper is the story of a young (and very cute) sandpiper whose mother is trying to coax him out of the nest to feed itself. It is scary to leave the nest, but becomes even scarier once a wave knocks Piper over. Piper too has a voyage of self-discovery, although it is only a few yards. Without denigrating Finding Dory or any of the other Pixar films, I usually come away saying ?the short was even better than the feature.? I applaud Pixar for giving us such wonderful short films.
Photos courtesy Disney-Pixar