?There was nothing extraordinary about my Mum and Dad. Nothing dramatic. . .. But they were my parents and I wanted to remember them by doing a picture book.?
British author and illustrator Raymond Briggs told his parent?s very ordinary story in a graphic novel, Ethel & Ernest, which has now been made into an animated film. The film is as simple and unassuming as the two people at its heart. And that is where the emotional power of the film comes from?just seeing the story of people who lived their lives, as nearly all of us do, without fanfare, but still find happiness and love.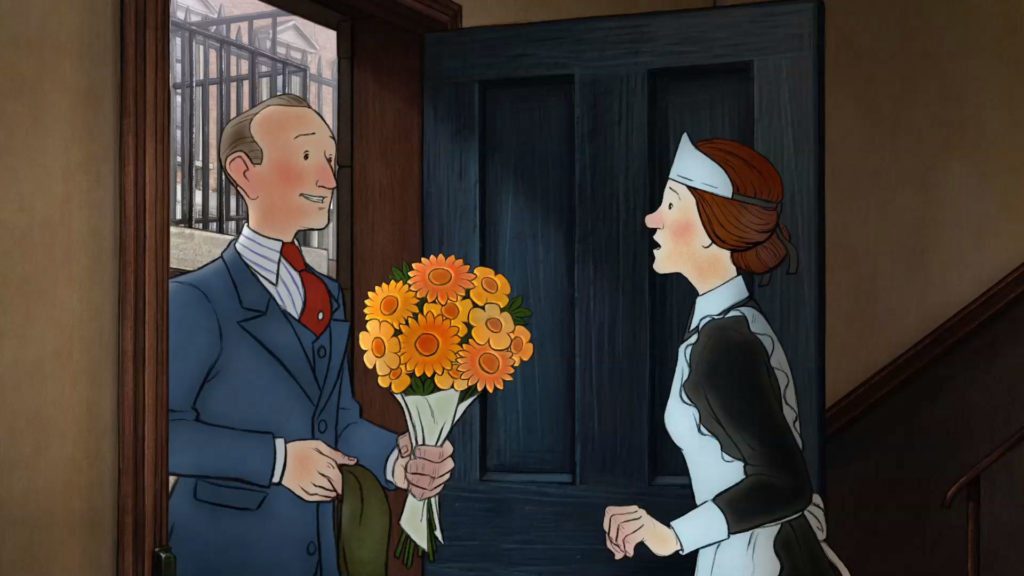 Ernest (Jim Broadbent) is a milkman who is both affable and outgoing. Ethel (Brenda Blethyn) was serving as a maid when she met Ernest, and having learned upper-class manners never likes to think of the family as working class. They have very different outlooks. Ernest, a socialist, favors the Labour Party; Ethel supports the Tories. They needle each other about this through the years. Ernest is always up-to-date on world affairs; Ethel usually looks no further than the family needs.
Although the Briggses are very typical, the times they lived in were certainly dramatic. They have a chance meeting in 1928, which leads to courtship, marriage, family. They live through the Great Depression, World War II, and the post-war social shift and spreading affluence. They died within months of each other in 1971. The film leads us through this history, but it is always focused on the love and relationship that gave meaning to their lives. Even when they have a child, the real focus of the film is the relationship of Ernest and Ethel. (After all, it is that child who created the story. He is intent on celebrating these two loving people and has managed to keep himself a minor character in their story.)
When I got the promotion about this film, I thought it sounded like an animated ?Masterpiece Theatre?. And it would be a good fit for that PBS series. But unlike the cultural voyeurism of Downton Abbey, Ethel & Ernest is very much the story of everyday people. It is the story of the people who are around us. It is the story of us. Raymond Briggs did not tell their story because they led extraordinary or dramatic lives, but because of the love they shared with each other and with him. That may seem ordinary, but in reality it is the most extraordinary kind of life.
Photos courtesy Ethel & Ernest Productions