Today?s films reflect a look at history. That includes a look at a wonderful music festival from 50 years ago?that isn?t Woodstock, and an in depth look at one of the darkest days of recent American history.
In 1969 the world knew all about Woodstock. A few hundred miles away another music festival took place that has been hidden away for half a century. Summer of Soul (?Or, When the Revolution Could Not Be Televised) takes us to the 6 weeks of the Harlem Cultural Festival that featured the cr?me de la cr?me of Black music at the time. We see Mahalia Jackson, The Staple Singers, Sly and the Family Stone, B.B. King, The Fifth Dimension, Nina Simone, Gladys Knight and the Pips, and many more.
This is an amazing collection of musical history of the time, but even more it is a look back at the issues that were occurring fifty years ago, and that still are a part of society?s struggles today. Directed by Questlove, this film makes a point that music speaks of and to the struggles of people. The fact that this festival has been unknown for so long is a sign that we still need to hear these voices. Summer of Soul will soon be available in theaters and on Hulu.
As we draw close to the twentieth anniversary of the terrorist attack on America, National Geographic, in official collaboration with the 9/11 Museum and Memorial, has created a documentary series, 9/11: One Day in America. The series presents oral history from some of the people who survived that day: firefighters, people who escaped from the World Trade Center and the Pentagon. These are intimate, personal, and often very graphic and emotional memories.
The first three episodes of the series are having their world premiere as part of AFI Docs. Those three episodes begin just before 6:00 a.m. and move through 10:50 a.m., shortly after Flight 93 crashed in Pennsylvania. Part of the purpose of the series is to make this a human story. In our minds 9/11 has found a place in the American mythos. We politicize it. We make it about heroism (and that is a big part of that day). We see a big picture, but this series is about many of the pieces that are the human beings involved. Those human stories are to be treasured.
I?ll be honest. This wasn?t the top of my list to see during the festival, but I thought it was important to include. The way the stories are told by these survivors, with archival footage providing much of the visuals, is truly compelling. That is not to say it is easy to watch. This is not the kind of thing to binge watch. I needed to take a few breaks along the way to process all I was seeing and hearing.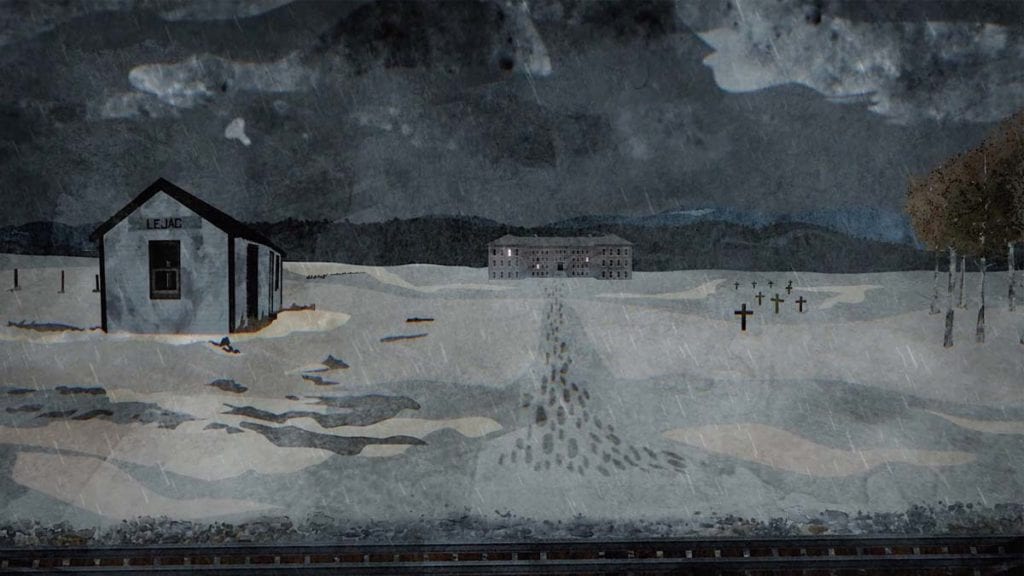 And as always, I want to share some shorts. Today I?ll note a pair of animated shorts. They are docs, but done in animation. In The Train Station, Lyana Patrick very briefly (two minutes) tells the story of her father being sent to the Lejac Indian Residential School and his mother?s weekly long walk along the railroad tracks to bring him food and to help him keep his language The film doesn?t speak of what went on at the school, but rather celebrates how Patrick?s grandmother?s love helped to form her father to be a leader among First Nation people.
Spaces (Mezery) is an animated exploration of memory?and the loss of memory. It chronicles filmmaker Nora ?tbov??s brother?s struggle with losing all short-term and then all memory as the result of a tumor. A touching and loving bit of her own memory of that experience.
Photos courtesy of AFI