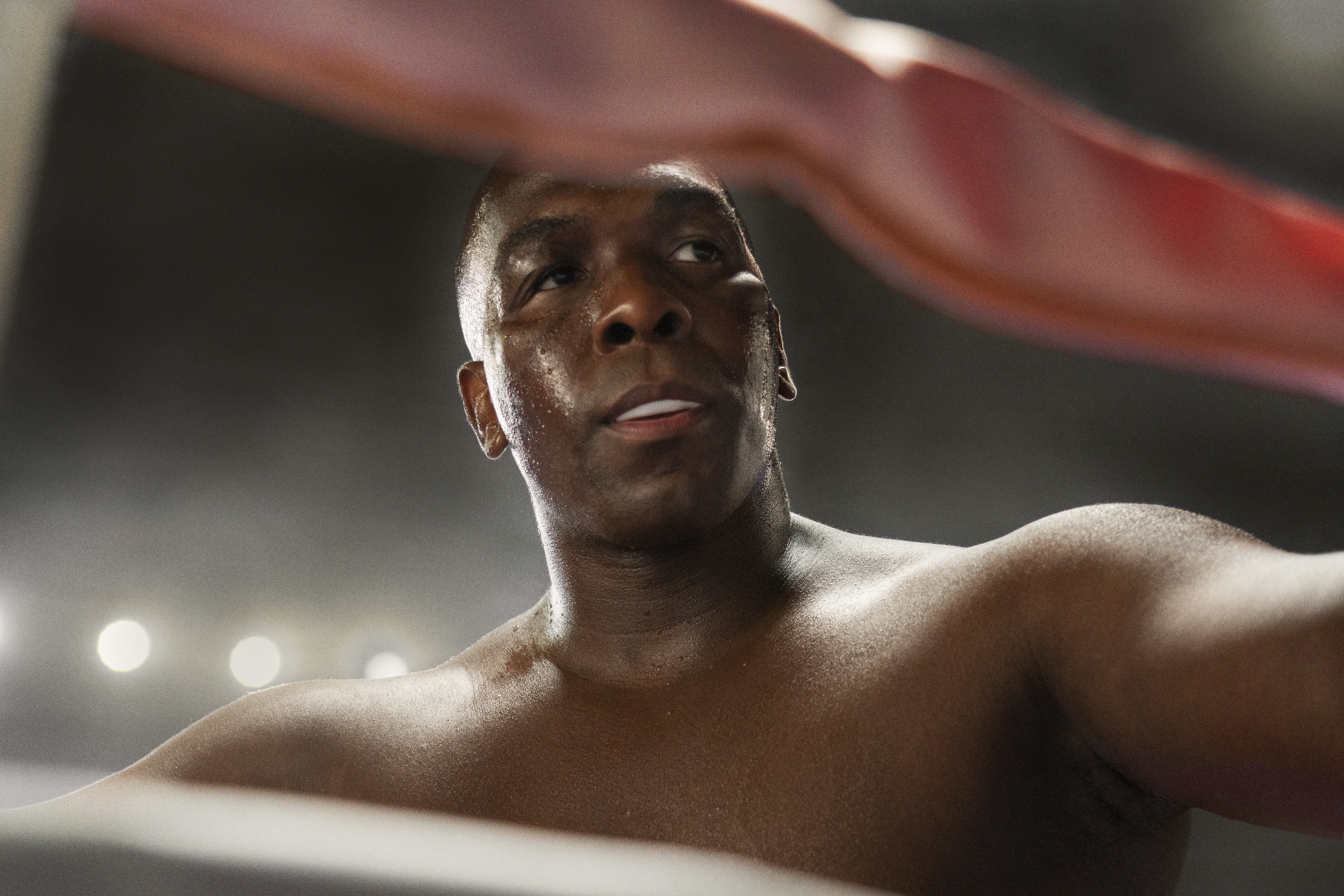 Even if a boxer doesn't knock out its opponent, it doesn't mean that they can't be a winner. And, frankly, watching films can be the same way.
Based on the true story, Big George Foreman: The Miraculous Story of the Once and Future Heavyweight Champion of the World tells the story of the man himself (Khris Davis) as he overcomes his impoverished childhood to become one of boxing's greatest legends. Backed by his trainer Doc Broadus (Forest Whitaker), Foreman channeled his anger into his fists as he lay waste to the competition at the Olympic and professional ranks. However, after losing to Mohammed Ali (Sullivan Jones) at the infamous Rumble in the Jungle, Ali's life took a hit, leaving him lost and seeking a new chapter. Rediscovering his faith, Foreman left the ring to step into the pulpit and discovers that his adventure is only beginning.
Directed by George Tillman Jr., Big George Foreman doesn't quite hit as hard as one might hope, but still has the heart needed to win the bout. In Big George, Tillman Jr. unravels a story that manages to inspire without ever letting the preacher become too 'preachy'. Performances within the film are solid, especially Whitaker who becomes the film's bedrock. As Foreman's trainer and mentor, Whitaker often serves as his young protegee's conscience, especially in their younger days. This is not to take away from Davis, who does a fine job bringing out the ferocity and charm the big guy himself. Ultimately though, it's Whitaker who steadies the film. (Also, one can't deny that Jones' portrayal of Ali adds some energy and joy to the film as well.)
Somewhat surprisingly, there's very little boxing in this boxing film. For a career that spanned several decades, one might expect that the high drama might take place within the ring. Instead, unlike Creed or Rocky, Big George uses moments of boxing to emphasize the fight going on in his everyday life. In other words, Foreman's life outside the ring is featured even more prominently than the action that takes place within it. Yes, there may be a number of bludgeoning battles but the in-ring action is often short. In doing so, Tillman Jr. frames the film's narrative about the boxer, as opposed to boxing.
But one absolutely can't deny the film's spirit. Big George Foreman has a heart as big as its lead and is more than willing to go for an emotional upper cut. This is not a film about boxing so much as it is about redemption and healing as Foreman's ability to get back up when he's knocked down is highly on display. This is a man who was born into nothing, found everything, lost it again and had to find something new (sort of).
Interestingly though, what shines most brightly in this biopic is Foreman's faith. Foreman is a man whose life goes off the rails, as much a result of his own failures of character as it is his performance in the ring. Broken by his own flaws, he finds new life in his faith and it changes him forever.

For Tillman Jr., this aspect of his journey is seen as important as his ability to offer a stiff jab to the midsection. Once a man of rage and fury, Foreman is transformed into a sensitive soul who puts family and faith above all else. In some ways, this is a refreshing step forward for movies that tell stories of faith. Historically, these films often feel forced in their approach, as they attempt to cram lengthy (and inauthentic) sermons into the script. But Big George keeps the focus on the man himself, showing the power of a healthy soul.
There's something life-giving about that. And George's journey as a whole.
In the end, while Tillman Jr.'s film is not a title that will be repeated again come Oscar season, that should not take away from its earnestness and inspirational qualities. This Miraculous Story of the Once and Future Heavyweight Champion of the World may not be a knockout but don't count it out either.
Big George Foreman is available in theatres on Friday, February 17, 2023.