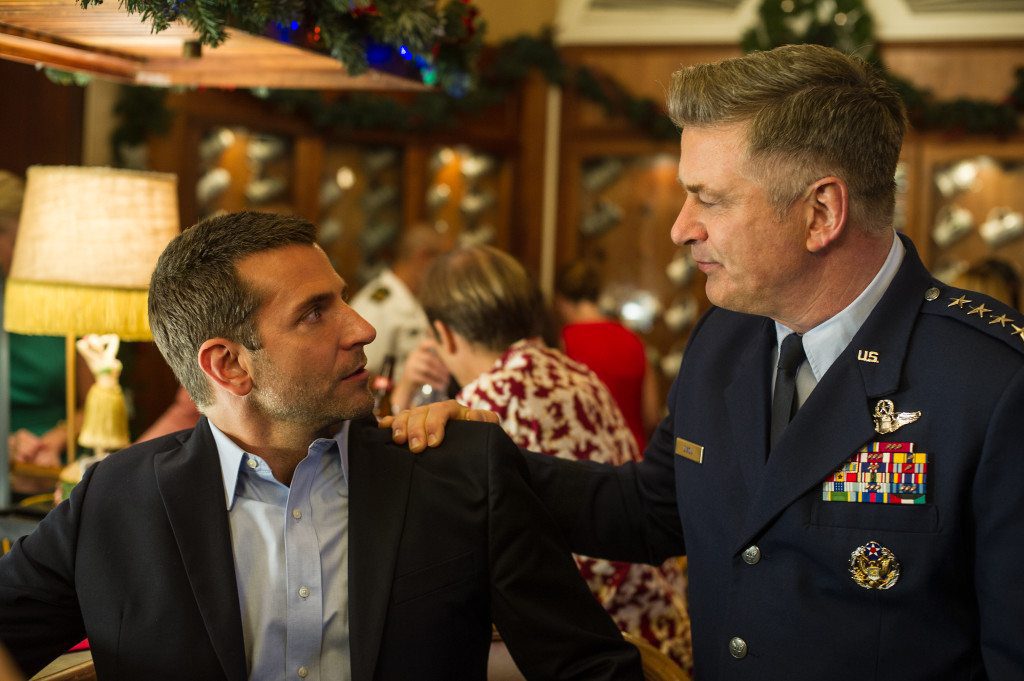 I knew going in that Aloha was… not good, as recognized by the 14% rating it has on RottenTomatoes.com and this lovely exploration of Sony's thoughts?(some 'less perfect' language there). This is?Cameron Crowe we're talking about,?who has delivered hits like?Say?Anything,?Jerry Maguire, and?Almost Famous (although he was also responsible for the Kirsten Dunst/Orlando Bloom debacle,?Elizabethtown)! But in?Aloha, failed government contractor Brian Gilchrest (Bradley Cooper) returns to Hawaii, finds his long-lost love, Tracy (Rachel McAdams), wrestles with his military watchdog, Captain Allison Ng (Emma Stone), and frustrates a host of powerful leaders. All in all, it's a socio-political commentary dressed up as a romantic comedrama, and it is a mess.
Problematically, Tracy is married to the monosyllabic Woody (John Krasinski), who cares for their children, Mitchell (Jaeden Lieberher,?St Vincent) and Grace (Danielle Rose Russell), but is mostly emotionally absent. Brian obviously wants to reconnect with her, but what would that mean for Woody's family? [The audience is made to believe Tracy is unhappy, so a little drama isn't bad, right?] Equally troubling is the all-out come-on produced by Captain Ng, whose behavior swings between insanely interested, deeply insightful, and full metal jacket.?This?is the meet cute of the film, and what the wrapper on the label looks like, but it's no more the main part of the movie than a good lei.
Instead, Crowe (who also wrote this) has a socio-political agenda that involves the military, outside contractor (Bill Murray), and the privatization of the satellite system in space. I'm not terribly political myself, but it's easy to read the warning on Crowe's agenda: we can't do everything in the name of capitalism and call it good. It's unfortunate though, because while the satellite provides Brian a chance to choose a different path for his life, it's largely uninteresting. If?Aloha?is the missile sending the film into space, the actual payload is this political agenda, not a rom-com aimed to entertain us.
For that reason, I'd fail the film if I was grading it. I felt a little duped, like someone was trying to turn the lights off without me knowing it. It's not (I don't think) that the film is bad but that is intentionally aimed at something other than what it proposes. That doesn't, however, mean that we can't learn from it.
Brian finds himself in a situation, the result of several situations, where he can continue his downward spiral or he can choose a new path. He can fulfill all of the past patterns of broken behavior he has followed before, he can be the failure that he has proven to be in the past – or, he can make a change. Brian is potentially someone like a lot of us, who have a past habit of giving into an addiction, or running from commitment, or failing to show up in the big moments of our lives. And there are people who tell us that either we can change, or that we might as well give in and be the failure they expect of us.
Honestly, Brian's situation is a?lot like the case of Bre'r Rabbit to me: he's stuck with Tar Baby, and he can't leave or forgive himself so he's doomed. He'll never change because he doesn't believe he can. He's broken, sinful, doomed, whatever you will: he doesn't believe in grace for himself or for others. Grace? Ah, now, the clues appear. Now, it seems when Crowe sticks to what he does best, weaving broken people together in a tapestry of relationships and choices, he?can?tell a story.
It's just a shame Crowe couldn't stick to the story he knew.