Every country (except the U.S.) can submit one film for Oscar consideration for Best International Feature Film. How a country makes that choice varies. There are certain criteria, including how much English is allowed. The Academy has a process through which the films are reviewed eventually ending up with the five films nominated for the award. In early February the short list (this year it will include 15 films) will be announced.
I have had a chance to see some of the films submitted (either at festivals or through screeners), but still it is only about 1/6 of the list of films hoping for recognition. Here is a look at the ones I?ve seen, with links to our reviews if available.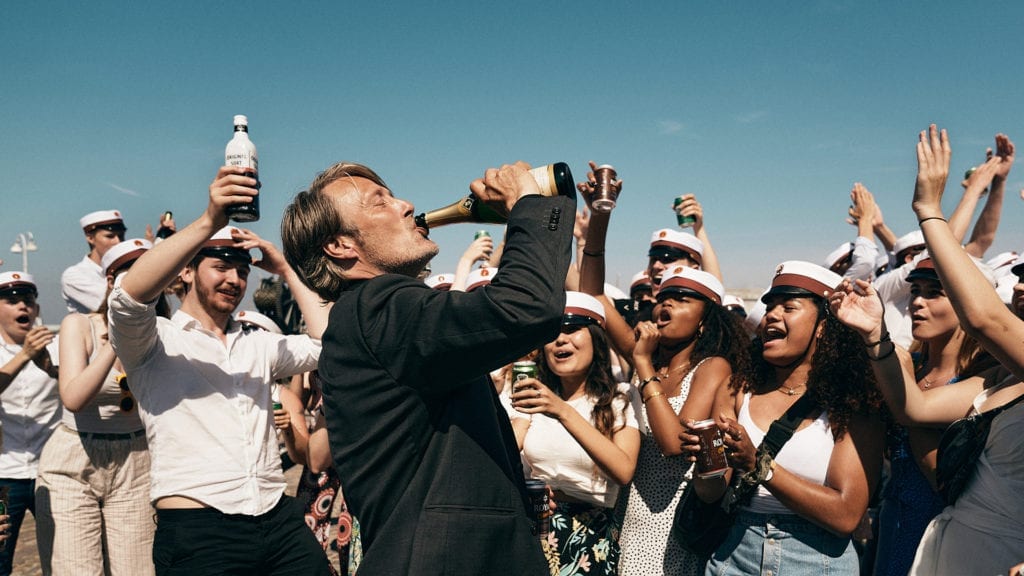 Denmark: Another Round. Directed by Thomas Vinterberg. A group of friends test a hypothesis that keeping a constant 0.05% blood alcohol level is the key to happiness. Vinterberg is a masterful director and has made this a film of humor and pathos. Screenfish review of Another Round. Since it made my year end top films list, I would obviously be happy for this to get a nomination. (On the Shortlist of possible nominees.)
France: Two of Us?tells the story of Nina (Barbara Sukowa) and Madeleine (Martine Chevallier), two retired women who have been romantically involved for decades. Though they spend their daily lives together, their relationship has remained largely in secret over that time, especially to Madeleine?s family. However, when Madeleine suddenly falls ill, their relationship is turned upside down and Nina must find a way to hide their secret while also caring for the woman that she loves. Directed by Fillipo Meneghetti,?Two of Us?is a powerful and heartbreaking piece that puts the wildness of love on full display. Well-written and earnestly performed,?Two of Us?is a simple film about what it means to care for someone so deeply that you?ll do anything to support them in their time of need.?
Hong Kong: Better Days. Directed by Derek Tsang. Chen Nian is trying to prepare for a college entrance exam. She and others face bullying at the school. After an encounter with Xiao Bei, a young street thug, the boy becomes Chen Nian?s protector. Can Chen Nian escape the violence around her, or will she become part of the violence? Well made film, but not as strong as some others. (On the Shortlist of possible nominees.)
India: Jallikattu. Directed by Lijo Jose Pellissery. When a buffalo escapes from the butcher, the whole village goes into action to try to recapture it before it destroys everything. As the day moves into night, the situation devolves to the point we aren?t sure if the animal is the real beast or the people. Interestingly, the film is bookended with title cards with verses from Revelation. (20: 1-3 at the beginning, 19:17-18 at the end). It?s a dark comedy with some very interesting camera and editing work.
Ivory Coast: Night of the Kings. Directed by Philippe Lac?te. Set in an African prison, a new prisoner is named by the convict boss as the new ?Roman?, storyteller. On the night of the red moon, the Roman must tell a story that takes all night. There is a sort of Greek chorus that acts out parts of the story. Meanwhile, the boss is near death and a rival faction is hoping to seize power. It has a bit of magical realism. Interesting, but not compelling storytelling. (On the Shortlist of possible nominees.)
Japan: True Mothers. Directed by Naomi Kawase. Six years after a couple adopt a baby boy, they get a phone call from a woman claiming to be his birth mother and wants him back?or money. The film spends a great deal of time on each woman?s story before we get to the conflict and resolution. It may be a little overlong, but still a worthy story. Screenfish review of True Mothers.
Kazakhstan:The Crying Steppe. Directed by Marina Kunarova. The story of the Great Famine that was the result of Soviet policies during the 1920s and 1930s. Although there are some wonderful landscapes, the story is dismal. This is very much a Kazak story that evokes national pride and animosity toward the Soviet system. I would be very surprised to see this make it to the shortlist, let alone a nomination.
Latvia: Blizzard of Souls. Directed by Dzintars Dreiberge. The story of a young Latvian (Latvia was then part of the Russian Empire) who goes off to fight in World War I. The innocence of youth gives way to the brutality of war. We see the terrible suffering and loss. It also runs through the early stages of Communist Revolution, and the eventual independence of Latvia. It is a very patriotic film. Screenfish review of Blizzard of Souls.
Mexico: I?m No Longer Here. Directed by Fernando Fr?as de la Parra. Ulises, the leader of Los Terkos , a cambia dance crew in Monterrey, Mexico, must flee to the US after witnessing a drive-by shooting. In Queens, he is lost. He doesn?t know the language. He has no connection to his culture. He?s befriended by a young Asian girl who lets him squat on her grandfather?s roof. His life had been completely centered in cambia, but now there is nothing to give him direction or purpose. To be so alone in New York City is just part of the sorrow we watch in this tragic tale. (On the Shortlist of possible nominees.)
North Macedonia: Willow. Directed by Milcho Manchevski. This is a trio of stories that focus on motherhood. All three stories focus on women who had trouble conceiving. The first, set in medieval times, is a peasant woman who goes to a crone for help. When, after the child comes, the couple isn?t willing to pay the high price, tragedy waits. The second couple (in modern times) finally conceive twins, but again tragedy will bring darkness into the marriage. The third story focuses on the sister of the woman in the second story, who adopted a child after years of trying to conceive. But there may be something wrong with the child. Very well done chance to think about love, motherhood, and striving for happiness.
Peru: Song Without a Name. Directed by Melina Le?n. A young pregnant indigenous woman learns of a clinic in the city that will provide free maternity services. When she gives birth, however, they steal her baby for foreign adoption. In her grief she works with a journalist to seek the government?s help. The film has some wonderful scenes of the indigenous cultural arts. A very moving story of people who are treated as invisible and worthless by society. A very good film. Screenfish review of Song Without a Name.
Portugal: Vitalina Verela. Directed by Pedro Costa. A very measured, slow-moving film that has extraordinary s cinematography of light and shadow and the use of a static camera. A Cape Verdean woman whose husband left her 25 years earlier to work in Portugal, arrives in Lisbon to discover he was buried three days before. She learns bits of his life as she moves around the immigrant slum. The life they had in Cape Verde seems much preferable to what she finds here. A faithless priest reflects on the darkness of life here.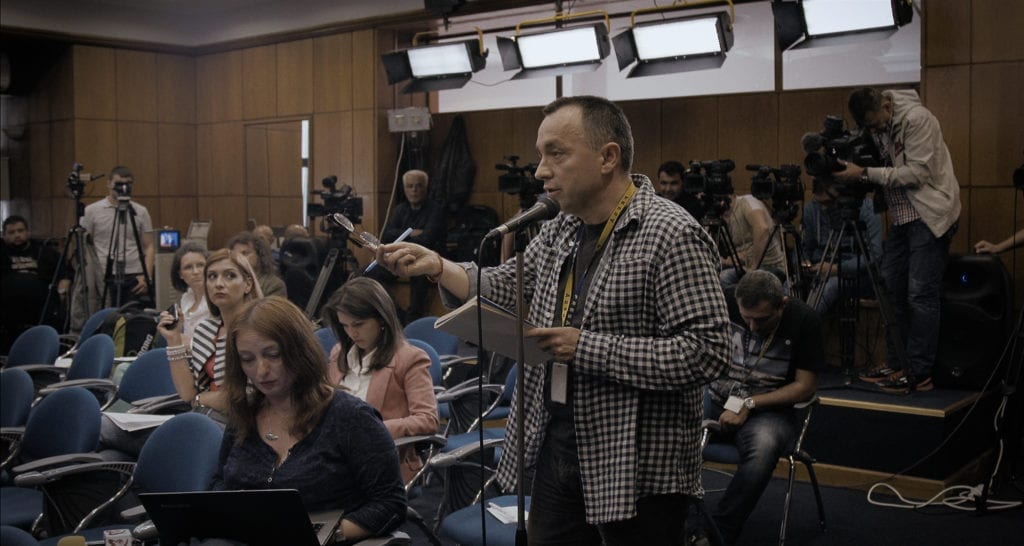 Romania: Collective. Directed by Alexander Nanau. Documentary about the aftermath of a fire at a Bucharest nightclub. Many of the victims died of infections they got in the hospital. Investigative journalist began to trace the governmental corruption. An amazing part of the film is that the new health minister gave the filmmaker total access. This is a film about the importance of the press to confront governmental lies. Very good doc. It would certainly be worth consideration in both this category and in the documentary category. Screenfish review of Collective. (On the Shortlist of possible nominees.)
Slovakia: The Auschwitz Report. Directed by Peter Bebjak. The story of two prisoners who seek to escape and bring information of what is going on to the outside world. The first half of the film takes place in the concentration camp, where following their escape, the other prisoners suffer increasing punishment. The second half is their journey to get across the border and report. But even then, their reports of the horrors are met with deep scepticism.
Spain: The Endless Trench. Directed by Jon Gara?o, Aitor Arregi, and Jose Mari Goenaga. Based on true events, this is the story of a man who, with his wife?s help, hides in his house for over 30 years. During the Spanish Civil War, he escaped capture by the Nationalists and found his way home where he first hid in a hole under a cabinet, and later in a narrow room created by a false wall. Even after the war, through World War II and beyond, he is considered a war criminal until an amnesty is declared in 1969. The stresses of the confinement play out in their lives. They live in constant fear, even when it is time to come out of hiding. An excellently done film about the confines we often must deal with in our lives. It?s easy to extrapolate to the COVID-19 world.
Sudan: You Will Die at Twenty. Directed by Amjad Abu Alata. When a local holy man prophesizes that a child will die when he turns twenty, he begins with a sheltered life, but even after he begins to learn the Quran, his life is geared around his impending death. The entire village believes this is God?s will?except for a photographer who has recently returned from traveling the world. Can the boy find a way to live fully? Screenfish review of You Will Die at Twenty.
Switzerland: My Little Sister. Directed by St?phanie Chuat and V?ronica Reymond. A woman tries to give her actor twin brother one more time on stage before he dies. Her efforts could well cost her a very high price. The film is really about the bond that the siblings share. Screenfish review of My Little Sister.