There are situations that fill a parent's heart with dread. Their child is missing. Their child is diagnosed with an incurable disease. Their child completely rejects them.
In the case of Your Honor, there is one more: their child does something criminal, evil even, and choices must be made about how to protect them.
Bryan Cranston (Breaking Bad) plays Judge Michael Desiato who, having already lost his wife, must now fight to protect his son Adam (Hunter Doohan) after Adam causes the death of another teenager. While every death is a tragedy, Desiato knows that the death of the other young man is dangerous for Adam, because the dead teen's parents are New Orleans crime boss Jimmy Baxter (Michael Stuhlbarg) and his wife Gina (Hope Davis). But covering up a crime is no easy feat, and this situation will be no different.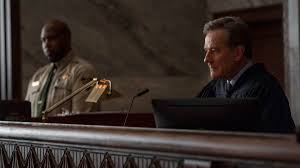 Showrunner Peter Moffat (The Night Of) and executive producers Robert and Michelle King are no strangers to gritty explorations of justice, morality, and mortality. In Your Honor, it's nearly Shakespearean cause and effect that is unveiled, as the original crime must be covered up by two more crimes, and exponentially more violent and dastardly outcomes result. It's tragic, really, and shows the ways that our own less dramatic experiences can have the same ramifications: when we do something wrong to cover up another wrong, it snowballs. This is nearly a modern-day parable of pursuing self-preservation in the name of family, something that we all have experience in.