Kashmir has been the site of conflict between India and Pakistan since the partition in 1948. Although it is majority Muslim, it is controlled by India. As the conflict has gone on, there have been many who have been arrested (officially or unofficially) and never returned home. Widow of Silence, from Praveen Morchhale, is a story of survival of those who are left behind?often termed ?half-widows?.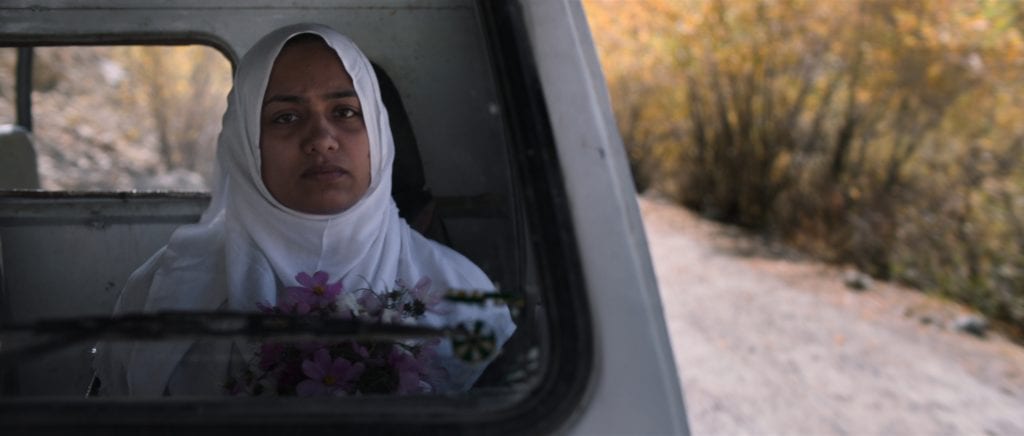 Aasia (Shilpi Marwaha) has been a half-widow for seven years. She is struggling to care for her ailing mother-in-law and 11 year-old daughter in the social and legal limbo that status creates. Each week she takes a long ride in the local taxi (actually a pick-up truck that fills up as it goes) to a nearby town. She is seeking a death certificate for her missing husband so she can claim the ancestral land (only 1/3 acre, but anything of value is important). The Registrar (Ajay Chourey) is a corrupt government official. He puts her off with bureaucratic delays, but says he can make things happen if she sells the land to his friend (and pay the Registrar a 20% commission). When she refuses, he continues to obstruct her in various ways, including seeking sexual favors. Although the film is filled with desperation, it comes up with an appropriately absurdist solution to Aasia?s predicament.
The film underscores the vulnerability women and children face, not only in Kashmir, but in many conflict zones. In his research for the film, one half-widow told Marcchale ?nobody considers us alive?. For Aasia?s family, this plays out in the derision her daughter faces in school. Other students bully her, and if she responds, the school punishes her. The invisibility and powerlessness of women such as the half-widows is a pain just as strong as the loss of a husband or father.

The film also speaks to the abuse and corruption that can sometimes be intrinsic to government. As the Registrar makes clear, a piece of paper from the government can be a powerful thing?either to help or hinder. When that power is in the hands of government, we aren?t always surprised to see abuse. But while we as people may not have the power of government, we still face the same choices as we meet the world around us?we can help or we can hinder.
Widow of Silence is available on Virtual Cinema through local art houses.
Photos courtesy of Oration Films