There used to be a time when ghosts weren't so touchy-feely. ?Barring Scooby and Shaggy's weekly paranormal impostors, ghosts, for the most part, seemed rather harmless. ?Sure, they were like creepsville, daddy-o and sometimes they may have even bumped you around in the night (think
13 Ghosts
, or the Vincent Price classic,
Tales of Terror
), but lately it seems like ghosts are almost as handsy as their undead cousins, zombies.
This week's feature, We Are Still Here, introduces us to the most physically fearsome ghosts to date: a family of? lava-limbed lingerers who thumb their crispy noses at an earthly eviction notice.? Death didn't hamper their thirst for vengeance; in fact, it only stoked the fire.
?
And if these incorporeal invaders get their very corporeal mitts on you, you're toast–and we're talking the kind you have to scrape off with a knife.
?
But does the film burn with the Spirit?
Lawd, Jesus; it's a fire.
Mourning the tragic loss of their son, Paul and Anne Secchetti (Andrew Sensenig and Barbara Crampton) choose a quaint New England hamlet as a place to start over and move on.? But as soon as they get into their new home, Anne is convinced that Bobby's spirit is there with them.? When local couple Dave and Cat McCabe (Monte Markham and Connie Neer) stop by to welcome them, they share the odd history of the house's original owners.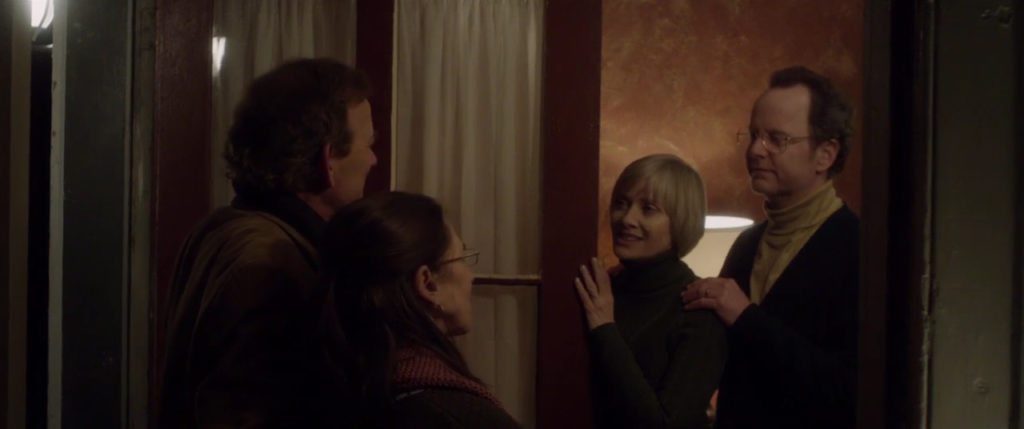 Way back in the 1800s, a family known as the Dagmars built the place, originally using it as a funeral parlor.? But the townsfolk ran the Dagmars out on a rail after discovering corpses were being sold and the only things being buried were empty caskets.
As the McCabes leave, Cat slips Paul a note warning him to get out of the house. But why would he want to do that when their basement is so sweet (pssst…it's not really that sweet. ?In fact it looks like a mud and stone gateway to hell. ?Yep. ?A fixer-upper for sure).
An unfortunate repairman is the first to meet the Dagmars when he tries to repair the water heater in that charming substructure. ?The shadowy ghost who finds him forgoes a "boo" and instead lights his arm up like the Fourth of July. It isn't long before the rest of the Dagmars join in, offing the son and girlfriend of a family friend–the same friend who gets possessed while trying to channel and exorcise the evil (with horrific results) and generally making things murderously miserable for everyone else who comes to the house.
But Dave may be even more menacing.
It isn't long before we find out his Dagmar story was little more than historical fiction–and we learn just why the Dagmars are so darned angry–and so selective with their vengeance. ?They weren't run out on a rail–they were burned to death by the townsfolk. ?But their spirits didn't die and every thirty years, they get a modicum of revenge when they kill whichever family happens to be in their old homeplace at the time. ?In return, they spare the town. To preserve the communal peace, the townies make durn sure a new family of scapegoats moves in every third-century.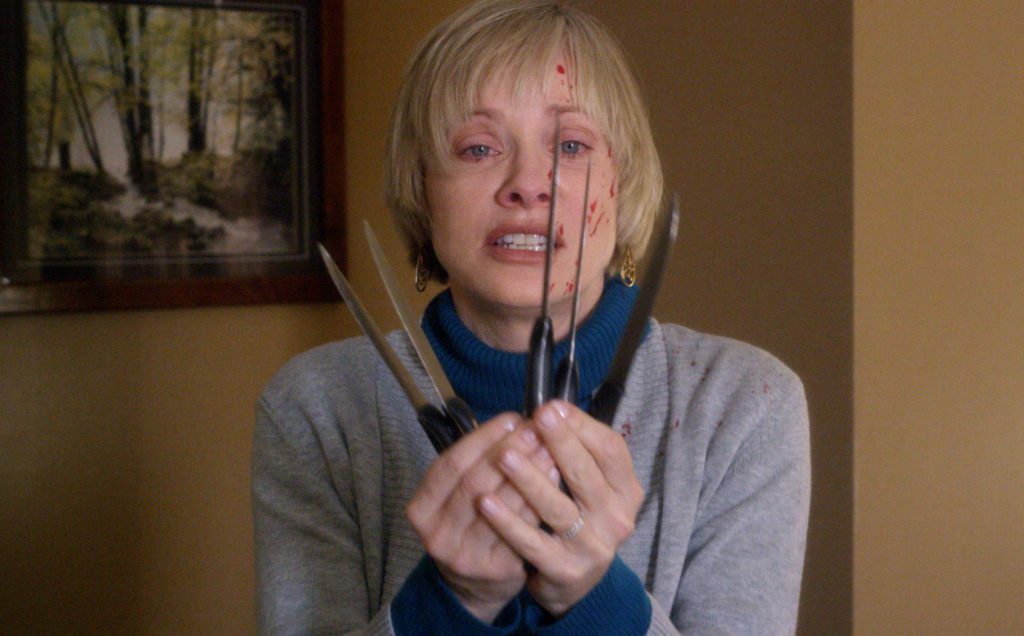 We Are Stil Here offers up some fun? retro-horror vibes with a modern twist (though pyrotechnic ghosts feel a little far-strung). ?It thrives in gore, but each compoundingly gruesome execution eventually borders on overkill. ?So much more could've been accomplished with so much less.
But if you're looking for a lesson in Old testament thoelogy, you'll quickly warm up to it.
In Exodus, God warns the idol-worshipping Israelites that their allegiances to false Gods will invoke his wrath and that punishment will be be doled out on their offspring:?"You shall not worship them or serve them; for I, the LORD your God, am a jealous God, visiting the iniquity of the fathers on the children, on the third and the fourth generations of those who hate Me" (Exodus
20:5
).
This scripture was later condemned by Ezekiel, and Jeremiah–but not because it was too harsh. ?But because it was too lax. ?After God's pronouncement of "inherited" sin, the Israelites began to absolve themselves of their wrongdoing. They weren't to blame for their own transgression, they said, arguing that they rather were simply heirs to their ancestors' failures. ?The problem was, they still continued to commit the same sins thier forefathers had, continuing to turn away for perpetuity. ?Of course, God had already laid out the final pronouncement, declaring each man guilty for his own sin, but perhaps the Israelites missed it:
?"And it shall come to pass, that as I have watched over them to pluck up, to break down, to throw down, to destroy, and to afflict, so I will watch over them to build and to plant, says the LORD. In those days they shall say no more: 'The fathers have eaten sour grapes, And the children's teeth are set on edge.' But every one shall die for his own iniquity; every man who eats the sour grapes, his teeth shall be set on edge" (Jeremiah 31:28-30).
The townsfolk seeking to appease the Dagmar ghosts aren't that much different from those wayward Israelites. The sins of their ancestors come home to roost, when the ghosts keep coming back to terrorize each prospective new group of tenants. ?But to keep them from destroying the rest of the quiet hamlet, the townies gladly offer up whichever unsuspecting family moves in to the cursed abode. ?By laying down these sacrifices to the hellish haunters, the townsfolk end up being just as evil…and the curse continues to perpetuate, damaging both the intended victims and the collateral ones.
If we want to defeat the ghosts of our past, we can't keep feeding their power. The guilt we hold onto only augments the fear they wield–and flesh-burning hands or not, fear is always their strongest weapon.
Our fathers' sins aren't ours to bear. ?But if we repeat them instead of turning toward the one true Father, we will trap ourselves in an endless nightmare, continually empowering the dark side of ourselves. ?Our only hope to counter that darkness is the Light of the World.
He's the only way we'll stand a ghost of a chance.