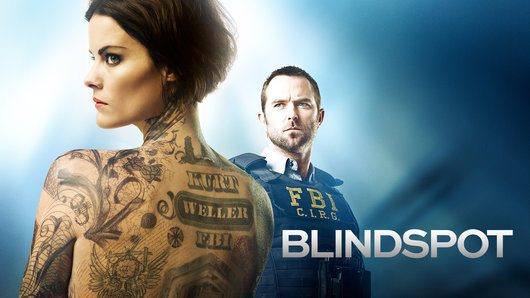 Blindspot?attempted to tackle an issue facing us today politically and socially: the use of drones on American soil. Tackling this issue is the major 'plot' of the second episode in NBC's new series, but I was drawn in more by the concepts playing out in the interaction of Sullivan Stapleton's FBI Special Agent Kurt Weller and the woman who wears his name tattooed on her back known as Jane Doe (Jaime Alexander).
To quickly recap the action of the episode, "A Stray Howl," a former drone operator goes rogue, upset with the tactics the military was using at home against its own citizens. Timely? Yes. Wildly entertaining? Meh. Not so much.
But for a show with an overarching mythos (Lost, The Blacklist,?Quantico), the pieces of the puzzle (or tattoo) that tell the story of the characters with mysterious backgrounds are always the most engaging to me. They're often more engaging than the vehicle that brings us to the point where our characters get to discuss the things that make them human – or get to unpack how they arrived at this point.
Here, Weller assures Jane Doe that she is not the person she once was, as she wrestles with scattered images from her past. Ironically, Weller is wrestling with his own guilt over the disappearance of a little girl during his childhood. The girl's absence led to Weller's family breaking apart, and his chance to rescue not one, but two, women who are 'lost,' grips him with an intense power.
No matter who Jane Doe turns out to?really?be, there's an underlying mystery here that is pretty significant. Both Stapleton and Alexander are stellar in their roles but, hopefully, the writers will give them a better episodic plot in next week's installment.
Blindspot airs on Mondays at 10 p.m. on NBC.