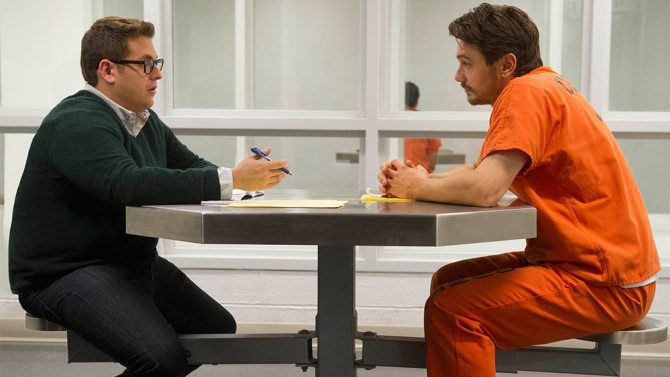 In FOX's?True Story, Jonah Hill and James Franco go sifting through the truth and lies of stolen identity, but this isn't a light-hearted look at someone messing with your credit scores. No, this is a film based on the real-life biopic of Michael Finkel (Hill), who finds that Christian Longo (Franco), an accused serial killer, has stolen his identity. When the two men meet, a relationship develops, and suddenly, the truth of the matter is a very nebulous thing indeed.
While the plot of the film progresses slowly, there's a certain amount of captivating tension that one can appreciate when picking through the pile of information surrounding a true life whodunit. Did Longo kill his wife and children? Is he innocent? Can Finkel actually figure it out?
The film is helped along by the fact that the principal actors are joined by Felicity Jones, Gretchen Mol, and others, who all provide significant heft to their roles. The dialogue is reasonably engaging, and the case itself led to some significant possibilities in the plot lines. But ultimately, ?it boils down to Franco's Longo and Hill's Finkel wrestling verbally, over truth, identity, memory, and relational power.
What complicates the actual case playing out in court is the case Finkel finds himself in over an article he wrote for the New York Times, where he created a "composite" of various people he met while researching a story. He didn't necessarily change the truth of the situations but he combined the stories in a way that his bosses found to be disingenuous, his journalistic integrity compromised. So, while Longo is working to convey his perspective, and his truth, to Finkel, Finkel is himself wrestling with how he hears, digests, and conveys the truth himself.
Not too long ago, I had a parishioner ask me if I thought a specific news station was 'biased'. While I personally struggle with a significant amount of what this particular station conveys, but I told him that I thought that every news station conveys what it wants to, whether it's ideologically or based on who owns or sponsors the station. Everyone has a perspective, right? Whether they are intentionally manipulating what they see or simply viewing it only from their perspective, truth can sometimes be … different.
Whether it's in our daily lives or in the midst of an ongoing murder investigation, we need to be aware that we're often confused, deceived, or more; we need to be able to discern the truth. While some would point toward the Bible as the truth on which they'll rest, we must consider (prayerfully) how we read the Bible and 'digest' it, as it is a translation, handed down through the generations. Too often, what we accept as true or even Biblical is the result of "whisper down the lane" (try playing that with some elementary school kids!) when we should ask God to guide us and help us be who we're supposed to be, and what to believe.
In the end,?True Story?attempts to show us the fragile line of what's true, and the cost we pay when we lose sight of where that line is.