Mid90s is not your typical coming-of-age piece. Set in 1990?s LA, it is an intricate look into the skate culture of that time. Exploring deep friendship, hardship, belonging and passion, Jonah Hill?s directorial debut is his passion project that is so much more than what you would expect it to be.
Stevie (Sunny Suljic), is a melancholy 13 year old boy who is being physically and emotionally abused by his older brother, Ian (Lucas Hedges). This isn?t just rough-housing ? Ian fully beats Stevie. Stevie?s home life is clearly not ideal. His mother, Dabney (Katherine Waterston), is promiscuous and somewhat absent. There is no father figure in the picture and they don?t appear to be very well off. As a result, one could imagine that these boys would struggle in such an environment, especially at such?an impressionable age.
Stevie seems like a lonely outcast. When he stumbles on a group of skateboarders, he is immediately captivated, not only with the sport, but with the people. He?s desperate for a place to belong. He trades his brother for an old skateboard, begins to practice, and inches his way into the group day by day. Finally, he has found friendship and a support system that he doesn?t get anywhere else, particularly at home. He hangs around with older boys very unlike his older brother and, instead of picking and beating on him, they welcome him and make him almost like their young protege. Seeing Stevie?s cheesy smile when he?s around his friends is so innocent, yet heart-wrenching. He doesn?t seem to have any other joy in his life. When he?s around his friends, he can finally be free of all of his family drama.
There was a poignant scene where some of the boys were talking to a homeless man. I hate to say it, but I fully expected at least one of the boys to turn their nose up and crack a joke but they had a legitimate and heartfelt conversation with him. Despite the fact that they're at very different places in their lives, it?s almost as if the boys could relate to the heartbreak and hardship.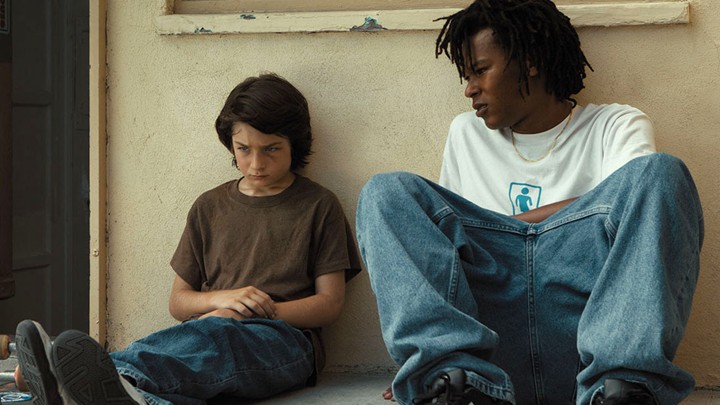 Along the same vein, after Stevie goes through a lifetime of difficulty for such a young man, he has a conversation with Ray (Na-kel Smith). We realize that Stevie isn?t the only one with problems. Ray starts spilling some of the other boys? drama. He explains to Stevie that if we were to look in the closets of other people, we wouldn?t want to trade our drama for theirs. It can always be worse. It becomes even more apparently that all of the boys were there because they wanted to get away from their problems and be with their chosen family. They wanted to have fun and be passionate about something. Through skateboarding, they could escape for a while before going back to reality.
After watching the film, I kept asking myself, ?How young is too young?" Stevie is hanging out with much older boys, smoking, drinking, experimenting with his sexuality, and all at 13 years old. As an aside, Sunny Suljic was only 11 years old at the time of filming. I found myself slightly uncomfortable during some scenes because he was so young. But I must admit that this discomfort was most definitely necessary in fully conveying the tone of the film.
The language in this film was quite harsh at times, not only with swearing, but also with slang and derogatory terms that aren?t as acceptable in the current day. But I have to admit, it was very 90s. Jonah Hill definitely paid close attention to the detail in the dialogue.
The film had an impressive score created by Trent Reznor and Atticus Ross. The music played a huge role in the overall tone and really made you feel like you were in that decade.
I very much appreciated that Jonah Hill cast real skaters for the film. They weren?t actors who learned how to skate for the film. They were normal skate kids who just so happened to be able to act. Not only did it give the film an incredible sense of authenticity, but we didn?t have to suffer through cuts and camera tricks so they could swap out doubles. Jonah Hill has stated that he never thought skating was done justice in film and, although I have to give a deserving mention to Lords of Dog Town, I will say that Mid90s is up there when it comes to its depiction of skate culture.
Other than Sunny Suljic, the phenomenal cast of skaters included Na-kel Smith, Olan Prenatt, Gio Galacia, and Ryder McLaughlin. Their chemistry was so believable and I don?t think the film would have been the same without them.
For a first time director, Jonah Hill has solidified himself as a huge contender in the industry. I?m thrilled to see what he imagines next.
Mid90s is in theatres today.