A Beautiful Day in the Neighborhood introduces the iconic figure through the eyes of Lloyd Vogel, an investigative journalist with Esquire magazine with a history of exposing the darkness of our world. Tasked with writing a mere 400 words for an issue about our ?heroes?, Vogel begrudgingly accepts his assignment and begins to meet regularly with the children?s television icon. Rogers immediately takes a liking to Vogel, despite his reputation, and the two begin a friendship that changes Lloyd?s life forever.
Directed by Marielle Heller,?Beautiful Day lives up to its name. Based on the true story of investigative reporter Tom Junod,?Beautiful Day?is a powerful journey that demonstrates the power that a live of love and kindness can have on a broken soul. As Rogers, Hanks absolutely transports himself into the role. While he has built up a reputation of being Hollywood?s ?nicest guy? himself, his performance is simply remarkable. Adopting every mannerism, intonation and spiritual altruism, Hanks brings the iconic yet mysterious figure to life. (And, yes, he looks good in a sweater vest.)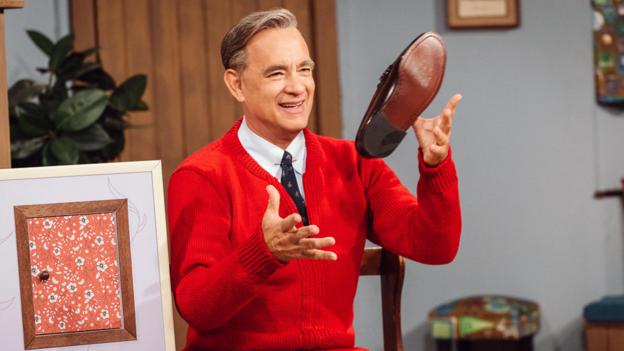 While there?s little doubt that this is an admirable portrait of Rogers and his impact, the film does not deify him. Although Rogers remains somewhat of a mystery, their conversations reveal the imperfections of his humanity but still shows his deep love of others. In days when it feels like a new scandal is coming to light every day,?Beautiful Day is a reminder that there are still imperfect people that are worthy of highlighting for their impact on others. Though overburdened and flawed himself, Rogers continues to fight for the hearts and souls of the broken around him through his ?simple? message of love and acceptance.
A Beautiful Day in the Neighborhood is currently playing at the Toronto International Film Festival. For more screenings, click here.