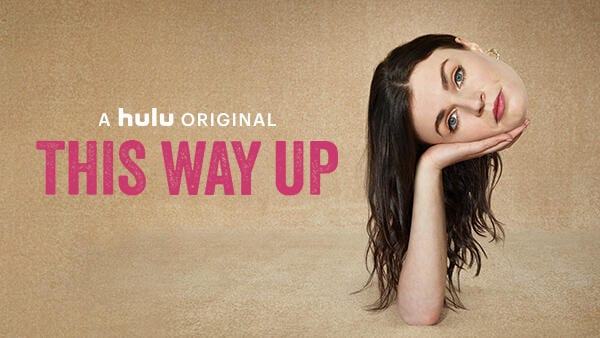 It?s always hard to go home again. But it?s even more difficult when you?re bringing your own emotional baggage along with you.
Returning for its second season on Hulu,?This Way Up?is a comedy series about Aine (Aisling Bea), a sharp English-as-a-Second Language (TESL) teacher who has recently finished some recovery time in a rehab facility. After suffering a nervous breakdown, Aine returns home to reconnect with her loving but protective sister, Shona (Sharon Horgan) and attempt to pull things together. As she returns to work (and her old life), Aine rediscovers the challenges and pressures that caused her such stresses before and attempts to move forward with a new determination to survive.
Written by Bea,?This Way Up?is an engaging and hilarious form of coming-of-age story. Oftentimes, when a series is written by its star, the series can either feel self-indulgent or garner a sense of authenticity. Thankfully,?Up?falls into the latter category as Bea continues to create a character that feels real. In virtually every scene, Bea feels present and sincere in her performance. Whether she?s bantering with her sister or frustrated by those around her, Bea allows Aine to feel her feelings with strength and courage.
What?s most refreshing about?Up?though is the way that it tackles mental health issues with earnestness and honesty. Unlike other projects that simply portray their main characters as having to ?get their life together?, Aine is allowed the freedom to break down at times. Coping with her own anxieties and the shame associated with her time in rehab, Aine is a work in progress. For her, health may not a straight line yet she continues to move towards it. Though she may have her daily struggles, she bravely remains determined to come out on the other side of her depression. In this way, the series offers a balance between the daily challenges of mental health and the courage that it takes to work through them.?
This sort of emotional processing was especially visible in Season One as Aine attempted to rebuild the live that she had left behind. With the release of Season Two, however, we do find Aine in a better place. With her life somewhat sorted out, she has finally regained some stability which has allowed her to become more emotionally healthy. With her relationship with Richard beginning to bloom and the offer of a new and exciting role at work, she has started to take some positive steps towards moving forward in her life. However, while Aine?s life feels less chaotic, Shona?s is beginning to unravel. Torn between two lovers, Shona is finding it difficult to balance the life she has and the one she potentially may want.
By putting a greater emphasis on Shona?s journey, Up effectively balances the fact that everyone is broken to some capacity. While Aine may have been the one to go to rehab, characters like Shona and Richard demonstrate their own inability to cope with the stresses of life and relationships as well. However, in each case, the series also paints its characters with a brush of understanding that recognizes their brokenness but also allows for grace. In Up, everyone may have baggage but, at the same time, there is also hope for all.
Funny and sharply written, the second season of This Way Up continues to give Bea the opportunity to shine but she is not the highlight of the series. Instead, in a rare matter of praise, the most noteworthy aspect of Up is its sensitivity towards those who struggle with daily mental health issues. Like Aine, this is a daily struggle for many. But, also like Aine?s journey, the series reminds the viewer that there is always the potential for Up.
The second season of This Way Up?is available on Hulu on Friday, July 9th, 2021.