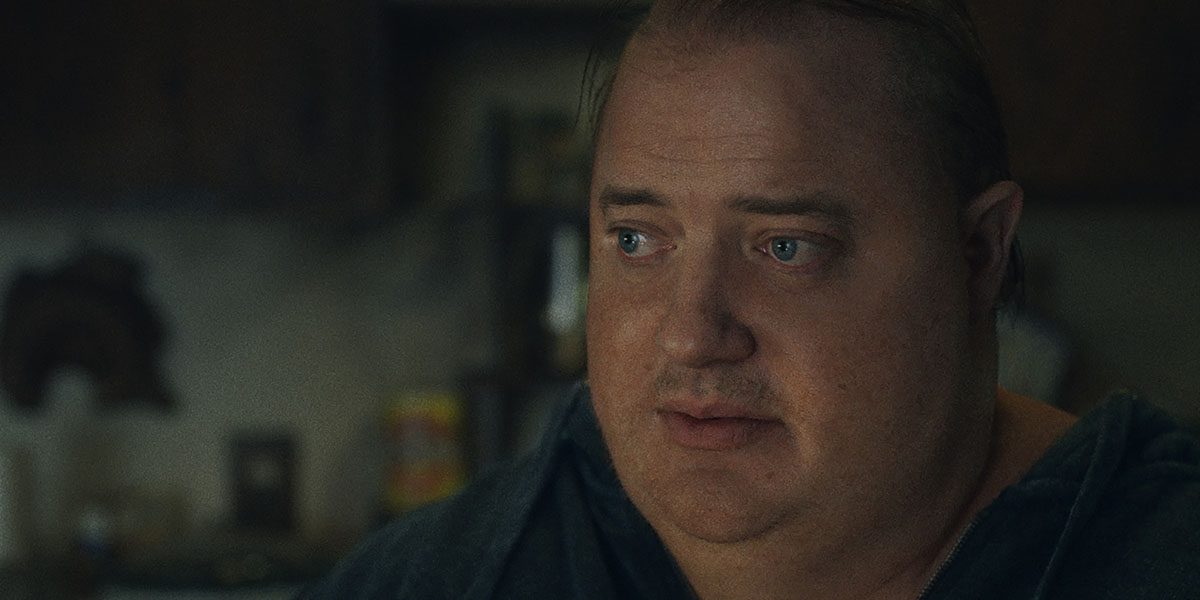 Directed by Darren Aronofsky, The Whale tells the story of Charlie (Brendan Fraser), an online writing instructor who struggles with obesity. Weighing 600 lbs, Charlie feels embarrassed by his appearance and hides away from the world in his apartment. However, when heart problems threaten his life, Charlie refuses medical attention other than the care of his friend Liz (Hong Chau). Knowing that his life is coming to an end, Charlie reaches out to his estranged daughter, Ellie (Sadie Sink) in the hopes of finding some connection to her. At the same time, Charlie receives visits from a Thomas (Ty Simpkins), a door-to-door evangelist from New Life Church who begs Charlie to repent of his sin so that his soul might be saved before the end.
Having leaned into obscure metaphors with his previous films like mother! and Noah, The Whale takes a far more grounded approach for Aronofsky. Set entirely within the confining space of Charlie's tiny apartment, Aronofsky uses no flashy camera tricks or special effects. Instead, chooses to focus on the film's stellar performances and its solid script as opposed to any grand, sweeping stylistic devices. In doing so, Aronofsky shows remarkable restraint and prevents his Whale from ever getting lost at sea.
Although the film features strong work from Sink, Chau and Simpkins, one cannot deny that the true star of the film is Fraser himself. Although he is buried under 600 pounds of makeup, Fraser bares his soul in virtually every moment of the film. From laughing with optimism to screaming in agony, Fraser's performance has already received accolades and deserves every single one of them. Despite being covered in makeup and prosthesis, his charm, humility and grace bleed onto the screen in one of the more remarkable performances in the past few years. (However, it's also worth noting that one should not discount the stellar work provided by Hong Chau. As Charlie's caregiver, Chau brings a fire and fury often expresses Charlie's deepest hurts for him. Together, the two have incredible chemistry and somehow manage to serve as each other's conscience.)
Based on the play written by Samuel D. Hunter (who also wrote the screenplay), The Whale is a piece that delves into the psychology of hurt while pleading for forgiveness and peace. Living in his home, Charlie is a man who is imprisoned by his pain and suffering. In fact, even if he were willing, why would he ever want to go outside anyway? This is a world that is constantly raining and filled and sun never shines. 
In Whale, Aronofsky clings to the metaphors within Herman Melville's Moby Dick. As Charlie reflects on the famed tale of obsession, one cannot help but appreciate the various ways in which the story seems to come to life within the film. Although the film is called The Whale, Charlie seems to embody each of the characters in different ways. From the sexuality of Ahab to the obsession of Ishmael, different moments within the script appear to shed light on different facets of Charlie's personality that connect deeply with the story. (In fact, the constant rain further emphasizes Moby Dick by portraying this 'whale' as drowning in his sinking ship with the water rising around him.) What's more, as he clings to an essay Melville's narrative written by an unnamed author, Charlie recites its brief words with such a passion that they almost take on the role of ritual. To him, these are the last words that he wants to hear as they reveal the author's soul, inspiring him to believe that honesty still exists within the world.
And one cannot deny that this is a film looking for honesty.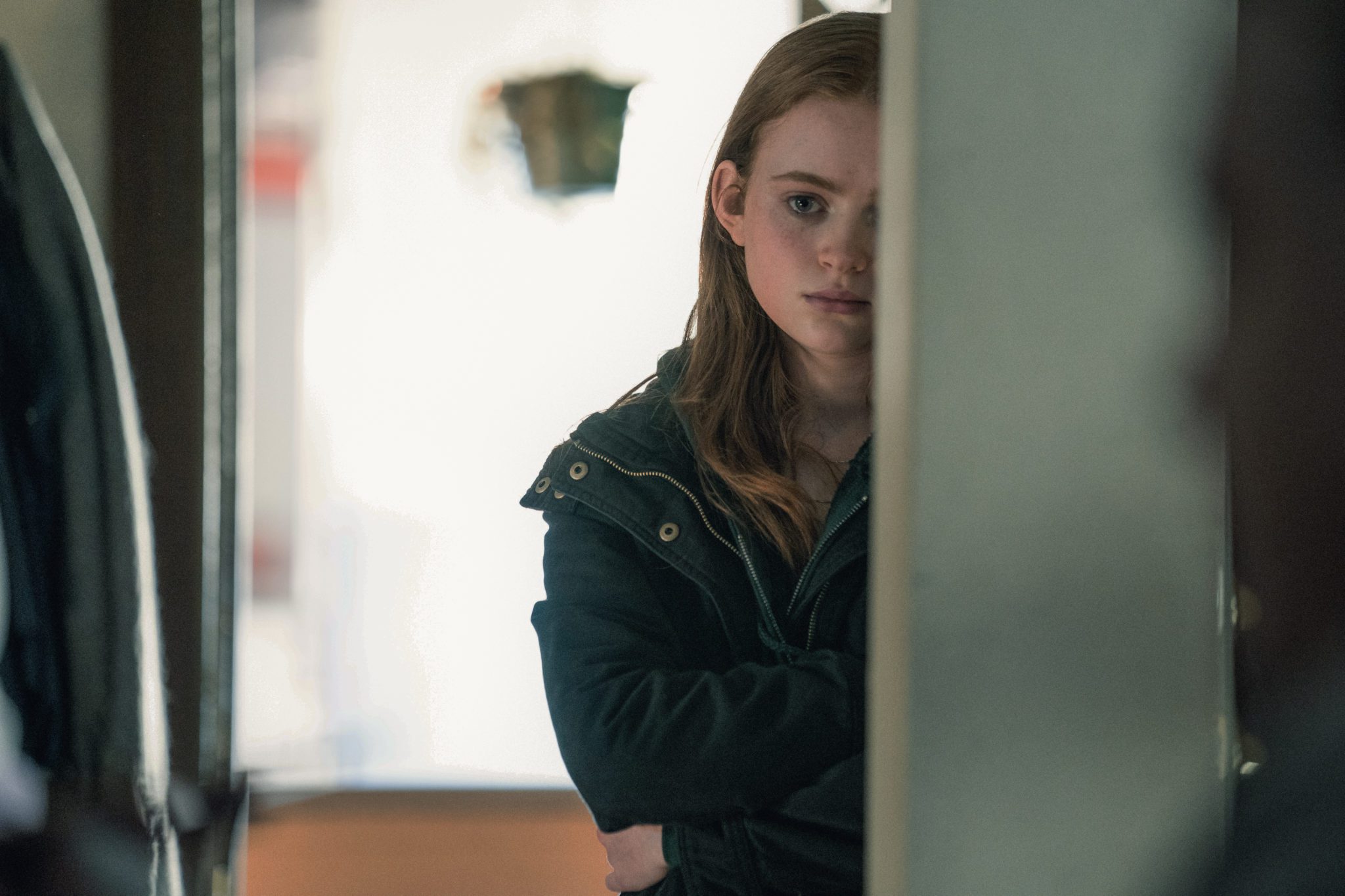 With each passing scene, Charlie cries out with increasing frustration for the world to speak with authenticity. Whether it's his daughter attempting to speak truthfully through her writing or the heart, his students' writing or Thomas' beliefs, Charlie's demand is that everyone must look into their soul and speak what they believe is true. To him, honesty is the highest virtue and to say 'one true thing' is better than any written flourish.
Interestingly, this passion for honesty also drives the film's conversations surrounding faith. Throughout his career, Aronofsky has always shown a profound interest within Biblical allegory and that conversation continues within The Whale. Having been devastated by his experience with the church, Charlie refuses to buy Thomas' message of hope for the afterlife. Charlie knows the Scriptures and has a faith. However, while New Life Church preaches the pervasive sinfulness of man and fear of the End Times, he is far more optimistic. To him, people are inherently good, despite their brokenness. It's this belief that gives him greater hope than anything that New Life Church seems to be able to provide and challenges him to see the good in every situation. For Charlie, his home will not be one of judgment so one need not fear being honest about who they are.
Beautiful and moving, The Whale Is one of those pieces that could potentially transform the way one sees the world. Instead of dousing the film in metaphor, Aronofsky makes a plea for hope, love and, above all else, grace.
The Whale is available in theatres on Wednesday, December 21st, 2022.