From the Canadian writer/director team of Cal Brunker and Bob Barlen (Escape from Planet Earth,?upcoming?Son of Bigfoot),?The Nut Job 2?is the clever sequel to the 2014 animated film starring Will Arnett that?wasn't?The Lego Movie?… but was just as funny. Starring as Surly, Arnett's voice drove the story of a group of animals from Liberty Park who found a cache of food in a local nut shop. In the sequel,?Nutty by Nature, Brunker and Barlen steer their crew of forest friends into a battle with corrupt Mayor Muldoon (SNL's?Bobby Moynihan) over the amusement park he wants to erect on the remains of their park home.
Let's be clear: at this point in my life, I'm seeing 99% of the animated films released in theaters and on home media, and I'm very aware that they are hit or miss. (For the record, I'll call?Sing,?Moana, Zootopia,?and?Trolls some of the hits.) But Arnett's vocals – and the clever collection of assorted characters that surround Surly – are amusing and laugh out loud funny, and the script is remarkably engaging as well.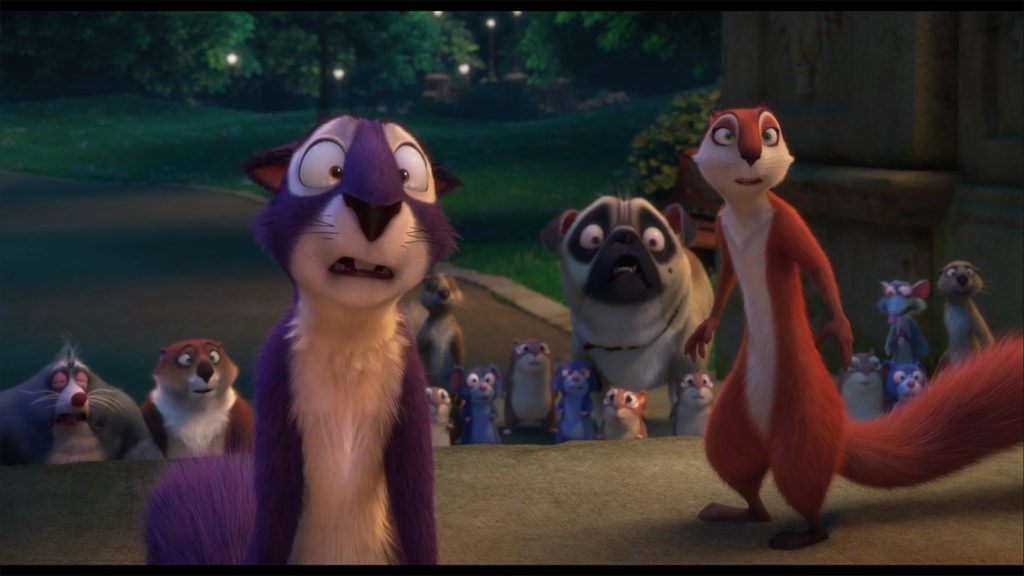 First, we have a star, animated turn by Jackie Chan as Mr. Feng, a country mouse-turned-city mouse who leads his band of "don't call me, cute" Shaolin-trained mice in defending their turf. While the outtakes during the credits are funny, Chan's parts are genuine scene-stealers. Throw in Jeff Denham's Mole, who accidentally causes the nut shop to explode via his own neglect and sets in motion the action of the film, and the pug and bulldog combo of Precious and Frankie (Maya Rudolph and Bobby Cannavale) adds to that as well. For me personally, the perpetual "we're gonna die!" refrain from one of the chipmunks is absolutely funny, too.
But in a surprise turn – where animated films seem to be?either?funny?or?poignant,?NJ2?nails both. Here, we hear from Surly's "girlfriend," Andie (Katherine Heigl), push Surly to be responsible, even before the nut shop blows up. She tells him that good things don't come easy, that "easy doesn't build character," and continues to implore him to lead well. She's also the one that reminds Surly that "we're better together," and that nothing can't be accomplished when we work together as a team. These are elements of faith and community, whether you believe in one thing or another, that bind us together as human.
While the film is one I look forward to seeing again for its action, adventure, and hilarious moments, it's one that I give my highest honor: it's preachable. Because in the midst of the world we live in, with the ways that things are often presented to divide us and isolate us,?NJ2?reminds us that we are all created special, with gifts and grace that we're supposed to share.