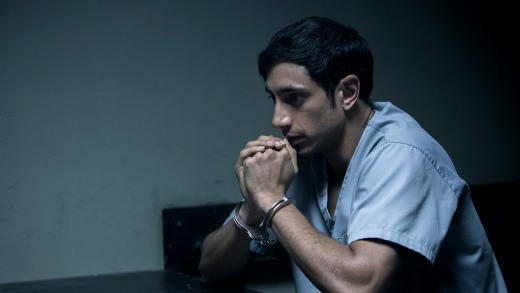 Naz Khan (Riz Ahmed, Jason Bourne, Rogue One), a Pakistani-American college student, takes his father's taxicab to a party but he never makes it there. When a mysterious woman (Sofia Black D'Elia) gets into the cab at a stoplight, he finds himself engaged in a night of danger and seduction. And then the next morning, he finds that the woman is dead and he is the police's chief suspect. But is he guilty of murder?
Luckily (or not) enough for Khan, beleaguered public defender John Stone (John Turturro) defends Khan in this critically acclaimed, eight-part miniseries. In fact, Stone is the one who proposes there's something more going on here than something cut and dry. Of course, timing is everything, even in the real world, where HBO originally passed on the show, then picked it up again for James Gandolfini. Ultimately, HBO ended up pushing it through in 2016 where it may be even more appropriate. Written by Richard Price (Clockers) and Steven Zaillian (Schindler's List, Gangs of New York), it delivers a tense, disturbing look at how one night of 'fun' can go south quickly – and how the justice system is full of injustices (especially for people of color).
From a story perspective, this is a murder investigation like several of the shows that have come before it (and occur simultaneously, like?Secrets & Lies or?How to Get Away with Murder). But while we don't know immediately whether or not Khan is actually guilty of murdering the woman or not, we know that his life is irrevocably changed – especially after he ends up in prison under the watchful eye of fellow inmate, Freddy Knight (Michael Kenneth Williams). We watch Khan transform – and it's not pretty.
And then there's the justice issue. We are inclined to think that Naz Khan is a good (if not naive) man. He understands the words being said to him, by the arresting officer and then by Detective Dennis Box (Bill Camp,?Minority Report), but he's cast around by the system – he doesn't know what his own rights are. When he does ask for a lawyer, he's talked out of it – well after saying and doing things that don't help his case in the premiere – and we're reminded that this is set in a reality of #BlackLivesMatter and wrongful deaths of minorities at the hands of the police. Is this one-sided? Maybe, maybe not. But it'll make you think about justice and assumptions – and disturb your sleep just a little bit.