The Hitman's Wife's Bodyguard brings back beloved (and unlicensed) bodyguard Michael Bryce (Ryan Reynolds), who is having an identity crisis of sorts. While taking a sabbatical from work, Bryce is thrown back into action when Sonia Kincaid (Salma Hayek) drops back into his life and demands his help in rescuing her kidnapped husband, hitman Darius (Samuel L. Jackson). After freeing him from his abductors, the three are recruited by the FBI to prevent madman Aristotle Papadopolous (Antonio Banderas) from bringing his maniacal plans to reality. Though they can hardly stand the sight of one another, the three must set aside their differences in order to save Europe from total chaos. 
Wild and unruly, The Hitman's Wife's Bodyguard is a fun but flawed ride that earns its credibility through sheer star power. Back behind the director's chair is Patrick Hughes who kicks things up a notch from the last entry. Whereas the first film kept things (relatively) straightforward with its plot, the sequel goes for more… everything. More comedic banter. More gunfire and blood. Higher stakes and stunts. (In fact, the story has leaned into its own wildness so much that it borders on the type of mayhem that have made the Fast and Furious films a global success.)
However, while Wife's Bodyguard may be over-the-top with its story and characters, it still remains a fun ride. Despite its madness, Hughes understands that the true building block of the film remains its leads and they receive the attention that they deserve. Even though Jackson and Reynolds have great comedic banter together, the most welcome piece is Hayek, whose role is increased significantly (as the title suggests). Though she has mixed up her acting choices throughout her career, Hayek's comedic talents have always been her greatest strength and she bounds around onscreen with an energetic silliness.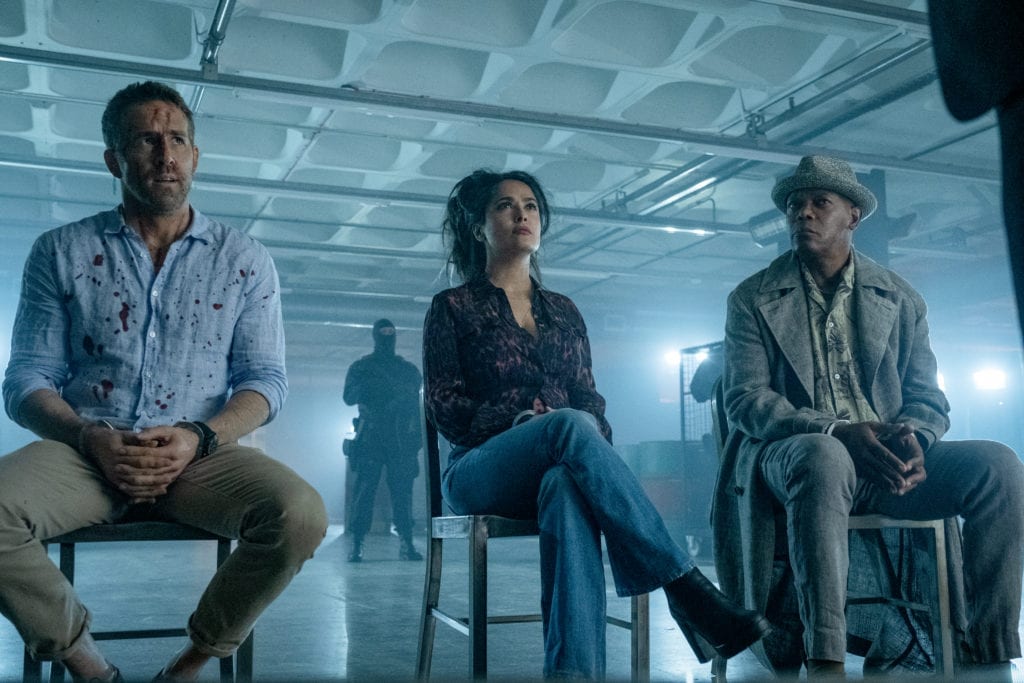 Although the leads receive significant screen time, it's worth noting though that the supporting characters feel like they're given little to do. While Freeman's role is more of a cameo, one would expect that Banderas would have more time to establish himself in a villainous role but his scenes feel minimal. (Having said this, it is fun to see him working again with Hayek. Desperado reunion!) However, one could argue that the actor who suffers most in the film is the stellar Frank Grillo. As FBI Agent O'Neill, Grillo's character is set up with a significant introduction and then almost criminally underused within the film, despite his seeming importance to the script.
At its heart, Wife's Bodyguard emphasizes the importance and impact of our parents. Here, all the characters are either feeling the damage left by their families or looking to begin one of their own. For example, the film highlights the pressure that Michael feels to live up to his father's legacy. As one of the world's best bodyguards, Michael's step-father is respected by all. Although he loves his father, Michael constantly views himself as a comparative failure, especially without his AAA license. At the same time, as Sonia and Darius try to set out on their honeymoon, she yearns to be a mother. While the two try desperately to have children of their own, they have yet to be successful and Sonia is growing increasingly frustrated with the delays.
While the two stories seem to differ, the film holds them up against one another in such a way as to highlight what it means to choose your own family. Though the characters may not be related, Darius, Sonia and Michael continue to establish a bond of support for one another that draws them together. In a strange way, this creates a newly supportive (but dysfunctional) environment that becomes a family that we choose ourselves. (Again, this theme seems to echo the heart of the Fast and the Furious films…) By taking biology out of the equation, Hitman's Bodyguard emphasizes the importance of our relationships and having people around us that have our backs.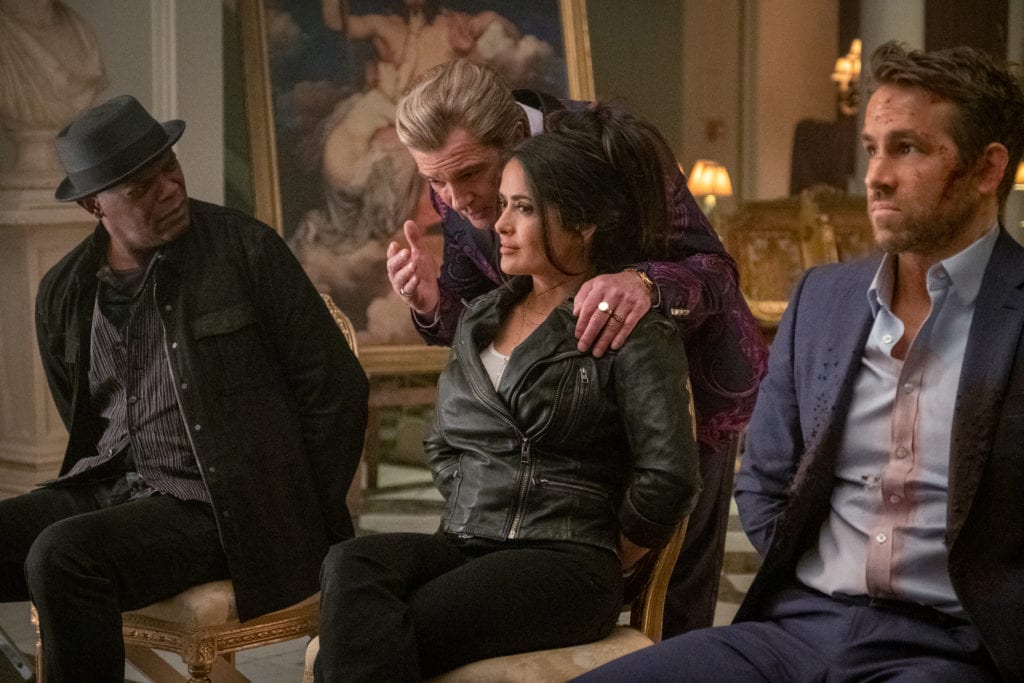 To Wife's Bodyguard, that is the nature of family.
With heightened stakes and antics, The Hitman's Wife's Bodyguard should entertain fans of the first film and its leads. Despite the film's flaws, Reynolds, Jackson and Hayek have a zaniness about them that always makes them interesting to watch, even in moments when this Hitman misses the mark.
The Hitman's Wife's Bodyguard is available in theatres on Wednesday, June 16, 2021.