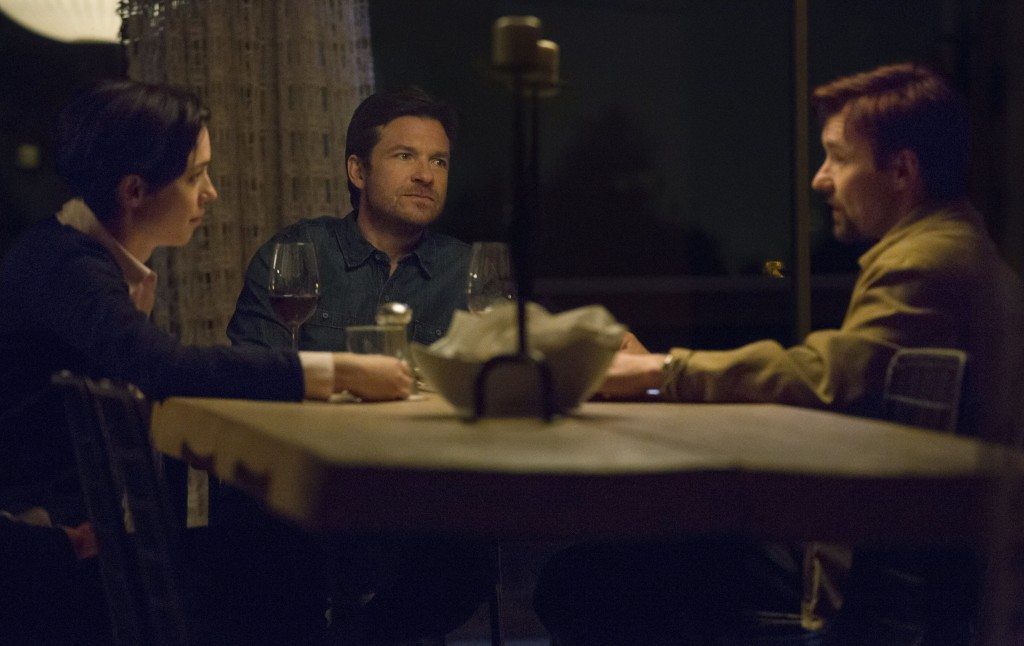 It doesn't take long in?The Gift?for the audience to figure out that not everything is what it seems. While Simon (Jason Bateman) and Robyn (Rebecca Hall) seem like the perfect couple (not quite the Waltons, but…) they're bound to have life as they know it blow up in their faces because that is the kind of film this is. [And you don't have to have seen the trailer to know that.] But when everything is out on the table – when?The Gift?is unwrapped – who will be left standing?
Gordon "Gordo" Moseley (Joel Edgerton, who also directed from his own script) interjects himself into the lives of the couple when they move from Chicago to Los Angeles. He's a long forgotten classmate of Simon's who has a peculiar habit for sending presents to his 'friend,' usually when Robyn is home by herself.?Single White Female??Fatal Attraction? The Talented Mr. Ripley? We don't know right away, but it will give you the creeps!
What viewers should know is that the film's production puts it right there on the poster: "Just because you're done with the past doesn't mean the past is done with you." Maybe Simon (and Robyn?) isn't who we think we is, and maybe Gordo isn't who we think he is either. But in a more serious tone than Adam Sandler's?Billy Madison, we see what it looks like when your past comes to your present and demands retribution.
The Gift?plays with our expectations, showing us bits and pieces of the back story through Robyn's investigation of what is happening all around her. While she struggles with her own questions, Simon doesn't seem terribly bothered by the invasion of Gordo or Robyn's questions. He's reasonably immune to caring it appears, and we recognize that Gordo isn't the only force of terror in the film.
Viewers will walk away recognizing that there's plenty at stake when we lie, cheat, and steal the happiness of others. The sins of the father are poured down on their children, right? However you look at it, our snarky main character Simon reaps what he has sown.