Written and directed by Jason Reitman, The Front Runner?follows the story of Gary Hart (Hugh Jackman), former senator of Colorado, becomes the front-runner for the Democratic presidential nomination in 1987. Hart's intelligence, charisma and idealism makes him popular with young voters, leaving him with a seemingly clear path to the White House. All that comes crashing down when allegations of an extramarital affair surface in the media, forcing the candidate to address a scandal that threatens to derail his campaign and personal life
Similar to last year?s Oscar-nominated, The Post, Front Runner?depicts a government cover-up with a heavy emphasis on the nobility of the press. In some ways, the films are quite similar in their approach. For instance, both films are period pieces and spend a great deal of their runtime focussed on groups of people discussing the nature of the issues. However, while it could be argued that Spielberg?s film picture of the press borders on grandstanding, Reitman?s appeal is far more complex in its approach. Though Reitman shows the press as being honorable in their intent, he also recognizes that they aren?t always the heroes. Can the press be wrong? Do they have the right to uncover every detail of a public figure?s life? All of these questions muddy the waters of conversation surrounding the press? engagement with Hart and his history.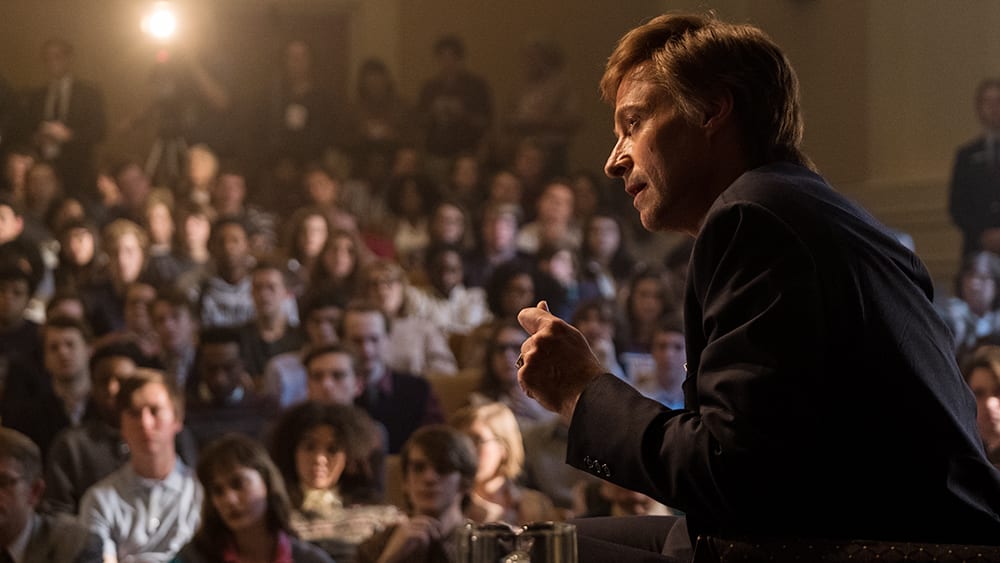 As Hart, Jackman proves to be an inspired casting decision as he portrays him as a man of charisma, humility and self-righteousness simultaneously. Preaching family values, Hart?s personal life provides a stumbling block to his campaign by revealing his moral hypocrisy. By focussing on the ?issues?, Hart fully believes that the only thing that the public should care about is what he will do with his political power, not his extra-marital affairs. Highlighting the gap between moral integrity and public persona, Front Runner?reminds us that there is a relationship between the two. While telling the story of a presidential candidate 30 years ago, the film is clearly written for today?s culture which is wrestling with the same issues.
In fact, one of the best aspects of the film is the voice that it gives to Hart?s mistress, Donna Rice (played beautifully by star Sarah Paxton). In doing so, Front Runner?allows Rice to become more than the ?other woman?. The film depicts her as a woman conflicted by her relationship with a political icon, allowing her to express her personal struggles with the relationship. Is she a victim? An adulteress? As Rice, Paxton's heartfelt performance offers shades of both innocence and guilt into her soul. Through her relationship with Hart, The Front Runner?reminds us of the responsibility and influence that people in power have over those around them and how selfishly masculine energy can be used to demean women.
It?s hard to say whether or not The Front Runner?will leave the same sort of cultural mark as Spielberg?s?The Post?did come Oscar time. More complex in its character-development and story-telling, Front Runner?is content to sit in the midst of its conflict in a way that gives it less of a ?crowd-pleasing? finale. However, it could also be argued that the film also carries with it more to say in a culture that is searching for answers in the muddy waters of integrity.
The Front Runner is available now on home media.