?Not our fault?simply the way things work.?
Perhaps your eyes glaze over when someone tries to explain the economics that lead to the housing bubble and Great Recession. It is indeed complicated, but The Big Short is an interesting way to try to understand it. It also is a great blend of comedy and pathos as we watch how it all developed and unfolded?and shows that there is a cost to it all that cannot be measured in dollars.
The main characters through which the story is told are Michael Burry (Christian Bale), a nerdy hedge fund manager who discovers that the supposedly wonderful investments in mortgages are not as much a sure thing as everyone thinks, so he begins the idea of credit default swaps (which pay if the mortgage investments go bad). No one believes it can really be a good investment, but a few others begin to see the problem as well. Also central is Mark Baum (Steve Carell), a fairly angry and aggressive fund manager, who seems to have a chip on his shoulder when it comes to big financial institutions. He gets involved because he wants the banks to get in trouble. The investments they make are at first ridiculed by most of the financial experts, but in the end, they were right. Also along for the ride are a pair of young relatively na?ve small investors who see a chance of making the big time. They are mentored by Ben Rickert (Brad Pitt), a paranoid former banker who understands fully what is going on and what can happen. All of these are people who in some way see themselves as fighting against the system.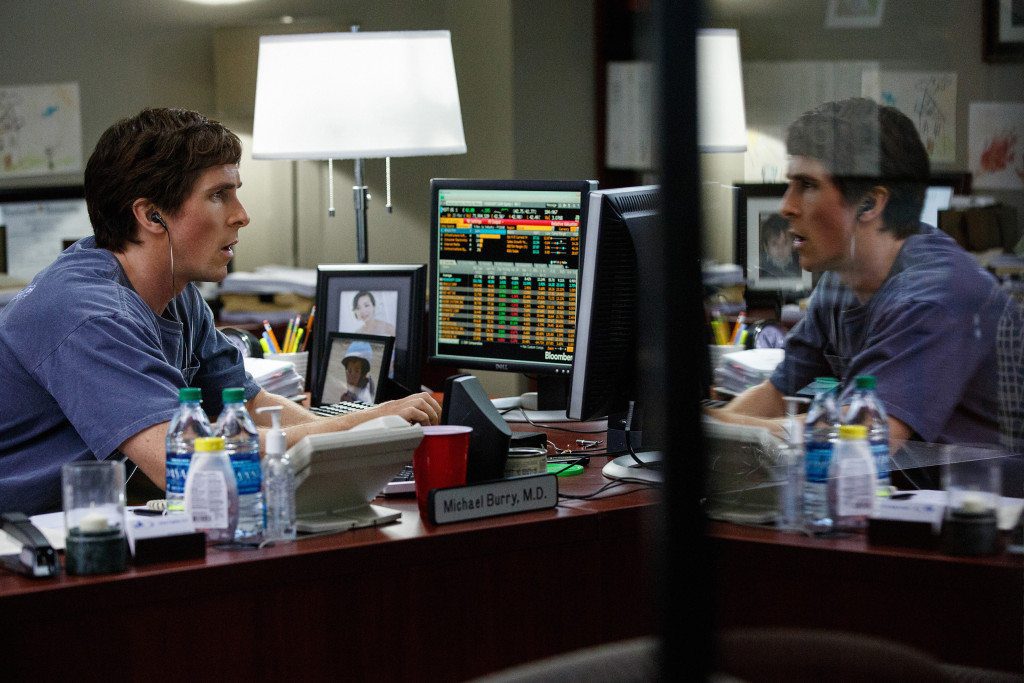 Along the way, the film brings in some non-economic types to explain the various kinds of investments. Best of these is when Chef Anthony Bourdain explains Collateralized Debt Obligations by the analogy of fish stew made in a restaurant on Sunday night. (You?ll never order that again.)
What is interesting is that the film really pays little attention to the greed that is often thought to be the very basis of capitalism. Yes, we do see greed and a great deal of hubris on display, but the spiritual issues that come up in this film are much more nuanced. At one point, when the two young investors are celebrating how rich they could become, Richert reminds them that they are betting against the American economy. If they are right, it will mean many will be unemployed, lose their homes, their savings. That is who will be paying the cost of their wealth. (That scene takes place about half way through the film and marks a shift in tone from the comedy that comes before to a more serious mood.)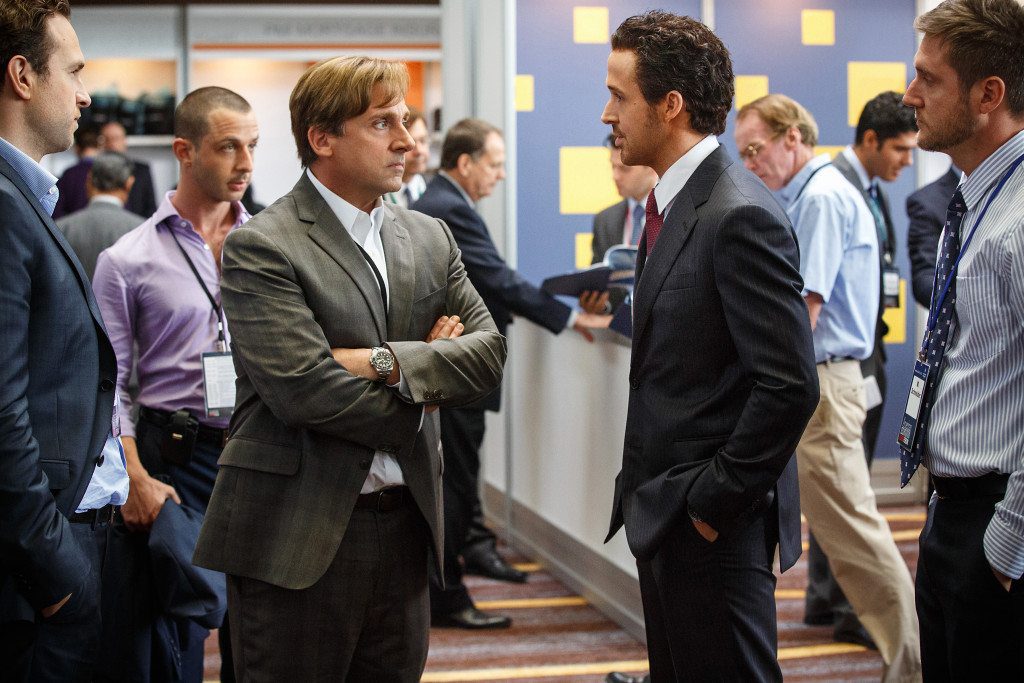 As the expected burst of the bubble doesn?t come, Burry and Baum are hard pressed to explain the failure. But when it does finally happen, they are not at all happy about it. For Burry, his success seems to carry with it a spiritual malaise. At the start of the film, he seems to be only interested in the whole economic situation as almost a game. He sees the mistake that has been made, and is going to follow it to a kind of win. But that win, when it comes is not satisfying. Rather it is filled with so much angst that he closes his fund and leaves for other endeavors.
For Baum, when banks begin to fail (most to be bailed out by the government and taxpayers), he is in a position to reap the rewards of his investments. But he keeps putting it off, because, as he puts it, ?When we sell, we?ll be just like the rest of them.? For him, the profits off those investments and the real life costs have become a burden. Being right about the greed of the banks doesn?t make him feel any better about his own wealth.
This is a film that does not attack capitalism, but it does want us to see the spiritual costs that are inherent in the system in which we work and live. The film does not try to argue that it is wrong to make money but it asks us to pay attention to what unseen costs there are to the profits that we believe drive the economic engines of our society. And lest we think it is all a matter of the big corporations, most of us are invested in those corporations in some way. It?s not ?them;? it?s all of us.
Photos courtesy of Paramount Pictures