I am a big proponent of Warner Bros Entertainment animated DC films. They do a way better job in storytelling and screenplay than any of the latest live-action films. The downside really is that as animated films, they aren?t all for the entire family. For instance, the Batman films are darker and bloodier and shouldn?t be watched by young children regardless of whether or not they are Batman fans. I am always cautious when it comes to these films and ask parents to be the same; animation does not mean kid friendly and this movie falls into that category in many ways.

Teen Titans: The Judas Contract brings to the screen one of the most revered Teen Titans stories from 1984 that includes Wonder Girl, Cyborg, Changeling (Beast Boy), Starfire, Raven, and Nightwing. (This was when Dick Grayson, the first Robin, took on the name of Nightwing). For the film, the Titans are made up of Starfire as the leader, Blue Beetle, Raven, Beast Boy, Robin (Damian Wayne), Terra and, helping them out, is Nightwing. One of the Titans biggest adversaries, Deathstroke, takes a contract to deliver them dead or alive. One of the Titans is a double agent, having infiltrated and collecting data on them for Deathstroke for over a year. When they finally strike, all the Titans are taken except for Nightwing as he must race against time to save them before they meet their ultimate end.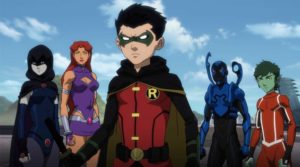 One thing the movie does well is teach us that even when we feel that life has dealt us a bad hand, there are opportunities to come out of it. Love has a way of breaking through the toughest of exteriors and pasts and brokenness to reveal diamonds amidst the rubble. And no greater love is there than laying one?s life for their brother or sister. In the end, love always wins and the film showed this very well.
I wish it was all good though.
When it comes to the slate of animated films released by DC, this one isn?t the worst but it isn?t the best. On one end, it?s nice to let the Titans have their own movie without any Justice League member (specifically Batman) in it. And although it is based on the original story, it does have its liberties in changing things which in a sense brings about DC?s ?Judas? ways to some of the characters?namely Starfire. This seems to be an ongoing issue that DC has had for years yet continue to push and that is the dumbing down of female characters to nothing more than a sex object. In this film, as much as the character is trying to show that she?s a great leader while the team looks more to Nightwing (who is the former leader) she?s left being marginalized as Nightwing?s girlfriend and sex toy (many innuendos throughout the film). They had an opportunity to really make her stand out as a leader and give her a major role but in the end, she?s nothing more than Nightwing?s girl.
The other issue I have is with Terra. This one is very bothersome and made my stomach churn. I understand in the original story what she was to Deathstroke, but in that story, she was written and drawn more of a young college age girl compared to here, an obvious young teenager. However, her loyalty to Deathstroke was based out of sexual needs and a promise of being lovers and together forever (something he had no intentions of). Her story of being used by him could have been flipped around, seeing him as more of a mentor who saved her life instead of the man who saved her life and now she wants to be lovers with. Another example of DC not caring much about their female characters (I had the same issue with The Killing Joke where they unnecessarily made Batgirl sleep with Batman in a story where the worst thing happens to her already).
DC has made strides in this department, but I think they still have a long way to go in certain aspects. As a father of a young girl, I strive to point her to female characters that aren?t marginalized and are not simply sex objects because I want her to grow up knowing she is much more than that and that anyone that says otherwise isn?t worth her attention. There was an opportunity missed here to showcase a female leader that was confident and trusted by those she leads; however, this was not the case.