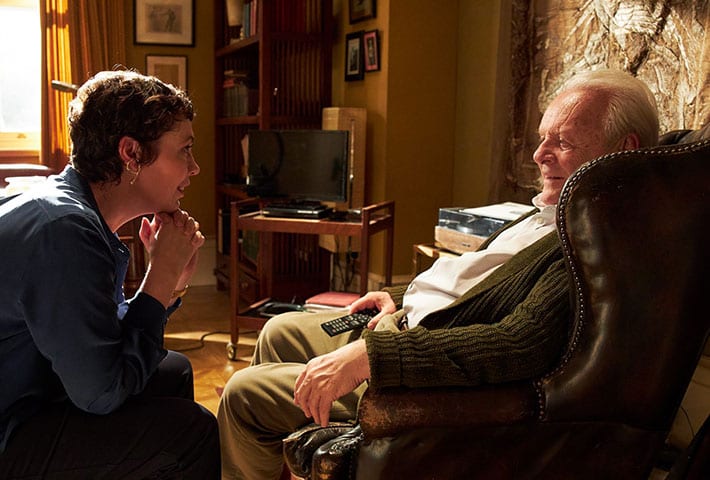 In The Father, Sir Anthony Hopkins plays Anthony, an elderly but wealthy man who cannot admit that he can no longer care for himself. When his daughter Anne (Olivia Colman) informs him that she intends on moving to Paris, she attempts to bring in a home care nurse, Laura (Imogen Poots). As his condition deteriorates, Anthony struggles to adjust to the changes with moods swings that range from charming to insulting and Anne is forced to consider that her father may be better off in a long-term care facility instead of his beloved London flat.
The debut film from director by Florian Zeller, The Father is an emotional journey into the heart of dementia and the how it affects those on the outside. Adapted from Zeller's own 2012 play of the same name, the film feels as claustrophobic as a theatrical stage itself. Told almost entirely within one location, Zeller makes good use of his space, adjusting set designs and lighting based on Anthony's mental awareness. By rotating cast members and characters, Zeller blurs the lines of reality and creates a cloud of confusion around Anthony that points to the anxiety that he's experiencing himself.
Though the film features an incredible performance by Olivia Coleman as the caring but torn Anne, the film is truly anchored by Sir Anthony Hopkins, who may have turned in one of the best performances of his career. As the centre of almost every scene, Hopkins is simply remarkable as the fading elder, imbuing his character with both vibrancy and terror. Wildly fluctuating between childhood innocence, flirtatious humour and impulsive fury, Hopkins showcases the pain that he brings to those around him yet he never loses the soul of his character in the midst of his struggles.
In The Father, Anthony is a man who is constantly loved yet causes chaos within the home. Painfully watching as her father slowly slips away, Anne is willing to do whatever it takes to support him. However, despite her best efforts, the increasing speed of his dementia slowly eats away at her. Though she defends his behaviour as simply 'his way', every moment that he forgets her name or viciously lashes out drives a wedge into their relationship. She badly wants to continue to show him grace yet, as the situation denigrates, her soul begins to shred apart. As such, she becomes conflicted between caring for the man she has loved her entire life and the inner destruction he is causing within her life.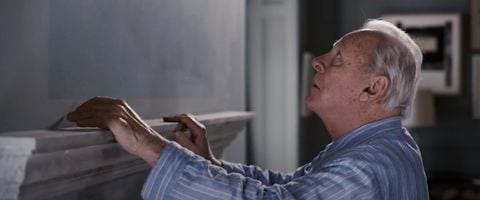 However, while we bear witness to the fact that those around him struggle with his health, we also feel torn for Anthony as he continues to misread situations and react accordingly with fear, humour and rage. Told almost entirely from Anthony's point of view, the film's rhythm can be jarring at times yet that is absolutely intentional. Like the watch that he can never seem to locate, Anthony is quickly losing all sense of time (and may even feel as though it's being stolen from him). For him, multiple points of his life appear to be converging at once in a way that never truly allows him to settle into one particular moment. As Anthony's connection to the world ebs and flows with his mental state, we too are meant to feel his sense of loss and confusion. In doing so, though he never excuses Anthony's behaviour, the film gives the viewer a unique perspective of his experience so that they too might sympathize with him in the midst of his pain and fear.
Honest and heartbreaking, The Father is an incredible example of what love looks like on the ground in the midst of struggle. Make no mistake. For anyone who has witnessed the onset of dementia first hand, the film is a harrowing journey to take. Even so, the film's shift in perspective serves as a reminder that the real terror may be within the mind of the person we love and the need for grace in the midst of that understanding from those around them.

The Father will be released in theatres and on demand on Friday, March 26th, 2021.