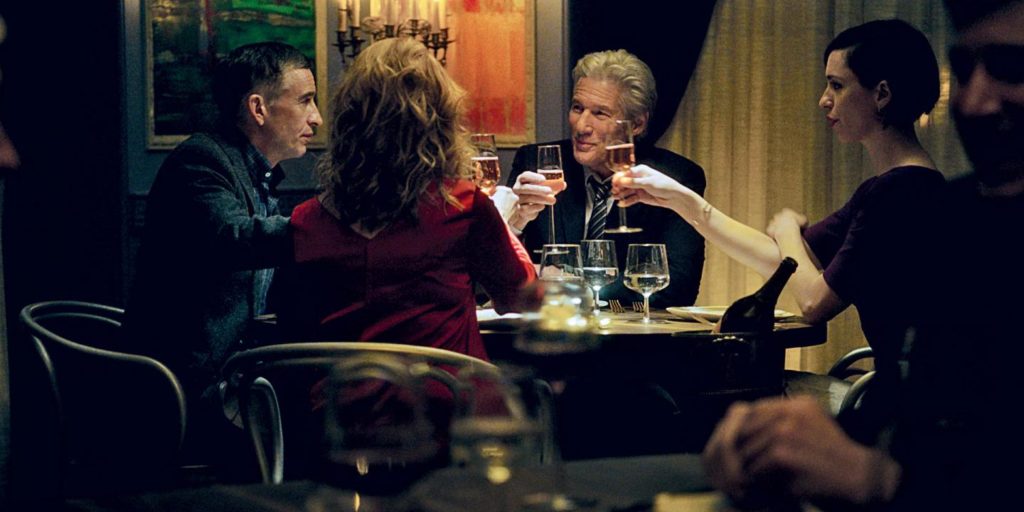 Have you ever had a conversation with someone and knew they weren't really listening? Better yet, was it someone who you knew you should be talking to about something important? In?The Dinner, four people, two couples, are talking but no one is really engaging the others in meaningful dialogue.
In Oren Moverman's adaptation of the 2009 novel by Herman Koch, which is actually the third cinematic version, Stan and Claire Lohman (Richard Gere and Laura Linney) meet Stan's brother and his wife, Paul and Katelyn Lohman (Steve Coogan and Rebecca Hall), for dinner. Stan is the politician in the family; Paul used to teach history. But tonight, they've met to discuss the ridiculously poor choices of their children, who may end up facing jail time – and derail Stan's political aspirations.?

For anyone who has seen?Carnage, Roman Polanski's drama about two couples (Jodie Foster, Christoph Waltz, John C. Reilly, and Kate Winslet) who meet in a city apartment to discuss how one kid bullied another, this seems like a carryover – maybe a second chapter when the kids are older. It's about how the kids behave but it's really about how their parents act – and the way they influence their children's moral decisions. If anything, it's incredibly scary to consider how we mess up our kids – and how much our children reflect who we are.
Lionsgate's special features on the Blu-ray/Digital HD combo pack include the photo gallery, as well as audio commentary by writer/director Oren Moverman and Linney.