Early on in?A Charlie Brown's Christmas,?Charlie Brown tells both Linus and Lucy that he isn't feeling the season. Linus (who is generally the source of wisdom in these situations) isn't terribly receptive to his complaint, but Lucy pushes Charlie toward involvement – after diagnosing him as suffering from?pantophobia. While it's hard to doubt the genius of Charles Schulz for his time, I am aware that more than ever, we need a new perspective on our own situations, hopes, and (maybe most importantly) fears.
While the immediate situation is abundantly problematic for Charlie – he is most concerned with what he isn't receiving as a result of his awareness of the more commercial aspects of the season – there are several bigger issues facing the world beyond December, and the backfill to find Christmas in stores as soon as Halloween has wrapped.
First, while many are involved in the religious celebrations surrounding Christmas, we have failed to truly embrace, integrate, and fully?know?the story. When Charlie blurts out, 'can't anyone tell me what Christmas is all about?' it's really a cry of the people today to be connected to something more, something greater than ourselves. To which, Linus famously responds with straight-up Biblical knowledge (King James Version just because that's what Schulz used!)
And there were in the same country shepherds abiding in the field, keeping watch over their flock by night.?And, lo, the angel of the Lord came upon them, and the glory of the Lord shone round about them: and they were sore afraid.?And the angel said unto them, Fear not: for, behold, I bring you good tidings of great joy, which shall be to all people.?For unto you is born this day in the city of David a Saviour, which is Christ the Lord.?And this shall be a sign unto you; Ye shall find the babe wrapped in swaddling clothes, lying in a manger.?And suddenly there was with the angel a multitude of the heavenly host praising God, and saying,?Glory to God in the highest, and on earth peace, good will toward men. (Luke 2:8-14 KJV)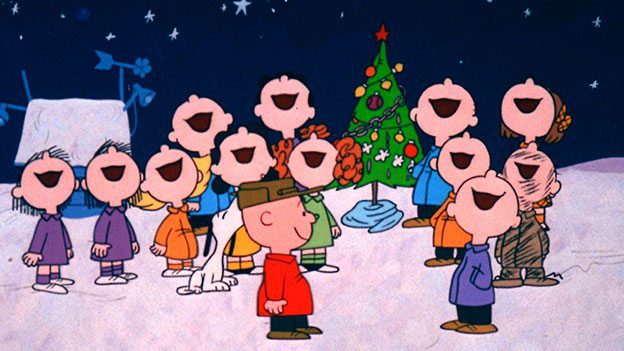 Of course, while Charlie is seeking the 'true meaning of Christmas,' which Linus tells him is the birth of Jesus, it also identifies the?second?situation facing society in ways that have impacted 'polite Christian society.' These shepherds, Linus says, are?sore afraid, that is, so afraid that it hurts. Now, we assume that's because of the appearance of the glory of God, but isn't our world so afraid that it hurts right now? Given terrorist attacks and rampant grandstanding, isn't a call to preemptively attack someone else by Christians a response out of fear? Isn't there the sense that even the church has become subject to 'unknown fears' that circle 'out there' rather than embracing the Unknown God Paul acknowledged who was actually made known at this birth in a manger??Charlie Brown?doesn't even know what he's afraid of?but he knows his life isn't the way he wants it to be; he's so consumed with what his life isn't, that he fails to fully embrace the beauty of the Christmas message threatening to break through.
That brings me to my third acknowledgment of Charlie Brown and Schulz: Charlie can't gain the traction he needs to get over himself or past his fears by himself – he requires?involvement in community. Sure, this means?being with other people, but it also requires him to set aside his own needs and wants to serve others. Charlie Brown's redemption isn't isolated or individualistic, but communal. He's the least and the last and the lost recognizing that there's a place for him, that peace and good will can be his, too. This begs the question for me: what would happen if we were?proactively?involved in doing good in the world because we believed that the message of the angels to the shepherds was a 'here and not yet,' that it was empirically true?because God said so? And because it was true, then we could shake off our fear and live it out – singing with joy and serving others without question?
What are?you?afraid of? What makes you afraid? Is it external or internal, learned or inherited? This Christmas, the meaning?of Christmas remains the same.