Produced by Mickey Liddell (Risen, Zookeeper?s Wife), Forever My Girl tells the story of Liam Page (Alex Roe), a superstar country singer who can?t shake the hurts of his past. When the death of a high school friend brings him back to his home town, he encounters Josie (Jessica Rothe), his ex-fiance for the first time since he left her at the altar. Though she isn?t interested in reconnecting with Liam, Josie does tell him that he has a daughter, Billie (Abby Ryder Fortson), from their previous relationship. As a result, Liam decides to stay longer in his home town to get to know his child and, potentially, rediscover himself as well.
Having produced a number of intense films over the years, ranging from the Oscar-nominated Jackie to the dark comedy, Killer Joe, Liddell and his team felt that the time was right to release a film that was lighter in tone.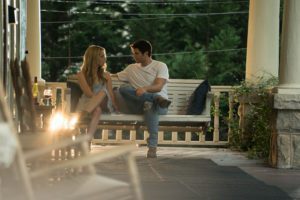 ?We found the book, turned it into a script and were excited about it,? he recalls. ?But, I think it?s one of those [moments where] we had told several true-life, dark, hard stories from Risen to Jackie to Zookeeper?s Wife to Megan?Leavey?and I think the entire company? were ready to do something light and fun. We?d been working on it for a while and we?d just come back from Europe. We all said ?Let?s just make something small-town that?s fun and has romance and comedy.? It kind of came out that place and it kind of shows. It?s a fun ride for everybody.?
In light of this, when asked what draws him to a script, Liddell simply states that much of his interest lies in his own life at that particular time.
?I can look back at films we did 10-15 years ago and I can tell you why I made that movie at that time,? he begins. ?I can look back at 2011 and The Grey and say ?that?s a movie about survival and loss? and I had stuff like that in my life. So, I knew that was a story I wanted to tell. I can do that and have some perspective now. It?s harder when you?re right in the middle of it to say ?why are we choosing this?? But, I think we chose this film for the idea of forgiveness. I don?t know if we knew at the time how much forgiveness we?re going to need at this time in our history. We must?ve at some level known that we wanted to release a film at this time of the year about everyone coming together. There?s a family and community. They?re loving and supporting you and there?s forgiveness. It was something that we probably needed as much as audiences need it now.?
With this in mind, Liddell further details that the theme of forgiveness also presents itself to various degrees within the film as well. For example, he believes that, in Forever My Girl, each character is in a different emotional place based on how effectively they can grapple with a variety of traumas from their past.
?I think we have a lot of great examples [of forgiveness] in the movie,? he explains. ?We talked about this more than anything is where people are in the movie on the scale of being able to forgive things that have happened in their lives, whether or not they?ve had it done to them by somebody else, a loss has happened or whether they could forgive themselves. I think one of the best characters?and she?s so likeable?is Josie. Josie was left at the alter and has a lot of loss in her life. She decided that, instead of being mad and holding on to everything (which, you know, was well deserved). She said, I have a child to raise? how great Billie is, how happy she is and how happy Josie is [with] the life she?s created. She?s so wonderful to Liam and everyone around her. That?s what forgiveness looks like.?
?Now, Liam had a lot of loss and he didn?t forgive himself for all the things he?s done and his father had not forgiven his son. So,
there?s a lot of people in there that hadn?t. But I loved the idea that, when you?ve got a job in hand, like the important part of raising a daughter is to be there and not to be someone who?s angry and holding onto the past. I love to see that in a character. I think that shows she?s really strong in who she is.?
Interestingly, many of Liddell?s films have included conversations around faith (or faith-related issues, such as forgiveness) yet have remained outside the bubble of the ?faith-based? film market. When asked if he believes there?s a division between the two worlds, Liddell argues that the difference is not one of content but of quality.
?For me, there?s really not a distinction?,? he contests. ?I think great stories were told in the 50s and 60s, like The Ten Commandments and Ben Hur? I grew up on watching certain movies that were just great movies. I think something happened in the 70s and 80s where it just became uncool to tell ?faith-based? movies, whether it?s actors, directors or whatever. When they came back around, the quality wasn?t that good? I think now, it?s come around again to the point where it?s like ?let?s just make a great movie?. If it has faith-based elements, that?s incredible! But we?re trying to change things to the point where people just want to make a great movie. We?re starting to see that… You?re seeing these young and up-and-coming actors who want to be a part of it because they?re just great stories to tell. Faith is a part of every movie.?
Given the film?s setting in the world of country music, casting was essential, especially for the role of superstar Liam Page, whose character requires a certain level of authenticity to be believable. When asked how they found their Liam Page, Liddell says that they were drawn to Roe as soon as they met him, even if he managed to fool them in the process.
?When we were making the film, we [said] we?d make it if we could find the right guy,? he muses. ?Literally, I remember [thinking] that we?re not going to make this film because he?s not out there. He?s gotta have a southern accent, he?s gotta be able to sing, he?s gotta be charming, he?s gotta be a leading man, play the guitar, have that charisma? that sort of thing happens once every ten years. You can?t find that. Then, Alex came in and he had the accent down?at the time, I didn?t know he couldn?t play guitar and had never sang in front of people?but he just sort of played around with the guitar and sang a little bit of a song and I said ?Who is this?? We really thought it was a country star from Nashville who could act. He?s the real deal. [It] turns out he was British and never sang before, couldn?t play guitar and, when we hired him, we found all that out. He worked really hard, played in different clubs around town in Nashville and sang in front of people to get more comfortable. So, by the time, we were shooting it, he felt like he?d been on stage for a long time.?
Of course, one would expect that, in a film focused on the country music industry, the music itself would play a key role. In Forever My Girl, however, the music becomes almost a character unto itself. According to Liddell, it was always their hope that music would help bring Liam Page to life by providing insight into the deepest emotions and feelings of a character who has trouble expressing himself otherwise.
?I think that this movie, because the main character isn?t really in touch with his emotions and he can?t really communicate that to his fianc? or his father, we really use music as a way for us to tell you where he was and we were tracking him emotionally,? he clarifies. ?The songs are playing exactly where they?re supposed to be and they were written for that point in the movie. We?re sort of tracking where he was. You feel it. When he?s travelling around the world and he?s feeling lost, you feel it. When he?s out of control at the beginning, you feel it. Music was so important for his character and for us to get into his interior life.?
Though he knows that Forever My Girl is primarily a light, fun romance, Liddell also hopes that families sense a calling to a deeper sense of community from the film as well.
Says Liddell, ?I love the idea of communities and families coming together in a way. They all help raise Billie. They all came together in a way that we don?t get to see on film a lot. Families struggle all the time? This is a great movie that for all ages 8-80 and everyone will get the same themes of forgiving each other more or coming together as a community more. That?s a lofty thing to get from this but I would love that if people would get that. But, if they don?t, I hope they have fun because it?s a really fun movie.?
Forever My Girl is in theatres now.